Reflections and Advice:
1.) What do you think makes your school unique relative to other boarding schools?
Consistent with its relatively small student body as compared to many other boarding schools, Blair is a place that knows the value of both its community and the relationships cultivated therein. From the moment I stepped on campus for open house I knew it was a different sort of place than the other schools I had visited. Not a single student we passed did so without a smile and first asking if there was anything that they could do to help or any questions that they could answer. Every student seemed intent and genuinely excited to share all that is Blair, and for good reason; Blair is truly a special place, and it's one where your personal growth and the bonds you form with those around you is of paramount importance. Blair is not singularly focused on any one aspect of its students lives. Rather, they are there to help you become the best possible person you can be while also providing you with the guidance and tools necessary to achieve. Blair fully realizes that its the cultivation of the individual, in tandem with rigorous studies and an impossibly strong support network that ultimately results in helping its students achieve their goals, and that's what sets it apart from the field.
2.) What was the best thing that happened to you in boarding school?
Trying to sum up such a complex and fulfilling experience such as being at Blair is sort of an impossible task. Blair is a place I arrived to as a relative child, expecting just a school; however, I left a capable individual, confident in myself and prepared for what is ahead of me. And looking back I now know Blair isn't just a school, it's a home in many ways, it's compassionate community, and it's a truly special place filled with unique and wonderful people, a place that I'll forever be grateful to. Blair helped me to grow in a away I never could have anywhere else, and I truly believe that it helped to mold me into my best version. During my time at Blair I was part of a wrestling team that won multiple national titles, I gained entrance to the college I'd always wanted to attend, I made friendships that will last a lifetime, and I grew into a person I'm proud to be, there's absolutely nothing more I could have asked for.
3.) What might you have done differently during your boarding school experience?
Buy in to the culture sooner. Blair is going to present you with a community that cares, it's going to open itself up to you and want you to be a part of it in the most complete way that you can. It's going to demand a lot from you and it's going to reward you by giving back even more than you put in. Buy in. People are going to seem too nice and it's going to feel strange that so many people actually care genuinely. Buy into all of it and do it right from the start. You'll be amazed by what you accomplish and the person you become.
4.) What did you like most about your school?
The people. Never have I experienced such a feeling of genuine and deep support and compassion than I experienced at Blair. People there want to help. And that makes it stand out.
5.) Do you have any final words of wisdom for visiting or incoming students to your school?
Give your all to Blair, and it will give you everything it has to offer and more.
Academics:
1.) Describe the academics at your school - what did you like most about it?
Blair is rigorous. It will provide you with the tools to explore every corner of your academic curiosity, and then some. The faculty aren't 9-5 instructors that are there to clock in and out. They are a part of your life and they want to see you succeed. They're going to challenge you and they are going to make you work, but they'll be right there with you and more than willing to work with you until you "get it". The faculty at Blair are integral members of your lives during your time there and they are there for the complete cultivation of you as an individual. They are teachers, but they're also friends. The classes are small and profoundly engaging, the most exciting form of which comes in the form of their flexibility. The teachers balance the necessity to supply you with the tools you need to succeed with the lateral room for creativity and passionate curiosity. They want you to toe the lines of the topics and explore them to their edges. They want you to ask questions even if they don't fit squarely within the syllabus. All of these things help to keep you engaged and excited to come to class. Many of the courses are heavily discussion based to put it lightly and therefore heavily reflect the structure of so many of my courses in college. Blair prepares you.
Athletics:
1.) Describe the athletics at your school - what did you like most about it?
During my time at Blair I was a member of the wrestling team and I owe much of my successes to the lessons it taught me through the years I spent doing it. Blair is a powerhouse of a wrestling program that demands a lot from you, and one that has enjoyed immense success for decades, yet its successes aren't limited to its prowess in the sport. Where Blair excels in the success of its athletics, it truly excels in its balance. At any other school one's life could easily be eclipsed by the machine that a dominant sports team tends to be by failing to develop all aspects of the individual, but Blair wholly appreciates the larger picture. To be a successful athlete, you first need to excel in the virtues that forge the best ones; and Blair helps you do this. Rather than allow you to confine your success to that one sport, Blair teaches you to succeed in all aspects of your life and to demand that same dedication from yourself that you have in athletics, and transition it to all parts of your life. To see this, one need only look at the sustained success of so many of its athletic programs. After competing at a high level for so many years you come to learn that winning is less than half of the battle, the rest is coming to demand that same determination from yourself in all other aspects of your life, because that's the only way to keep getting better and avoid resting on your laurels. That is, rather than simply drive for success in your sport, Blair teaches you to apply the drive you learned in your sport and apply it to all parts of your life, something that has unquestionably prepared me for college and life beyond.
Art, Music, and Theatre:
1.) Describe the arts program at your school - what did you like most about it?
Theater at Blair is always a highly anticipated event, and one that both the students involved and those waiting to spectate look forward to equally. The productions at Blair are always exciting to watch and most, if not all of the scenery is hand made by dedicated faculty and students, carefully and painstakingly assembled and created by hand, adding an extra aspect of personality to every show. Additionally, there are numerous musical productions throughout the year such as the always memorable "Pirates of the Caribbean" theme (an homage to the Blair Buccaneers) played by students during the week leading up to our annual rivalry event. All of which take place in a beautiful 500 seat theater.
Extracurricular Opportunities:
1.) Describe the extracurriculars offered at your school - what did you like most about it?
My time as a tour guide at Blair started in a rather impromptu way; in fact, I was walking to the dining hall when I was suddenly pulled aside and offered to tour a visiting family, and since that day I gave regular tours to dozens of families during my time at Blair, eventually becoming a "head tour-guide". However, this abrupt start to an enjoyable extra-curricular was motivated by nothing more than the fact that it was a simple opportunity to share everything I loved about a place that I called home for so many months of the year. I always enjoyed meeting with each and every family and earnestly telling them every way in which Blair was more than I had hoped for, while passing by historic and important locations on campus where I would talk about some of my favorite experiences there to date. Touring at Blair was a small way for me to give back, but in truth it just felt like a more formal outlet for me to tell a captive audience how much Blair meant to me and what it had done for me. However if one thing remained consistent throughout the dozens of tours I gave it was my focus on distinguishing the people that filled it. I always tried my absolute best to convey to all of the families that what set Blair apart was the intangible; that every student genuinely cared about the well-being of their peers and that the faculty seemed only to exist to cultivate the individuals that filled the campus in the most holistic way possible. Some schools put on a show for prospective students and understandably so, but there are some things you really can't stage. My favorite example of this was when a freshman held the door to Hardwick Hall for myself and a touring family despite the fact that we were roughly 30 yards behind him and did it with a smile, waiting there just to ask how they were enjoying their visit.
Dorm Life:
1.) Describe the dorm life in your school - what did you like most about it?
One of the most invaluable experiences of my time at Blair was getting to live in a dorm amongst my fellow classmates both under the leadership and guidance of Senior Prefects and by leading as one myself during my Senior year. In all of the dormitories live Senior students who have demonstrated outstanding leadership qualities and a desire to pass on many of the lessons and values that they came to hold dear during their time at Blair. These students are known as Prefects and represent a sort of "old guard" to the younger students, passing on those values and helping to ensure that Blair's most cherished qualities remain close to the hearts of all of its students. The role of a Senior Prefect is taken on entirely voluntarily and out of their willingness to help the younger students make a successful transition to the school, and truthfully, into young adulthood. The concept of being a Prefect and the ideals that the title represents are unquestionably reflective of Blair as a whole; these Senior students eagerly forgo much of their scarce down time during one of the busiest times of their lives to ensure the success of the classes beneath them, speaking to the profoundly positive impact that their prefects had on their own transition to Blair. Though the Prefect system is not unique to Blair by definition, I would argue that its implementation is. Being a Prefect at Blair is not intended as an office of authority, and is not exercised to be held as such, but rather it is a position of compassion, where older students look to take an opportunity to pass the torch to a younger generation and help them get the most out of their time at Blair.
Dining:
1.) Describe the dining arrangements at your school.
On campus there is one central dining hall that is open during all meal times for all of the students to sit and eat. Dining on campus is excellent and during my time there I never experienced a lack of choices to where I couldn't find something I enjoyed. In addition to normal meals, twice a week the entire boarding population would gather on Tuesday and Thursday for a formal dinner where students would arrive with jacket and tie and assigned seating and a table would be headed by a senior and a faculty member. Though the preparation for said dinners included putting on a jacket and tie after a demanding day, the benefits of stepping outside of a routine to really get to know students you wouldn't have otherwise spent much time with is invaluable and led to more than a few great friendships. This reality is just another way that Blair highlights its commitment to cultivating the community and the bonds it strives to create for all of its students. Additionally, Following every Tuesday formal dinner, and beginning at 7 sharp there was Society of Skeptics, the lecture series run by Dr. Miller. Almost every Tuesday night of every year Dr. Miller arranges for a prominent speaker to speak for an hour and offer a Q&A, with topics and fields running the entire spectrum, from non-profits, to alumni, to sports figures. This is truly an unparalleled program and one that has won national recognition thanks to Dr. Millers dedication to enriching the out of classroom engagements of all students at Blair, in addition to continuing to serve as Head Coach of the Cross Country team for the past 37 years and serve as a an advisor and teacher to so many students.
Social and Town Life:
1.) Describe the school's town and surrounding area.
Though small and sometimes frustratingly so, Blairstown and the immediately surrounding town reserve an old small-town charm that has been almost entirely lost to the redevelopment and homogenization that we've become accustomed to. For the most part, you simply won't find chains and franchises in little Blairstown, but you will find a quiet, safe, and quirky town that seems almost stuck in a different time in many ways. Highlights include a historic movie theater and the always popular Gourmet Gallery, the beloved off campus spot for ice cream and sandwiches. But the town itself isn't what makes the area so amazing. Just across the street from campus are many trails overlooking streams and rivers where cross country often trains and where you'll frequently find students running together during the nicer months. Blair is extremely close to the Delaware water gap, and as such is situated in one of the nicest natural areas in the state.
2.) Describe the social life at your school - what did you like most about it?
At a student body of roughly 450, Blair is a small school by many measures, and I love that about it. It allows you to get to know everybody, by the end of every school year I was confident I had a conversation at least once with just about every single student in the school. Speaking to this reality, there is a challenge offered by Mr. Pagotto every year where he picks 10 faces from the school directory at random and challenges you to identify them. And with an alarming rate of success the students are able to, many freshman even, a reality that speaks the the emphasis placed upon engaging in the community.
Blair's emphasis on community made it stand out. For me, that started on my tour, when everyone seemed to know everyone else as we walked around the 400-acre campus. The friendly atmosphere and. . .
Consistent with its relatively small student body as compared to many other boarding schools, Blair is a place that knows the value of both its community and the relationships cultivated therein. From the moment I. . .
The amazing student-faculty relationships definitely made Blair special for me; the faculty are not only your teachers but also your coaches and mentors and dorm-parents, and all of that inter-relatedness allows the students and faculty. . .
Show more reviews (

6 reviews

)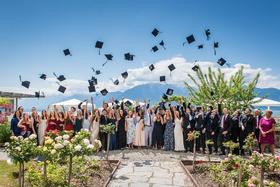 Nurturing Futures: A Journey through Boarding at Haut-Lac School in Switzerland
Nestled in the hills overlooking Lake Geneva in the French-speaking part of Switzerland lies an educational gem that embodies a unique blend of academic excellence, cultural richness and a profound sense of community. Founded over 30 years ago, Haut-Lac International Bilingual Day and Boarding School is now home to both 600 day students and a maximum of 30 boarders from around the world.
What To Wear at Your Job Interview
Navigating job interviews can be stressful, but knowing what to wear shouldn't be. Our comprehensive guide covers the essential dress code tips for men and women interviewing at boarding schools. Make your first impression count with style and professionalism.
Navigating the Modern Maze: Emerging Challenges for Boarding Schools
Explore the pressing challenges facing boarding schools, from marketing difficulties and rising insurance costs to facility maintenance and recruitment of competent trustees and teachers. This article delves into these complex issues and proposes innovative strategies to overcome them.