Idyllwild Arts Academy - Review #1
About the Author:

College Enrolled
Chapman University
Home Town, State (Country)
Los Angeles, CA
Years Attended Boarding School
2
Activities During Boarding School
Living with my classmates drew me close to them in a way that was beneficial in the classroom. I knew them better and felt more comfortable asking deeper, more specific questions about academic subject matter. It also helped us continue academic or artistic conversations all the way back to the dorms.
Review

Description

Chapman University

Living on campus surrounds you with your education and makes you think about it in the context of your life in a more efficient way than traditional high school. The arts focus offers more connection. . .

I will attend the University of British Columbia.

The school is highly international, so my closest friends were from all over the world. The diversity created a really unique class dynamic with perspectives I never would've thought of. The arts focus was also. . .

Tufts University

The close student/teacher relationships Natural environment to hike and live in Arts focus . . .

Dominican University of California

The fact that Idyllwild Arts is located in the middle of mountain I think it is the most unique aspect about this school. The teachers plus the environment make a perfect combination for an artist. . .

Hiram College

Idyllwild Arts Academy is truly a unique experience. There are just over 300 students, so your friends and even acquaintances really become like family. I personally really like the way that the schedule works. Being. . .

Show more reviews

(9

reviews)
April 20, 2018
Actually, there is no secret to getting your child into boarding school. Just a lot of hard work and a heavy commitment of time.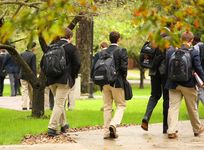 March 22, 2018
Some cynics think single-sex education is old-fashioned. The Kiski School shows how educating boys in a single-sex school is successful.
March 08, 2018
The wide range of fine academic, athletic, and other facilities found in boarding schools underscores the determination of schools to provide the very best for their students.