Reflections and Advice:
1.) What do you think makes your school unique relative to other boarding schools?
Living on campus surrounds you with your education and makes you think about it in the context of your life in a more efficient way than traditional high school. The arts focus offers more connection points to create a web of connections between subjects. You begin to easily see how math, music, English, art, history, etc, are very interrelated on a daily basis.
2.) What was the best thing that happened to you in boarding school?
Just being there with an open mind lead to the greatest transformations in my personal development as a person, an artist, a friend, and a student. I talk about this in later questions more thoroughly.
3.) What might you have done differently during your boarding school experience?
The only thing I would've done differently was spend less time on my phone. Go study, go create, go enjoy nature. Talk to your homies or jog through the woods. Go skip stones or try your friends instrument. Just do anything in Idyllwild besides sit down on your phone, because whatever you do here is guaranteed to teach you something or make you better, or just be plain fun.
4.) What did you like most about your school?
Can't pick one factor. It's all a beautiful part of my life that I wouldn't change for anything, even the bad parts. You learn a lot from struggle, and even with the countless benefits of the school, it offers plenty of opportunities to struggle. Educational struggle, artistic struggle, friendships, romantic, personal, you name it. It's a reasonably safe place to over come these struggles, but embrace them, too, along with the benefits. I'm glad I did, I'm grateful to the place, the students, and all the faculty for how they shaped me. Doesn't mean it was all positive (but for the most part it was because of this mindset I'm describing). Respect the place and the challenges and it will teach you plenty about being an effective person, leader, dancer, singer, painter, writer, community member, you name it. Try to take it all in because there is so much in every moment that you can learn from and/or enjoy.
5.) Do you have any final words of wisdom for visiting or incoming students to your school?
MaNeal boys for life. Respect your dorm parents because you definitely are keeping them up late at night for no reason at all. Talk to your teachers because they want to talk to you (if you're not a boring fool, which you probably aren't if you're attending IAA). Teachers have so much to teach outside of the classroom.
Academics:
1.) Describe the academics at your school - what did you like most about it?
All the teachers I had were very knowledgeable in their subjects. Ryan Strickland, for example, is a very well rounded teacher and you can tell he knows a lot about his subjects (math and sciences). But he is so interested and excited in these subjects that it is easy to get interested in something like astronomy as if it was a personal hobby rather than a class, which it then becomes.
Athletics:
1.) Describe the athletics at your school - what did you like most about it?
I enjoyed the laid back nature of arts school athletics. That includes Frisbee and capture the flag. There is a growing gym with free weights, power rack, and cardio machines. For those interested in increasing personal strength, speed, and other fitness goals, the tools are available. Lots of kids play pick up basketball and soccer. Our current PE teacher, Sterling, is knowledgeable and very excited about fitness and eager to share this knowledge. One of the school's best fitness resources is the beautiful hiking trails, many of which students have free access to.
Art, Music, and Theatre:
1.) Describe the arts program at your school - what did you like most about it?
As a creative writing major, the school offered me lots of opportunities to collaborate with these majors, be it a graphic novel, a short play, or even song writing. The gallery openings, recitals, and plays offered round-the-clock inspiration. It is good for any artist to experience various art forms at all times, and Idyllwild offers this above and beyond what is available to most artists in college and post-education life.
Extracurricular Opportunities:
1.) Describe the extracurriculars offered at your school - what did you like most about it?
There are good options for when you need to take a break from creating or practicing. As I mentioned, great do-it-yourself athletic opportunities, lots of social clubs, study groups, and even some political clubs. Students have the freedom to create their own club as well.
Dorm Life:
1.) Describe the dorm life in your school - what did you like most about it?
Living with your friends is awesome. You learn a ton about how you deal with the world and improve your problem solving capabilities when issues natural arise when you live in close, cooperative quarters with many hormonal artists.
Dining:
1.) Describe the dining arrangements at your school.
Food's pretty good. Always a fully stocked salad bar. Always a good amount of protein. As many servings as you want for most items. Dining staff are bad asses and very friendly-- be polite! The chefs are always open to adding recipes. Also, the town offers good food on the weekends, and there are a couple of grocery stores that have plenty of options that you can cook during the week in the dorm kitchens. Plus, there's the book store on campus, but as far as I know it doesn't have many healthy options, although it might have improved since I graduated as staff told me they are trying for healthier options.
Social and Town Life:
1.) Describe the school's town and surrounding area.
Obviously, this is one of the schools biggest assets. Walking the grounds is extremely meditative. If you're into natural beauty at all, this lovely place will satisfy you. I really miss the environment (I mean the literal rocks, trees, gushing streams, etc) that Idyllwild Arts was built in. I found it beneficial for my mental and physical health which results in higher quality of life, better grades, and more creativity in your art. No kidding at all. You gotta be aware of it. Don't be one of those kids who sits in MacNeal all day playing frivolous video games, its a waste of your full potential at IAA
2.) Describe the social life at your school - what did you like most about it?
I've made the best friends I ever have at Idyllwild. Maybe it's the close proximity, maybe its the shared intellectual drive, artistic passion, or sense of looking for more beyond traditional high school. It's hard to quantify what many faculty and board members have called "magic," or something similar in the many speeches they give throughout the year, but if you go into your experience open minded to it and willing to find it, I'm sure you will.
Idyllwild Arts has an incredibly unique community of faculty and students. Since the campus and the town of Idyllwild is so isolated, those who live there become very close to each other.. . .
Comprehensive Arts Education: Idyllwild Arts Academy's dedication to providing a comprehensive arts education is one of its standout features. The academy offers a wide variety of artistic disciplines, including music, dance, visual arts, drama, film. . .
Idyllwild Arts Academy is renowned for its dedication to providing a comprehensive arts education. The school serves pupils in grades 9 through 12 and provides a wide variety of artistic disciplines, such as music, dance. . .
Show more reviews (

21 reviews

)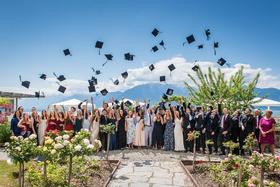 Nurturing Futures: A Journey through Boarding at Haut-Lac School in Switzerland
Nestled in the hills overlooking Lake Geneva in the French-speaking part of Switzerland lies an educational gem that embodies a unique blend of academic excellence, cultural richness and a profound sense of community. Founded over 30 years ago, Haut-Lac International Bilingual Day and Boarding School is now home to both 600 day students and a maximum of 30 boarders from around the world.
Navigating the Modern Maze: Emerging Challenges for Boarding Schools
Explore the pressing challenges facing boarding schools, from marketing difficulties and rising insurance costs to facility maintenance and recruitment of competent trustees and teachers. This article delves into these complex issues and proposes innovative strategies to overcome them.
What To Wear at Your Job Interview
Navigating job interviews can be stressful, but knowing what to wear shouldn't be. Our comprehensive guide covers the essential dress code tips for men and women interviewing at boarding schools. Make your first impression count with style and professionalism.