Reflections and Advice:
1.) What do you think makes your school unique relative to other boarding schools?
Dana Hall gave us the freedom to think, create, engage and learn from inspiring staff members.
2.) What was the best thing that happened to you in boarding school?
Dana Hall taught me how to have a voice. A voice in public, in thought and in confidence. My education was excellent because the entire teaching staff took the time to get to know each of us. I remember sitting on the porch with the dean of students having a talk about life and its challenges. She listened. I trusted her and her opinion. We all were without family during the week but the family spirit that grew from a common belief in goodness, made each of us a part of a larger family... a wonderful caring and kind family.
3.) What might you have done differently during your boarding school experience?
I had been in boarding school prior to Dana and was well-prepared for the new experience of a large campus and opportunities to learn. I would tell young women to be open to opportunity, talk to peers and teachers, explore new adventures and face any fears with courage.
4.) What did you like most about your school?
Dana Hall made me feel as though I belonged. My family life wasn't ideal and Dana gave me the nourishment I needed to succeed. I have carried that spirit with me all my life and paid it forward to all the children I taught, the people I worked with and my own daughter and granddaughters.
5.) Do you have any final words of wisdom for visiting or incoming students to your school?
I hope to get to our 50 reunion! I live in Canada which is quite far away but I would love to reconnect with my classmates. favorite snack were the blond brownies!!! The pond was a wonderful place to reflect and dream at the same time/
Academics:
1.) Describe the academics at your school - what did you like most about it?
Although my focus wasn't always on academics, I was enrolled in an new aesthetics course that allowed for deep and meaningful discussions about life. I found all the other teachers were more than willing to help me with any struggles I had. I feel I learned the most from the extra-curricular activities that involved collaboration and co-operation. I have carried those ideals with me through 30 years of teaching early years students. No questions is a stupid question. Patience and understanding of children are essential to engage young children in learning. And applying teaching criteria through non-traditional classes often taught more than the typical textbook learning.
Athletics:
1.) Describe the athletics at your school - what did you like most about it?
I was never the best athlete on the team but was still chosen to play. Lacrosse was a rough sport but very exciting to play! Field hockey was also a team sport I enjoyed. When not on the field, I was on the sidelines with my pom-poms cheering on the team!
Art, Music, and Theatre:
1.) Describe the arts program at your school - what did you like most about it?
My theatre experience at Dana Hall opened the door to years and years of performing, directing and earning a B-Ed in theatre. Plays were chosen as teaching tools for those of us who were cast. Often the play was dramatic with challenging life questions to be revealed through character and dialogue. Again, my passion for theatre started at Dana and kept me inspired for over forty years.
Extracurricular Opportunities:
1.) Describe the extracurriculars offered at your school - what did you like most about it?
TASP= The All School Project- was a volunteer group raising funds for student activities. I used to cook a meal on Friday nights for anyone and everyone. Choir was exciting. I forever will love the sound of voices in harmony. Student Council was about leadership. My experience led me to be elected again in college. Also became a liaison between the students and the board.
Dorm Life:
1.) Describe the dorm life in your school - what did you like most about it?
We didn't spend much time in the dorms but fellow roommates were very close in friendships. My first dorm was a renovated house and the last two years I was in a more modern dormitory. I remember the common rooms being a wonderful gathering space for fun, long talks in to the night or just a quiet place to study.
Dining:
1.) Describe the dining arrangements at your school.
The dining hall was beautiful. Large windows all around, shiny floors and buffet style food delivery made for an active and noisy place. The food was delicious! Especially the blond brownies!
Social and Town Life:
1.) Describe the school's town and surrounding area.
Dana Hall is located in Wellesly Mass. Wellesly was/is a quiet residential area with lovely homes and quaint downtown. Dana's campus was enormous with sports fields, a lovely pond and walkways to every building.
2.) Describe the social life at your school - what did you like most about it?
Boarding schools bring a multi-cultural population to campus. I wasn't connected to just one group but rather many groups. Most students stayed close to their dorm roommates but I enjoyed a larger pool of fellow students. We had plenty of time to socialize in our rooms, in the common rooms, outside or in the lounge. It was the one part of the day we all looked forward to!
The relationships I had with my teachers will stick with me for the rest of my life. They encouraged me, challenged me, rooted for me, and wanted only the best for me and my classmates. . .
One thing unique about Dana is its horse stables. This is one of the main reasons why I was initially drawn to the school. I loved horses and wanted to learn horseback riding in boarding. . .
Dana Hall gave us the freedom to think, create, engage and learn from inspiring staff members. . .
Show more reviews (

3 reviews

)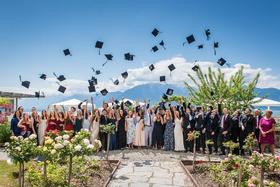 Nurturing Futures: A Journey through Boarding at Haut-Lac School in Switzerland
Nestled in the hills overlooking Lake Geneva in the French-speaking part of Switzerland lies an educational gem that embodies a unique blend of academic excellence, cultural richness and a profound sense of community. Founded over 30 years ago, Haut-Lac International Bilingual Day and Boarding School is now home to both 600 day students and a maximum of 30 boarders from around the world.
What To Wear at Your Job Interview
Navigating job interviews can be stressful, but knowing what to wear shouldn't be. Our comprehensive guide covers the essential dress code tips for men and women interviewing at boarding schools. Make your first impression count with style and professionalism.
Navigating the Modern Maze: Emerging Challenges for Boarding Schools
Explore the pressing challenges facing boarding schools, from marketing difficulties and rising insurance costs to facility maintenance and recruitment of competent trustees and teachers. This article delves into these complex issues and proposes innovative strategies to overcome them.