Reflections and Advice:
1.) What do you think makes your school unique relative to other boarding schools?
One thing unique about Dana is its horse stables. This is one of the main reasons why I was initially drawn to the school. I loved horses and wanted to learn horseback riding in boarding school. Dana is also an all-girls school, which is unique in that it fosters a learning environment that I found positive - people are unafraid to express themselves fully, and we often emphasize feminism in our courses and conversations. Dana was my first exposure to concepts related to feminism, and I'm glad I had that experience.
2.) What was the best thing that happened to you in boarding school?
I appreciate the personal growth that boarding school gave me. Because I chose to go to boarding school and went through the application process all by myself, I knew exactly what I wanted out of the experience and forced myself to extend beyond my comfort zone as much as I had the energy to do. Culturally, adjusting to the US in general was a challenge, but I feel so lucky to have experienced living in a different country alone during my teenage years. It was definitely a period of self discovery and development.
3.) What might you have done differently during your boarding school experience?
I would have thought more about what I needed and prioritized that more. I like doing people favors and helping people out, especially if they are my friends. But as a boarder, you live with these people at the same time, and it can be hard when you are giving a lot to others and not taking time to do what you need or think about your own mental health. If I could do anything differently, I would really prioritize my own needs before others, not out of selfishness but out of necessity. For kids going to boarding school, I'd say think deeply about why you want to attend boarding school before you go, your goals, aspirations, and bottom line. These things will be very important in your growth and development in boarding high school. Also keep an open mind and always let yourself be led into new experiences that you would not have expected to have! This is the best way to grow, and what more would you want from your boarding school experience?
4.) What did you like most about your school?
I liked the people. The people I met at Dana are still some of my closest friends, and they now live all around the country and the world. I love how I can still tap into this network of friends and supporters who know me to my core.
5.) Do you have any final words of wisdom for visiting or incoming students to your school?
The dorm was great because Polly was a great house mom. Definitely check it out if you are visiting.
Academics:
1.) Describe the academics at your school - what did you like most about it?
I liked the rigor of our academics and the dedication and expertise of our teachers. The academic rigor is reflected in your APs - you have to apply for all the APs you take, and they are pretty much college-level courses. I took 3 one semester, which was a huge course load. Our teachers were also super dedicated. They took time out of class to meet with me when I wanted to and truly tried to get to know me. They were also experts in their field and this came across in our classes.
Athletics:
1.) Describe the athletics at your school - what did you like most about it?
Athletics were big at Dana. We had a lot of school spirit. Some of my best memories were of the fencing team. We often won state championships and our team was super cohesive and supportive of one another. My coach had fenced at the national level, and was very accomplished and dedicated to our team, which contributed to our close-knit community. I liked the spirit Dana had and how everyone rallied together for homecoming.
Art, Music, and Theatre:
1.) Describe the arts program at your school - what did you like most about it?
I was involved in Chamber Singers, which was listed as a course on my transcript rather than an extracurricular. Mr. Coleman, the chorus teacher, was amazing. He would talk to us about his daughter, the musical he was working on about Dana but under a pseudonym, and play the piano while he told us jokes. We had a lot of fun together for rehearsal, but also got to perform the national anthem for the Boston Red Sox on live TV! It was a good mix of fun and professionalism.
Extracurricular Opportunities:
1.) Describe the extracurriculars offered at your school - what did you like most about it?
The student organizations were hubs of student activity. I loved how each person was passionate about their own thing. I have great memories surrounding ISA, the International Student Association, of which I became Tri-Head of my senior year. I felt close to the international community at my school because we were so small. It was great being a leader in that group, and many of my classmates had similar experiences in their own extracurricular activities as well, regardless of if they were in a leadership position.
Dorm Life:
1.) Describe the dorm life in your school - what did you like most about it?
Dorm life provided me with a community to fall back on when I felt stressed out by my environment, which inevitably happens in high school and when faced with such a rigorous class schedule. The people I lived with became some of my best friends and I got to know them intimately. My house mom was also really good at facilitating communication in our dorm. She would host weekly dorm meetings where we would do bonding activities, and during snow days, she'd bring out a mini pancake-maker and make everyone pancakes. I felt really at home in the dorms.
Dining:
1.) Describe the dining arrangements at your school.
Food in our dining hall was pretty good. We had a salad bar and different hot foods for breakfast, lunch, and dinner. I appreciated the diversity of food options we had. The dining hall was also in a building that was renovated during my last year.
Social and Town Life:
1.) Describe the school's town and surrounding area.
Wellesley is a beautiful, charming town with access to Boston, as well as different options for food and entertainment. I spent a lot of time in Wellesley exploring the different shops and restaurants.
2.) Describe the social life at your school - what did you like most about it?
Social life at Dana for me revolved around the dorms. Because I was so close with my roommates, hall mates, and dorm-mates, I loved being able to go to their rooms whenever I wanted, knock on their doors, and just hang out with them. People were friendly and were there for me when I needed to vent or talk. In terms of social life in class, I'd say my classmates were pretty friendly and would invite me to go off-campus with them in their cars or visit their houses, which I appreciated as a boarder.
Daily Schedule:
Weekday
7:45 AM
Get up, brush teeth, get dressed
8:00 AM
In class until 4pm
4:00 PM
Go to sports practice
5:00 PM
Come back to room for study hall till 7pm
7:00 PM
Shower, get ready for bed
8:00 PM
Hang out with friends in dorm
Weekend
11:00 AM
Go to brunch with friends at dining hall
1:00 PM
Finish brunch, go back to dorm
2:00 PM
Walk into town to study at Starbucks
5:00 PM
Walk back to campus to eat dinner at dining hall
8:00 PM
Hang out with friends
The relationships I had with my teachers will stick with me for the rest of my life. They encouraged me, challenged me, rooted for me, and wanted only the best for me and my classmates. . .
One thing unique about Dana is its horse stables. This is one of the main reasons why I was initially drawn to the school. I loved horses and wanted to learn horseback riding in boarding. . .
Emphasis on self determination. Empowered women in a time with little empowerment. Holistic yet traditional approach to education-all subjects given equal importance and delivered with equal rigor.Tuesday night family style dinners for boarders and. . .
Show more reviews (

3 reviews

)
Mastering the Boarding School Selection Process: A 5-Step Guide
Discover the ultimate 5-step guide to choosing the perfect boarding school for your child. Explore essential factors, such as academics, campus facilities, extracurricular activities, and more. Make an informed decision to provide your child with an enriching and transformative educational experience. Read now!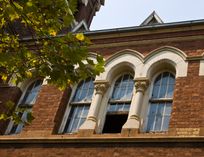 5 Founders and Their Boarding Schools
What prompts somebody to start a boarding school? The motives range from idealism to munificence right on through to capitalism. The common thread seems to be ample capital and a vision of what education can do.