Reflections and Advice:
1.) What do you think makes your school unique relative to other boarding schools?
Personal attention without being overbearing. Away from home. High level of academics.
2.) What was the best thing that happened to you in boarding school?
coming from Nowheresville, NJ, it was a life changing experience. my mind was opened to a much bigger world.
3.) What might you have done differently during your boarding school experience?
I sent both of our kids to boarding school: Groton (a mistake) and the other to Andover.
4.) What did you like most about your school?
the quality of the school: classmates, faculty and history of the school.
5.) Do you have any final words of wisdom for visiting or incoming students to your school?
do your homework
Academics:
1.) Describe the academics at your school - what did you like most about it?
high level of academics. everyone entered as an A+ student; most left as something less than that. everyone in the class can't be an A+ student. The so called "rocket scientists" in some cases actually became rocket scientists.
Athletics:
1.) Describe the athletics at your school - what did you like most about it?
the competition at the varsity level was high end. half of the games were against college freshman teams from the Ivy League. The balance was against the other large prep schools: Deerfield, Exeter, Mt. Herman, St. Paul's.
Art, Music, and Theatre:
1.) Describe the arts program at your school - what did you like most about it?
While I played in the band, I was more impressed with the Glee Club, which inspired me to get involved in singing at college. The college experience took me around the world: Italy, France, Czech Republic, Romania, Germany, et al. It also included local venues like Carnegie Hall and Lincoln Center.
Extracurricular Opportunities:
1.) Describe the extracurriculars offered at your school - what did you like most about it?
Highest level competition. You were always given new goals to get better.
Dorm Life:
1.) Describe the dorm life in your school - what did you like most about it?
private rooms with a working fireplace. . I also lived in America House one year where "America" was written.
Dining:
1.) Describe the dining arrangements at your school.
I'm not sure anyone like the dining........
Social and Town Life:
1.) Describe the school's town and surrounding area.
Andover is a wonderful town: bookstores, bakery, dining when the parents came.
2.) Describe the social life at your school - what did you like most about it?
social life??????????????? it's greatly improved according to my son who also attended in '03.
Daily Schedule:
Weekday
1:00 AM
the day is very busy: academics M-S. Sports 6 days a week
As I look back on my life, I found the English Department profoundly brilliant. The level of reading (weekly) was extraordinary. The level of commitment of the faculty was genuine.. . .
Phillips Academy Andover has a nonsibi day in April. We don't have any classes but instead volunteer for special events and for each grade it is a different theme. One of the schools mottos is. . .
Andover has a need-blind admissions policy, which means that they don't take into account someone's ability to pay for the school when deciding whether or not to admit them. This makes the school much diverse. . .
Show more reviews (

13 reviews

)
Mastering the Boarding School Selection Process: A 5-Step Guide
Discover the ultimate 5-step guide to choosing the perfect boarding school for your child. Explore essential factors, such as academics, campus facilities, extracurricular activities, and more. Make an informed decision to provide your child with an enriching and transformative educational experience. Read now!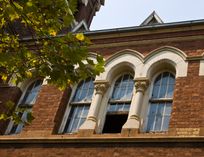 5 Founders and Their Boarding Schools
What prompts somebody to start a boarding school? The motives range from idealism to munificence right on through to capitalism. The common thread seems to be ample capital and a vision of what education can do.