Reflections and Advice:
1.) What do you think makes your school unique relative to other boarding schools?
Proctor has 2,500 acres of rural campus, which allows for a lot of outdoor activities. It has its own ski mountain, its own maple sugar shack, ponds and rivers for polar plunges and community floats. There was never a shortage of outdoor activities to participate in. Another unique thing about Proctor is the study abroad trips - beyond the standard trips that many boarding schools offer, Proctor has Ocean Classroom and Mountain Classroom, which are one of a kind experiences and should not be missed.
2.) What was the best thing that happened to you in boarding school?
Proctor inspired me to travel. It is because of my experience on Ocean Classroom that I have prioritized seeing the world now.
3.) What might you have done differently during your boarding school experience?
If I had known then what I know now I would have appreciated my whole journey at Proctor more. I guess when I was 14 years old I didn't really understand that not every high school offered opportunities such as spending a semester in Morocco or a week whitewater rafting in North Carolina.
4.) What did you like most about your school?
I loved that the experiential learning style encourages students to try new things. Many of my friends from Proctor have started their own companies, and I believe that is because we were given the opportunity to find what we were passionate about and fail at it, rather than being told, "this is what you should want, and this is how you should achieve it."
5.) Do you have any final words of wisdom for visiting or incoming students to your school?
Do not attend Proctor and miss out on Mountain or Ocean Classroom.
Academics:
1.) Describe the academics at your school - what did you like most about it?
I loved the experiential learning style that Proctor embraces. They get you out of the classroom a lot, and my coursework each semester usually included a couple of AP classes and a couple of electives, both with diverse options. Want to build your own boat? There's a class for that. Want to learn how to bird watch? There's a project period for that. There were so many interesting educational opportunities that my only regret is that high school only lasts 4 years and there wasn't enough time for me to take all of the ones I wanted to.
Athletics:
1.) Describe the athletics at your school - what did you like most about it?
Proctor does have mandatory participation in at least one sport a year. I played two "classic" sports, but Proctor also offers activities such as snowboarding and yoga in the athletics program. I was able to stay active and try out different activities, many of which are more practical to continue in the college and adult world.
Art, Music, and Theatre:
1.) Describe the arts program at your school - what did you like most about it?
The facilities are stunning and well equipped - the theatre and music studio are new, the visual arts studio is a renovated livery stable from the early 1800s.
Extracurricular Opportunities:
1.) Describe the extracurriculars offered at your school - what did you like most about it?
There are some activities that have a cap on them, (for example, a volunteer group might have to cap the volunteers at one bus load) so occasionally I was unable to be part of a group I may have wanted to participate in as a freshman. I had no trouble once I garnered seniority though.
Dorm Life:
1.) Describe the dorm life in your school - what did you like most about it?
There are many different types of dorms - if you want to live in a small house with only a few friends you can, or if you want to live in a large dorm with 40 other people you can.
Dining:
1.) Describe the dining arrangements at your school.
The dining arrangements have changed since I attended Proctor, but I was thrilled with the food when I went there. As a vegetarian, there were plenty of options. In 2016 they opened a whole new facility that doubled the amenities, so I bet the quality and options are even better.
Social and Town Life:
1.) Describe the school's town and surrounding area.
I loved the campus and the 2,500 acres we could use. The town itself is extremely small with very little to do in it, which is why Proctor puts so much effort into its on-campus programs and activities.
2.) Describe the social life at your school - what did you like most about it?
It was diverse, and because of the small class size, I truly feel like I got the opportunity to get to know everyone in my class. Younger students tended to participate more in the on-campus activities, while older students with access to cars tended to venture off campus more.
Daily Schedule:
Weekday
Weekend
Proctor was a small school, about 350(400?) Kids, one thing that attracted me to the proctor in particular was the ski hill blackwater located on campus as I love skiing. Also, the size of the. . .
Proctor is a unique school due to the experiential learning model. This includes a variety of off-campus programs including programs in Spain, France, Costa Rica, and Ocean classroom and mountain classroom. Proctor also owns over. . .
The off-campus programs that Proctor has to offer make it particularly unique in relation to other boarding schools. I was lucky enough to participate in Ocean Classroom, which is an off-campus program where we sail. . .
Show more reviews (

9 reviews

)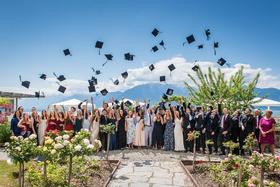 Nurturing Futures: A Journey through Boarding at Haut-Lac School in Switzerland
Nestled in the hills overlooking Lake Geneva in the French-speaking part of Switzerland lies an educational gem that embodies a unique blend of academic excellence, cultural richness and a profound sense of community. Founded over 30 years ago, Haut-Lac International Bilingual Day and Boarding School is now home to both 600 day students and a maximum of 30 boarders from around the world.
What To Wear at Your Job Interview
Navigating job interviews can be stressful, but knowing what to wear shouldn't be. Our comprehensive guide covers the essential dress code tips for men and women interviewing at boarding schools. Make your first impression count with style and professionalism.
Navigating the Modern Maze: Emerging Challenges for Boarding Schools
Explore the pressing challenges facing boarding schools, from marketing difficulties and rising insurance costs to facility maintenance and recruitment of competent trustees and teachers. This article delves into these complex issues and proposes innovative strategies to overcome them.