Reflections and Advice:
1.) What do you think makes your school unique relative to other boarding schools?
The main aspect of the Delphian School is their method of education and what the program has to offer. The program that they use, the Study Technology program, really helps students understand the things that they have studied and they remember it for the purpose of learning and using the data, not just passing a test. The practical program that the Delphian School offers is very helpful as well. A student can take the data that he has recently studied about and use it in practical uses to plan things well or to align it with his career interest.
2.) What was the best thing that happened to you in boarding school?
The best thing that happened to me was in my senior year. I realized for myself that it wasn't helpful to compare myself to others and that it wouldn't really get me anywhere if I continued to do so. The only way I could tell that I had changed was if I was to look at where I was prior to that moment. The program really did help me with allowing me to form my self into the person that I really wanted to be. I had more integrity, knowledge, ethics, and leadership after graduation.
3.) What might you have done differently during your boarding school experience?
I don't think I would have changed anything about my experience. Advice I would give, however, is don't worry about leaving your family to come study here or don't worry about fitting in or anything along those lines. What you have to do is start getting busy, and a lot of those thoughts will go away. Once you are at the school, set a goal for yourself and work hard to reach it. When you have, instantly set a new one for yourself.
4.) What did you like most about your school?
I loved how the whole program gets tied together in the end and how much change I saw that I had made. Delphi made it possible for me to make that change in myself, that I did myself. The way the program works and how it is made is perfect for the product that you receive in the end.
5.) Do you have any final words of wisdom for visiting or incoming students to your school?
The rec room is a really fun place to go as there are so many options for food at night. Also don't be afraid to join things while at this school. You can try things out and decide to leave after a few days of trying. It's okay. You never know what you will be good at. Enjoy as many extracurriculars as you can, as well as the academic program. They are wonderful.
Academics:
1.) Describe the academics at your school - what did you like most about it?
I like how different the Delphian education is compared to all other schools. Especially with the final two programs. These allow students to choose which courses they want to do that align with their own career interest. They still have to do courses in math, science, and literature, but they have the freedom to create as they want. There are also required courses that one has to take regarding leadership, public speaking, logic, etc. They really help with a person's ability to properly run a group, make a speech, or properly handle situations that aren't correct.The way that the programs are aligned and how the final program is structured makes many things fall into place for people who do the Delphian program. The teachers are a huge help and they don't teach at you, they guide you through the parts which you need help with. You study on your own, as it is your own program.
Athletics:
1.) Describe the athletics at your school - what did you like most about it?
The school has a pretty good athletics program, as it offers a wide range of sports: volleyball, soccer, cross country, basketball, cheer, track, tennis, and softball. I like the number of choices that are available to choose from and how much spirit is in each team. Our strongest sports, volleyball, soccer, and track, have many people to support them through their games or meets. The coaches really help you to learn from your mistakes and push you through them to improve on them.
Art, Music, and Theatre:
1.) Describe the arts program at your school - what did you like most about it?
The amount of arts that Delphi has is amazing. There are many different opportunities for art classes, as well as videography, photography, and music. There are many talented students who can strengthen their abilities through the classes. The choir has placed 3rd in state for the past seven years and has made it to State Championships for the past 25 years.The theater program is fantastic as well. There is a play that is held at the end of the year that parents of students and their guest can come to see that is the largest production we have. It involves many different students and they help to create a lot of it. There are also opportunities throughout the year to do smaller plays or performances.
Extracurricular Opportunities:
1.) Describe the extracurriculars offered at your school - what did you like most about it?
There are many extra-curricular activities that someone can take at Delphi. When you first come to the school to sign up, you get to choose to pick three for your school schedule. There are many to choose from, and more continue to get added to the list. There are chances for students to actually create ideas for them and to run themselves. The number of extra-curricular are nice because then a student doesn't get limited to expand in other areas outside of study.
Dorm Life:
1.) Describe the dorm life in your school - what did you like most about it?
I liked how close the dorm members were with each other and how living in a dorm with someone and having the responsibility to keep not only your room clean but the whole dorm clean, allowed you to take more ownership of your own belongings and taught you how to work with other people well.You get to work with your roommate and figure out who would clean what this week and be in good coordination with each other. You also create a really strong bond with that person, which was also very nice.
Dining:
1.) Describe the dining arrangements at your school.
The dining room is pretty big, which gives students the opportunity to mix with each other and get to know each other during meal times. The food is pretty good, and they have new meals every time, but they have stable foods such as rice. The hours work well with people's schedule also.
Social and Town Life:
1.) Describe the school's town and surrounding area.
There isn't much near the school, as it is located on a hill. There are, however, many different opportunities to go off campus to the nearby cities. The closest city with the most options is thirty minutes away. There are some nearer, which are only a ten-minute drive at most.
2.) Describe the social life at your school - what did you like most about it?
I like how easy it is to get along with other people. There are activities every weekend which allows students to come together to play games, go on shopping trips, watch movies, etc. The people at the school are also very friendly and helpful to one another. If someone needs help, another person is always willing to help. It is a diverse group of people, with different backgrounds and ethnicities.
What made my school different from other boarding schools was that I was able to move through my program at my own pace. I didn't have to worry about catching up with my class because. . .
The fact that we study for real world application rather than just trying to spit things back out on an exam. This makes the education 10 times more valuable than any other school I have. . .
Here at the Delphian School, all the exams are done one-on-one, where the examiner will ensure that all the student's questions regarding the subject they just studied are solved and answered to satisfaction.The Delphian. . .
Show more reviews (

21 reviews

)
Mastering the Boarding School Selection Process: A 5-Step Guide
Discover the ultimate 5-step guide to choosing the perfect boarding school for your child. Explore essential factors, such as academics, campus facilities, extracurricular activities, and more. Make an informed decision to provide your child with an enriching and transformative educational experience. Read now!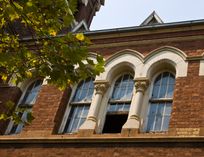 5 Founders and Their Boarding Schools
What prompts somebody to start a boarding school? The motives range from idealism to munificence right on through to capitalism. The common thread seems to be ample capital and a vision of what education can do.