Reflections and Advice:
1.) What do you think makes your school unique relative to other boarding schools?
The unique set up that the school had always allowed us, students, to be close and very inclusive of one another. In our residence, one thing that every student loved was the floor lounges. Those where were you could relax with friends, watch a movie or sports games that were happening. If it happened that the lounge got too packed everyone would go downstairs and watch from the TV in the cafeteria which allowed more room and more people to join in, regardless of if they knew the sport or no they were still there along with everyone else.
2.) What was the best thing that happened to you in boarding school?
The best thing that happened to me in boarding school was being invited to a basketball scouting event in New York. The school honors its honor roll students by taking a picture of them all and putting it on the wall. It rewards all those students that work hard. I definitely became more mature and responsible while at boarding school. Making sure i was always caught up on assignments without a reminder from my parents definitely helped.
3.) What might you have done differently during your boarding school experience?
The advice I would give is that talk to everyone when you arrive. At first everyone is shy and quiet because they don't know anyone else or they run into people that already know each other. Don't be shy, Bronte has a welcoming environment that accepts everyone and the students are the best example for this. When i arrived i talked to a couple people then I stayed in my room and talked to my friends from back home. Participate in as much events as you can when you move in. Also get to know your Res Dons and your floor dons they are always there to offer advice and support or just to hang out.
4.) What did you like most about your school?
I really enjoyed the family aspect that i got from the school. The teachers helped a lot even though at times i thought they were being hard on me when going over my grammar I realized they developed it to a university level while I was in high school. My university experience has been made easier because of this.
5.) Do you have any final words of wisdom for visiting or incoming students to your school?
The best place to hang out on campus would be on the M floor patio. During the fall and the spring its always filled with great vibes and people just laughing around. The soccer field is where people hung out and laid down to relax with friends, have mini picnics or watch the sport games taking place there.
Academics:
1.) Describe the academics at your school - what did you like most about it?
The academics at first are challenging because you try to adjust to the Canadian standards. The teachers were never too fast while teaching topics. They taught us at a speed where would need to be once we graduated high school and entered university. The teachers were also very helpful when it came to written assignments as they would help pick out and show how to improve your grammar for the post-secondary level which was very helpful to our knowledge. What I liked most was that teachers were always available no matter the time and you could always talk to them and they could offer you advice. The teachers made bonds with students in order for students to feel comfortable sharing information or presenting in class. This was one of the best things as it helped boost confidence and morale in the class. The workload was bearable if you followed the deadlines. At times it did get stressful as teachers gave out assignments that would be due the same week as other classes.
Athletics:
1.) Describe the athletics at your school - what did you like most about it?
The athletics were good. On a nightly basis people would be in the gym either playing basketball, soccer, badminton or table tennis. At times students decided to share the gym 50-50 with whoever wanted to a different sport at the same time. The in-school tournaments that we had against ourselves as students were always fun. Res life organized a different sport each month and the winner would receive a pizza. Many sports were offered by the school but at times students knew what they wanted to play and would register for other sports. After school sports had an attendance list to keep numbers of who played what and how involved they were in the school activities. Coaching for competitive sports was alright. Some sports had supervisors that would help instruct and get teams into shape. But coaching the players and making sure they were focused and ready for each game was mainly done by the captains. The captains were the guys that had the most experience and showed excellent leadership skills. The weight room was at time left messy by students which would have consequences but otherwise it was good.
Art, Music, and Theatre:
1.) Describe the arts program at your school - what did you like most about it?
For visual arts, I liked how the students would have a painting assignment and their portraits would be displayed all over the school to show the excellent work they had done. The teacher that was simply amazing at teaching art was very motivational to her students. She always had tips and advice for making the best painting or drawing. She also loved artwork to be detailed which made students pay more attention to their work. The music program performed concerts for the school to attend. These events were always so well planned and very entertaining. Although there was a lot of displaying of arts, the school didn't do much else besides hosting an afterschool club.
Extracurricular Opportunities:
1.) Describe the extracurriculars offered at your school - what did you like most about it?
The extracurricular activities had a certain meeting time which was every week. You had the option to attend whichever one you liked. Some people resorted sports while other went to film club or United Nations club or writing clubs or even dance club. Students usually stuck to their friend groups or an event that they had the most interest in. The UN club usually went away to debates at the University of Toronto Mississauga campus to gain more experience.
Dorm Life:
1.) Describe the dorm life in your school - what did you like most about it?
Dorm life was amazing. We would have floor competitions in events, have movie nights. On some days we had yoga in the evening. Students usually went to destress or learned to be more flexible. The lounges were always a great hangout area as well as the common areas downstairs. Everyone in dorms was like a family. We all bonded together and were always there to talk if someone was feeling down or needed advice. The people in dorms were usually the closest people in the school as they spent most of their time together and got to know each other really well. The dorm life and the people in dorms were the backbone of every student in residence. You could always rely on them. This made really good friendships. I recommend staying in the dorms. The school offers single rooms, double rooms and quads. Students select what type of room they want.They also had the option of keeping their room over the summer instead of moving to a different one. The last call to order delivery food was 11pm.
Dining:
1.) Describe the dining arrangements at your school.
The dining had specific opening hours each day and they were easy to follow. The traditional breakfast, lunch and dinner. During the weekdays at 9pm they also had snacks in the cafeteria. The cafeteria set up is very nice and modern. There was no assigned seating but friend groups usually sat in the same areas all the time and everyone usually knew where they would be or were their friends would be seated. I enjoyed how diversified the school food was. They tried to cater to all nationalities but at times there would be more meals from the Asian region.
Social and Town Life:
1.) Describe the school's town and surrounding area.
Mississauga is a great town. Its very quiet and not too noisy. The location in which the school located is great. Its 10 minutes away from Square One mall, 10 minutes away from Port Credit which is where the lake is. Walking at port credit during the day is very nice as it has many restaurants that you can try out or you could just relax by the lake.
2.) Describe the social life at your school - what did you like most about it?
Everyone at the school is social. Different people from different cultures always hung out together and shared stories from their hometowns and backgrounds to truly get to know each other. This is why everyone was close because we got to know each other on personal levels.
Daily Schedule:
Weekday
11:15 AM
1st Lunch starts / 3rd Class (some students)
12:45 AM
2nd Lunch starts/ 3rd class for on 1st
Weekend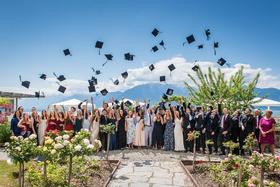 Nurturing Futures: A Journey through Boarding at Haut-Lac School in Switzerland
Nestled in the hills overlooking Lake Geneva in the French-speaking part of Switzerland lies an educational gem that embodies a unique blend of academic excellence, cultural richness and a profound sense of community. Founded over 30 years ago, Haut-Lac International Bilingual Day and Boarding School is now home to both 600 day students and a maximum of 30 boarders from around the world.
What To Wear at Your Job Interview
Navigating job interviews can be stressful, but knowing what to wear shouldn't be. Our comprehensive guide covers the essential dress code tips for men and women interviewing at boarding schools. Make your first impression count with style and professionalism.
Navigating the Modern Maze: Emerging Challenges for Boarding Schools
Explore the pressing challenges facing boarding schools, from marketing difficulties and rising insurance costs to facility maintenance and recruitment of competent trustees and teachers. This article delves into these complex issues and proposes innovative strategies to overcome them.