Reflections and Advice:
1.) What do you think makes your school unique relative to other boarding schools?
Webb has several unique aspects from the paleontology program, honor code, afternoon activities, to the opportunities brought along by its location in Claremont. The most influential part, for me, would definitely be the mission of the school and the honor code. Specifically, there is a heavy focus at Webb to focus on the details that teach students how to be upstanding citizens and role models. For example, boarders have daily room checks where faculty rate the cleanliness of a room based on aspects like if the bed is made, trash is taken out, sink is clean, etc. Similarly, there are dorm chores where boarders work together to keep maintain the campus grounds. While not all students get involved with the same kind of enthusiasm, they all build good habits that carry on to college and life after. Faculty focus on explaining why we do the things we do, not just how to do them. The honor code plays a large role in every part of community life at Webb. While it is abstract in idea, it influences how the campus operates and the lessons teachers impart on the students. In many ways, it gives a moral backing to the lessons taught in classes and experiences on campus that isn't available at other similar schools. In the end, I believe it builds a strong moral compass that supports students in decisions throughout their life.
2.) What was the best thing that happened to you in boarding school?
I think its common knowledge that boarding school isn't always easy. There are plenty of times where I felt alone or defeated or frustrated. My 13 year old self did not enjoy having to live away from his parents, plan his own schedule, or do his own laundry. There can be a lot of minor inconveniences. But, I learned to work around it - to not let those things affect me. I think I came out much more independent and mature than I would have if I had just stayed home and went to my local high school.
3.) What might you have done differently during your boarding school experience?
I remember deciding to run for student council president my freshman year and then dropping out before the speech because I was scared of speaking in front of my entire class. If I could go back, I would give that speech. The lesson here is that you shouldn't be scared at Webb. Boarding school can seem intimidating - living by yourself with people you've just met - but everyone is in the same boat. Don't let fear stop you.
4.) What did you like most about your school?
It is hard to pick a single factor that stood out the most at Webb. There are so many different contributing factors that makes life at Webb special and unique to each student. I believe it truly is the diversity of student life that made the experience great for me. I don't think I could go to any other high school and love being in every single group and activity as much as I did at Webb.
5.) Do you have any final words of wisdom for visiting or incoming students to your school?
I would say my two pieces of advice are (1) get to know the faculty, they are amazing and will help you so much, and (2) at Webb, you are only limited by your own standards. Never be scared to dream big and work hard for your goals because you are in one of the most supportive environments possible for growth.
Academics:
1.) Describe the academics at your school - what did you like most about it?
Webb's academics were rigorous - but they weren't the sole part of student life. My favorite part about the academics was actually how efficient teaching was - how I could absorb all the knowledge I felt like my colleagues at other schools were getting, while maintaining time to pursue my own passions with friends. Too common today we expect students to be studying 24/7 for tests and avoid all other activities - Webb doesn't do this. Webb encourages real world applications of classroom knowledge. One of my favorite memories to this day is winning an entire impromptu debate with a combination of facts from U.S history and physics.
Athletics:
1.) Describe the athletics at your school - what did you like most about it?
Webb Athletics provide a change for students to stay physically active and pursue more competitive tracks when desired. For a school of only 400 students, Webb maintains a relatively competitive team in a extremely diverse range of sports. I believe this is largely because of the dedication of the coaching staff and trainers on campus. In fact, its not uncommon for coaches to join you in the gym on weekends or early mornings - outside of regular sports practice times.
Art, Music, and Theatre:
1.) Describe the arts program at your school - what did you like most about it?
The arts department is amazing at our school. There is a performance almost every semester in dance, music, and theatre. The students always individualized attention in every field because of the small student body and the teachers come from well respected background with in-depth knowledge of their field. Webb provides a environment where you can make as much out of the arts experience as you could want.
Extracurricular Opportunities:
1.) Describe the extracurriculars offered at your school - what did you like most about it?
Webb has a wide variety of extracurricular activities from fencing club to debate to RC racing. My favorite part of the extracurriculars at Webb was the community service because it demonstrated how well connected Webb was to the larger community of Claremont. It was normal to be off campus every weekend working in another community project if you wanted to be. There were also service trips to Africa, Nepal, and more offered every school break!
Dorm Life:
1.) Describe the dorm life in your school - what did you like most about it?
The dorms were well furnished with personal sinks, common areas, and are always kept very clean. All boys have singles, with the option of moving into a few larger double rooms after freshman year. All girls have doubles with the option of moving into singles later as well. Freshman year, all boys and girls live together in their respective dorms (split by gender) - afterward there is an end of the year room selection process where students can choose where to move to next year. Dorm life was always fun - with activities organized regularly by the dorm council. Many students got fridges where they could store late night food and other snacks as well.
Dining:
1.) Describe the dining arrangements at your school.
The cafeteria is open for three meals a day buffet style. There is a salad bar, noodle bar, weekend omelets, sushi days, and more. Furthermore, there is almost always a vegan/vegetarian option. While the food is not amazing, I believe it pretty good for cafeteria food. There is also always food available during the day from peanut butter jelly sandwiches, fresh fruit, and bagels for snacks between classes.
Social and Town Life:
1.) Describe the school's town and surrounding area.
Claremont is a beautiful town to be in for high school. With the Claremont Colleges so close by, it has all the perks of a college town with vibrant student activities regularly at the local colleges and the city village. It is extremely safe and easy to get around by taxi, walking, and biking (my favorite).
2.) Describe the social life at your school - what did you like most about it?
Everyone at Webb is extremely nice and welcoming. With around 100 students per grade, almost everyone is close friends by the time they graduate. People with different cultural background became friends easily and there was very little to no bullying or problematic behavior during my time.
The classroom setting of a round table discussion instead of lecture based teaching. I believe it really puts the pressure on the student to understand what is going on in the class and bring an. . .
Webb has a clear focus on community and it really shows. When you are a student you become best friends with the faculty and your fellow students, traversing the boundaries of what most schools can. . .
The Webb Schools is unique in many ways different than other boarding schools. One being that it is a boy's school and a girl's school on one shared campus. This allows the freshman and sophomore. . .
Show more reviews (

26 reviews

)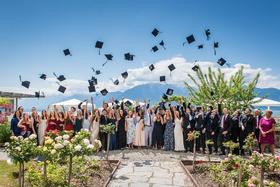 Nurturing Futures: A Journey through Boarding at Haut-Lac School in Switzerland
Nestled in the hills overlooking Lake Geneva in the French-speaking part of Switzerland lies an educational gem that embodies a unique blend of academic excellence, cultural richness and a profound sense of community. Founded over 30 years ago, Haut-Lac International Bilingual Day and Boarding School is now home to both 600 day students and a maximum of 30 boarders from around the world.
What To Wear at Your Job Interview
Navigating job interviews can be stressful, but knowing what to wear shouldn't be. Our comprehensive guide covers the essential dress code tips for men and women interviewing at boarding schools. Make your first impression count with style and professionalism.
Navigating the Modern Maze: Emerging Challenges for Boarding Schools
Explore the pressing challenges facing boarding schools, from marketing difficulties and rising insurance costs to facility maintenance and recruitment of competent trustees and teachers. This article delves into these complex issues and proposes innovative strategies to overcome them.