Reflections and Advice:
1.) What do you think makes your school unique relative to other boarding schools?
For me Cushing's highlight was definitely that it had its own rink. For someone that lives the ice, like me, this was amazing.
2.) What was the best thing that happened to you in boarding school?
I learned so much about other cultures. Not by sitting in the classroom, but by meeting people from all over the world. This allowed me to learn and grow.
3.) What might you have done differently during your boarding school experience?
I would have taken more AP classes and also a visual art class! Take advantage of all the resources that cushing has. The opportunities are there, but no one will give them to you on your hands, you have to take them. Make your stay worth it.
4.) What did you like most about your school?
The ice rink. For anyone who is into ice skating this place is amazing. You can always use the ice for morning practices. I would go skate every morning, and I was the only one in the ice!
5.) Do you have any final words of wisdom for visiting or incoming students to your school?
Yes! Get the BBQ chicken calzone at Village Pizza!
Academics:
1.) Describe the academics at your school - what did you like most about it?
flexibility: there was a wide range of classes to choose from. Anything from AP BIO to Lord of the Rings Literature. faculty: the faculty was amazing! The professors were truly caring; and I can confirm that many (if not most) of them were passionate of what they taught.
Athletics:
1.) Describe the athletics at your school - what did you like most about it?
Sports normally occurred during afternoon activities. There was NO mandatory participation. Which is great for those who are not into sports. Facilities: The facilities are amazing. Cushing has an amazing (new) gym, tennis courts, an incredible rink, a turf, and other courts.Competitiveness: competition was high, especially in Varsity Hockey and Soccer. However, the great thing about Cushing is that there is a place for everyone: Varsity, Junior Varsity, and recreational.
Art, Music, and Theatre:
1.) Describe the arts program at your school - what did you like most about it?
At least two classes of art must be taken. Which is great to explore. They can be taken as a subject (within the class schedule), as an afternoon activity, or both. Visual arts: everything you can think of: drawing, painting, glass art, metal art, etc.Music: this is the path I followed. What I liked the most is that there were private classes available.Theater/dancing: I never formed part of these disciplines. However, I did attend to many performances which were amazing.
Extracurricular Opportunities:
1.) Describe the extracurriculars offered at your school - what did you like most about it?
The easiness to form a club. Cushing offers many leadership opportunities.
Dorm Life:
1.) Describe the dorm life in your school - what did you like most about it?
I made lifetime friendships. There was always activities organized by dorm parents. Dorm Parent would bake all the time! Room setups: most were doubles. Some were single and were granted on a first come first serve basis. room selection process: by seniority Night food access: vending machines/ also delivery within the hours allowed
Dining:
1.) Describe the dining arrangements at your school.
The cafeteria was great. There was always a wide selection of food available. The permanent sections were the pizza bar, pasta bar, , salad bar, and sandwich bar. Besides this, there was a bar with different food all the time: this could be salmon, mac n cheese, steak, burgers (a wide selection). Food was very diverse.Seating was not assigned.Issues: cafeteria hours. Outside of its hours there was no access to the cafeteria. Although the hours were reasonable, I had to get used to have dinner earlier than usual.
Social and Town Life:
1.) Describe the school's town and surrounding area.
The town was small. Very very small. Ashburnham only has a few stores and the rest is residential. What is great about this, is that because the town is small and safe, students have the freedom to go to the small town all the time. Its only a 10 minute walk from school. There you can find some restaurants, a bagel shop, and a market.
2.) Describe the social life at your school - what did you like most about it?
Pretty social. Most students were boarders so the campus was never lonely. There were always activities available for community engagement.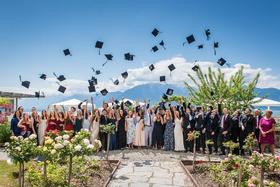 Nurturing Futures: A Journey through Boarding at Haut-Lac School in Switzerland
Nestled in the hills overlooking Lake Geneva in the French-speaking part of Switzerland lies an educational gem that embodies a unique blend of academic excellence, cultural richness and a profound sense of community. Founded over 30 years ago, Haut-Lac International Bilingual Day and Boarding School is now home to both 600 day students and a maximum of 30 boarders from around the world.
What To Wear at Your Job Interview
Navigating job interviews can be stressful, but knowing what to wear shouldn't be. Our comprehensive guide covers the essential dress code tips for men and women interviewing at boarding schools. Make your first impression count with style and professionalism.
Navigating the Modern Maze: Emerging Challenges for Boarding Schools
Explore the pressing challenges facing boarding schools, from marketing difficulties and rising insurance costs to facility maintenance and recruitment of competent trustees and teachers. This article delves into these complex issues and proposes innovative strategies to overcome them.