Reflections and Advice:
1.) What do you think makes your school unique relative to other boarding schools?
Cushing Academy's family atmosphere and welcoming community is one that sets them apart from every other prep school. The people on campus make it a special place where everyone feels part of something bigger than themselves. It is a culture that can't be explained, just experienced.
2.) What was the best thing that happened to you in boarding school?
Meeting people from all over the world is my proudest accomplishment at Cushing. Welcoming other cultures into my life and teaching me inclusion and openness to other ways of life was amazing and those I have met will always be in my life in some capacity as alum.
3.) What might you have done differently during your boarding school experience?
I would have gone freshman year. My only regret I didn't go sooner.
4.) What did you like most about your school?
The people!
5.) Do you have any final words of wisdom for visiting or incoming students to your school?
Cushing is not just about sports, it's not just about academics, it's not just the community. What makes cushing special is that it is all things to all people in different ways. Not everyone is the same there but cushing reaches each student where they are, brings them along the way and guided them to be the best they can be. Cushing is wrapped up into a little packaged filled with love, passion and commitment to learning, listening and growing together, there is no place like it.
Academics:
1.) Describe the academics at your school - what did you like most about it?
The way that we learn at Cushing is open collaboration and conversation. Everyone learns at a different pace and way and our facility would always find a creative way to help us learn and understand the material for life, not just for a test.
Athletics:
1.) Describe the athletics at your school - what did you like most about it?
The athletics are highly competitors and skills, the coaches are high level and work together to create a college level training environment while in prep school. Each season coach works together to bridge the training and preparing for transition into the new season for multi sport athletes. The facilities are incomparable to any other prep school, new, state of the art sets us apart. Activities are mandatory after school, but not all students are athletic so there are other options in music, art, science, robotics etc to participate in.
Art, Music, and Theatre:
1.) Describe the arts program at your school - what did you like most about it?
I was part of the architecture class at cushing and it was so inspirational and motivating to learn and build facilities.l under current laws and guidelines. The tools and facilities provided for this are above par and create a professional environment for the students to learn and implement their vision.
Extracurricular Opportunities:
1.) Describe the extracurriculars offered at your school - what did you like most about it?
XBL was a huge thing the kids participated in. Also constant events on campus were fun and welcoming and always got the kids out of their dorms. Mountain day, Tony fisher day, dorm aid, dorms Olympics are just a few events that make a positive impact.
Dorm Life:
1.) Describe the dorm life in your school - what did you like most about it?
Dorms were near center of campus, everything was clean and organized and homey. Now all dorms are brand new and state of the art.
Dining:
1.) Describe the dining arrangements at your school.
Food is the best in the industry. Faculty is brand new and endless choices are top notch every meal, every day.
Social and Town Life:
1.) Describe the school's town and surrounding area.
Ashburnham is a small town but has 2 pizza shops and bagel shop and super market.
2.) Describe the social life at your school - what did you like most about it?
The social life was awesome. While our schedule was packed the community always found time to create time and events to get the kids out and about and enjoy down time. Just being in the dorm and student center with my friends hanging out playing pool or ping pong was the best time. We never watched TV, so much other great things to do.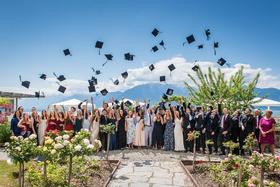 Nurturing Futures: A Journey through Boarding at Haut-Lac School in Switzerland
Nestled in the hills overlooking Lake Geneva in the French-speaking part of Switzerland lies an educational gem that embodies a unique blend of academic excellence, cultural richness and a profound sense of community. Founded over 30 years ago, Haut-Lac International Bilingual Day and Boarding School is now home to both 600 day students and a maximum of 30 boarders from around the world.
Navigating the Modern Maze: Emerging Challenges for Boarding Schools
Explore the pressing challenges facing boarding schools, from marketing difficulties and rising insurance costs to facility maintenance and recruitment of competent trustees and teachers. This article delves into these complex issues and proposes innovative strategies to overcome them.
What To Wear at Your Job Interview
Navigating job interviews can be stressful, but knowing what to wear shouldn't be. Our comprehensive guide covers the essential dress code tips for men and women interviewing at boarding schools. Make your first impression count with style and professionalism.