Reflections and Advice:
1.) What do you think makes your school unique relative to other boarding schools?
It's a place where they not only encourage students to go out and make a difference, but they help make that possible by supporting student endeavors. A lot of what happens at the school is student run. Cushing is a school by the students for the students with the help of phenomenal faculty and staff.
2.) What was the best thing that happened to you in boarding school?
I truly consider Cushing to be my alma mater. It made me a motivated individual, and I didn't value my education before I came to this school. Once I got here and saw the community and all of the student engagement, it made me want to become involved. I started actively participating in class discussions, I took more time to fully understand and digest my work, and I joined a variety of campus clubs and organizations. I also wanted to start a student run sexual education program, which the school fully supported. From that stemmed an opportunity to give a TED Talk through the school. It's amazing to reflect on how much I've grown from this school.
3.) What might you have done differently during your boarding school experience?
I would have brought rain boots and snow boots with me. New England has a lot of precipitation!!
4.) What did you like most about your school?
Short and simple: the community. There's absolutely nothing like it.
5.) Do you have any final words of wisdom for visiting or incoming students to your school?
The cafe in the library has the best chia tea latte I've ever had.
Academics:
1.) Describe the academics at your school - what did you like most about it?
There was a variety of academic courses to choose from at varying degrees of difficulty. I found myself in a majority of honor and AP classes, which were comfortable for my abilities. Though, if I ever had any trouble, all of the teachers were readily available to meet with me outside of class time, whether it was in the dorms, during extra help, or before afternoon activities. For the most part, teachers are sensitive to the fact that as students we are busy with many classes, mandatory activities and/or sports, and clubs and organizations, so they'll work with you map out your time or they'll schedule assessments at more convenient times.
Athletics:
1.) Describe the athletics at your school - what did you like most about it?
There is a big sports culture at Cushing, which serves as a major building block for community. Even during the seasons that I wasn't participating in a sport, I would go to watch games on the weekend with my friends. I think because Cushing is such a small community, we want to support each other, so even though I've never actually enjoyed just watching sports, I had a great time watching my friends and peers play. Winter sports definitely attract a bigger crowd, and it's incredible to see how pumped up everyone gets. As far as less competitive sports, there are jv and intermediate teams available. Even if one doesn't have any experience in a sport, they're welcome to try it out and will have a spot on the jv or intermediate team to further develop their skills at a somewhat competitive level. Most of the coaches are absolutely fantastic, and many of them of Cushing faculty. I really enjoyed getting to know some of my teachers and dorm parents on a different level through the athletic department.
Art, Music, and Theatre:
1.) Describe the arts program at your school - what did you like most about it?
As someone involved in the theatre program, I have to say that the director/drama teacher is the best that I have ever had. It's amazing to see how well developed each show is considering they go from casting to final production in only a few short months. I'm so thankful for my time spent in my advanced acting and directing class because our final was to write, cast, and direct a show. It was hard work, but now that I've done something like that, I feel so much more confident in my work. It also allowed me to get a sense of the theatre from pretty much every position. I had a blast working in class and in productions. As for the music program, I always went to their shows to support the arts, and those who performed played challenging pieces of music seemingly with ease. The atmosphere and the music itself was always beautiful. The visual arts department is facilitated in a lovely building. It's fully equipped with everything you could possibly need and more to create the art that you want. The teachers there give you constructive feedback, and quite frankly, great conversation, too! It's incredible to see some of the art that the students produce. All teachers in the arts are super supportive and will help with preparation for any outside auditions, shows, galleries, and competitions.
Extracurricular Opportunities:
1.) Describe the extracurriculars offered at your school - what did you like most about it?
There's such a wide variety of extra-curricular activities at the school, and they change up pretty regularly by trimester for afternoon activities. If there's an activity that you think would interest some people, if you let a faculty member know early on enough, they may be able to make it happen for you. If not, you can always make it a club!
Dorm Life:
1.) Describe the dorm life in your school - what did you like most about it?
The rooms really were not too bad. They looked a little outdated, but size-wise, they worked really well! The dorm parents were always great, and they'd even make us food occasionally. They were super interactive while on duty (and off duty too), and they'd be open to hearing about any of our problems, both school related and personal.
Dining:
1.) Describe the dining arrangements at your school.
Cushing has some of the best school-food, but after awhile, it starts to get boring. As a vegetarian and vegan at the school, I found it fairly easy to find quality options everyday. For the most part, people tend to sit in regular spots in the dining hall.
Social and Town Life:
1.) Describe the school's town and surrounding area.
There's not too much going on downtown. There's a grocery store, a nail salon, a few pizza places, and sushi restaurant (which is surprisingly really good). However, getting to Boston is pretty easy, and there's a shuttle every weekend.
2.) Describe the social life at your school - what did you like most about it?
Everyone kinda knows everyone, and people regardless of how different tend to get along.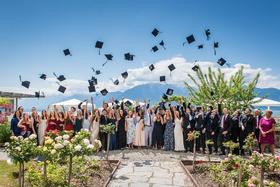 Nurturing Futures: A Journey through Boarding at Haut-Lac School in Switzerland
Nestled in the hills overlooking Lake Geneva in the French-speaking part of Switzerland lies an educational gem that embodies a unique blend of academic excellence, cultural richness and a profound sense of community. Founded over 30 years ago, Haut-Lac International Bilingual Day and Boarding School is now home to both 600 day students and a maximum of 30 boarders from around the world.
What To Wear at Your Job Interview
Navigating job interviews can be stressful, but knowing what to wear shouldn't be. Our comprehensive guide covers the essential dress code tips for men and women interviewing at boarding schools. Make your first impression count with style and professionalism.
Navigating the Modern Maze: Emerging Challenges for Boarding Schools
Explore the pressing challenges facing boarding schools, from marketing difficulties and rising insurance costs to facility maintenance and recruitment of competent trustees and teachers. This article delves into these complex issues and proposes innovative strategies to overcome them.