Reflections and Advice:
1.) What do you think makes your school unique relative to other boarding schools?
A unique aspect of Berkshire School is its Advanced Math and Science Research program. Students work with the head of the program in Berkshire's lab and are also often mentored by faculty of labs around the country. The program allows students to gain research experience before they enter college, which allows them to work at a high level in university labs.
2.) What was the best thing that happened to you in boarding school?
I did well in school and all that, which the school made sure to recognize, but the best part of going to Berkshire was just the people. Berkshire's faculty and students are some of the best people that I've ever met and I am still close with them.
3.) What might you have done differently during your boarding school experience?
The best advice I have is to be outgoing. Meet people outside of your floor or interests. Don't be afraid to try something new. You may feel like you will be judged, but the reality is people look up to those who pursue their interests.
4.) What did you like most about your school?
Overall, the best part of Berkshire is the opportunities there. There is so much you can do and learn and you do it alongside some great people.
5.) Do you have any final words of wisdom for visiting or incoming students to your school?
Make sure to go for a sunrise hike.
Academics:
1.) Describe the academics at your school - what did you like most about it?
Like most boarding schools, the academics are exceptional. What differentiates Berkshire, is the care the teachers put into fostering a healthy class environment and the diversity of classes and programs. I rarely felt like the workload or our class discussions were getting away from me, but when they did, the teachers were always happy to meet with me after class or that evening to go over material. Teachers also kept lectures entertaining simply because the teachers themselves are interesting people. Berkshire has a way of hiring teachers with all different kinds of personalities and unique backgrounds and it becomes apparent when you take classes with them.In terms of classes, Berkshire offers the beginning level to the AP level. Berkshire also has programs that specialize in scientific and math research, engineering, and humanities research. These programs allow student to perform research at the university level, and some students even get published. Not only is this kind of experience beneficial in terms of experience, it also often helps the student stand out among their peers.
Athletics:
1.) Describe the athletics at your school - what did you like most about it?
Berkshire School has some of the best sports teams in the country. The varsity soccer team has consistently sent players to the professional level. Though it is fun to be able to watch some great sports games in the afternoons, the best part of Berkshire's athletic program is that they have JV, 3rds, and sometimes recreational levels for the different sports teams. You could have never played soccer or hockey or rowed crew before and it is very likely that you would get a spot on the roster.
Art, Music, and Theatre:
1.) Describe the arts program at your school - what did you like most about it?
All student I required to take two semesters of Art. I ended up take Photography all four years through the AP level. There are several art trips that take place throughout the year. I went on trips to New York City and Albany to take photos to name a few. The music, dance, and theatre programs are also very strong. Though I never participated in these programs, I think their sold out performances attests to their quality.
Extracurricular Opportunities:
1.) Describe the extracurriculars offered at your school - what did you like most about it?
Berkshire has many student clubs. There is everything from meditation to fly fishing to rock climbing. My favorite part about Berkshire's extra-curricular system is that it is very easy to start your own club. I had many friends that were able to bring traditions and interests from home to campus through the initiation of clubs.
Dorm Life:
1.) Describe the dorm life in your school - what did you like most about it?
I was a day student so I can't speak much on dorm life. I can say that the school does a great job of integrating day students into campus life. Day students have the opportunity to stay on the weekends and many of your friends will be boarders so you spend a lot of time in the dorms anyway.
Dining:
1.) Describe the dining arrangements at your school.
The food at Berkshire is overall pretty good compared to most high schools. There are always different hot foods that they serve, along with daily soups, a salad bar, and a panini bar. There is also a formal sit down dinner once a week where you are assigned a seat and there is one or two faculty members at your table as well. There is also a deli kind of place that is open throughout the day that serves breakfast sandwiches and other food.
Social and Town Life:
1.) Describe the school's town and surrounding area.
There are a couple town trips each weekend to Great Barrington. It is a great town that has several restaurants and shops. They also have a movie theater.
2.) Describe the social life at your school - what did you like most about it?
During the school week we often would hang out in the quad, in our rooms, or went for a hike. During the weekend there is often a dance or some sort of entertainment. There is also annual events like dorm competitions, which involves an ice-skit, and other fun events.
During my three years at Berkshire, I was able to take advantage of many unique opportunities that other boarding schools just did not offer. For example, I was able to attend The Island School during. . .
One unique aspect of a boarding school could be its integration of technology and innovative teaching methods. The school might have a strong focus on incorporating technology into the learning process, using interactive educational tools. . .
Every year at Berkshire School, the school holds a Pro Vita week. During this week, students get to take classes that vary from their typical classes. These classes span from learning how to cook sustainability. . .
Show more reviews (

15 reviews

)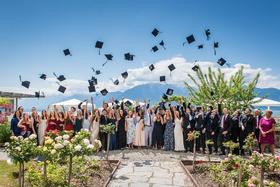 Nurturing Futures: A Journey through Boarding at Haut-Lac School in Switzerland
Nestled in the hills overlooking Lake Geneva in the French-speaking part of Switzerland lies an educational gem that embodies a unique blend of academic excellence, cultural richness and a profound sense of community. Founded over 30 years ago, Haut-Lac International Bilingual Day and Boarding School is now home to both 600 day students and a maximum of 30 boarders from around the world.
What To Wear at Your Job Interview
Navigating job interviews can be stressful, but knowing what to wear shouldn't be. Our comprehensive guide covers the essential dress code tips for men and women interviewing at boarding schools. Make your first impression count with style and professionalism.
Navigating the Modern Maze: Emerging Challenges for Boarding Schools
Explore the pressing challenges facing boarding schools, from marketing difficulties and rising insurance costs to facility maintenance and recruitment of competent trustees and teachers. This article delves into these complex issues and proposes innovative strategies to overcome them.