Reflections and Advice:
1.) What do you think makes your school unique relative to other boarding schools?
Choate's Humanities courses and music program are second to none. Both the English and HPRSS (history, philosophy, religion, and social sciences) departments are filled with wonderful, passionate educators who lead informative discussion-based Harkness table classes. For these classes, students provide their opinions on the nights reading and then discuss - you are as much a participant as much as the teacher, who controls the direction of the class. Personally, American Studies, a junior-year course in which American History is analyzed through American Literature, and the Humanities Sequence (Romanticism, Modernism, Post-modernism) were particularly memorable. Regarding the music program, I was also a member of the symphony orchestra for 4 years. Conductor Philip Ventre has been at the school for almost 50 years, and though he gets strict at times, his experience and expertise lift the level of the musicians to unprecedented heights.
2.) What was the best thing that happened to you in boarding school?
I learned how to think, but much more than that, I learned to be responsible. Boarding school is really special: it's really rare to have a place where you're sent to at 14 and expected to interact with others from so many diverse backgrounds basically as an adult. I was very immature out of middle school and probably committed an infinite number of social faux pas, but I wouldn't take them back because I've grown as a result into a young lady who's able to hold her own and interact comfortably and confidently with adults. In particular, I've gotten much more responsible. I was a master procrasinator freshman year, and now I always set mini-goals for myself when faced with a larger project to make sure I stay on track. Debate and class discussions have also taught me how to express my thoughts clearly and succintly.
3.) What might you have done differently during your boarding school experience?
Been a little bit more proactive in talking to new people, especially boarders. Most of my friends freshman year were day students from Connecticut, and I definitely wish I'd branched out a little earlier. Also - the school will support you but you're generally responsible for yourself, academically, socially, with regards to your well-being etc.
4.) What did you like most about your school?
The people - cliched but interacting with people from all kinds of backgrounds is definitely not something I would've gotten to experience if not for Choate. One thing Choate's really good at for sure is teaching you how to have dinner table conversations with anyone, and this is largely thanks to the diversity (not only surface-level but also intellectually, as well).
5.) Do you have any final words of wisdom for visiting or incoming students to your school?
Peaceful place - picnic table behind Lanphier Tuck shop food pick - chicken tenders and fries and honey mustard Lanphier cafe drink pick - vanilla/chai latte
Academics:
1.) Describe the academics at your school - what did you like most about it?
Both teachers and fellow students are passionate and usually really care about the material. Coming from a public school, where most people were distracted, this was key to choosing Choate. In particular, I loved the discussion-dominant Harkness style English and social sciences courses because other student's opinions really challenged me and made me consider different facets of an issue I'd never thought of before. Though the workload was pretty heavy (3-4 hours HW/night freshman & sophomore year, 5-6 hrs/night junior year, 4-5 hrs/night senior) and my sleep certainly suffered as a result, teachers were usually really accommodating with extensions and extra help when given enough extra notice. Because a lot of people really care about academics, the environment is definitely competitive, but also really supportive. Both the advising and mentor health counseling services are top-notch.
Athletics:
1.) Describe the athletics at your school - what did you like most about it?
Although I initially was hesitant, the mandatory participation in at least 2 terms of athletics/year (out of three) forces me to stay in shape and provides a nice break in a busy schedule. The coaching varies - some teams are better than others (football is heavily recruited and has never lost of game in my entire time at the school - undefeated streak is at 40-something games). For cross-country and track, which I participated in, the team spirit was great and the coaches met me (and my teammates) at our levels. This means different workouts for different members of the team based on how competitive one is. The fitness center is fantastic and usually crowded with students and faculty in the afternoons but pretty empty at other times.
Art, Music, and Theatre:
1.) Describe the arts program at your school - what did you like most about it?
As a four-year member of the Symphony orchestra, I have to give credit to Maestro Philip Ventre, who's been at Choate for more than 45 years and is currently the longest-serving faculty member. Though he wasn't afraid to call people out if they didn't practice and oftentimes was strict with us, it paid off: we had 2 wonderful performances at Carnegie Hall and a 2 week tour in Germany and Austria during my time here. Due to budget cuts in the music program however, the frequency of international trips are becoming more and more sparse: what once was a yearly affair is now bi-yearly and sometimes even once every three years. For those more serious about music or art, the Arts Concentration Program is a special program that a lot of students joined that allows you to trade sports time for time in specialized ensembles or to focus on your art. The theatre program is also really intensive and top-notch. Choate's been recently renovating it's arts center (building an add-on with a music larger auditorium and sound-proofed practice rooms) that's scheduled to open in fall 2019, so that also something to note.
Extracurricular Opportunities:
1.) Describe the extracurriculars offered at your school - what did you like most about it?
I really liked the sheer diversity of clubs - there were at least 110 during my time there. Of course, given the club:student ratio, inevitably some of these clubs are ghost clubs created for college admissions that don't really meet but in general most clubs are active. I also really liked the cohesiveness and support behind of a lot of the larger clubs, such as debate, which I participated in. During the official fall debate season, there were tournaments almost weekly. The time on the bus traveling to other prep schools were great for bonding and where I met some of my closest friends. In addition, I really appreciated how it's quite easy to create a club if you find something that you want to participate in that doesn't exist. Creating both INK, my creative writing club, and Psyched!, my psychology magazines, only required getting a faculty advisor and meeting with COSA, the organization in charge of club creation.
Dorm Life:
1.) Describe the dorm life in your school - what did you like most about it?
I was a day student, but overall many of the dorms had a really strong community. Even in senior-year, references from freshman-year dorms remained. In addition, mug nights happen approximately biweekly and are really looked forward to (basically you get cake and other junk food during a 9pm study break). Though the dorms don't have AC, it's okay because it's only hot for maybe a total of one month during the school year. There's not many singles, so many people gunning for one end up having to settle for a second, third, or fourth pick, but usually after the initial disappointment most people are happy with their dorms.
Dining:
1.) Describe the dining arrangements at your school.
We have a dining hall, cafe, and tuck shop. The dining hall is free and has everything one could ask for - fresh fruit and yogurt, fresh-made omelets on the grill, and bacon, potatoes, bagels and toast for breakfast, and pasta, pizza, a salad and sandwich bar and a rotating menu for lunch and dinner. Though the food quality isn't always the bests, SAGE, our dining service is always trying to improve. The dining hall does close at 7:30 though, which is too early for many students. There is no assigned seating. The cafe has a variety of coffee and espresso drinks, as well as quick snacks, and is in Lanphier, the math building. Charges are through Choate card. The tuck shop, located in the student activities center, has fast food options like chicken tenders, pizza and fries, and is also paid using Choate card. It's open at night until 9:30, and is popular for students who can't make the dining hall closing hours.
Social and Town Life:
1.) Describe the school's town and surrounding area.
Main St on Wallingford has many dining options within walkable distance. Students sometimes also go out together to further areas on weekend nights (the school offers shuttles to New Haven, mall, other locations) Other than that contact with outside is pretty limited - we call ourselves the Choate bubble for a reason!
2.) Describe the social life at your school - what did you like most about it?
Everyone is really kind and polite and social identities are very fluid (eg. the football player is also a nerd, the star cross-country runner is also the lead in the school play). Everyone is courteous with each other. Of course, friend-groups form, usually around similar interests, the day student/boarding student split, or by race/ethnicity, but these groups are also loose and often mingle with each other.
Daily Schedule:
Weekday
7:00 AM
Wake up, get ready, drive to school
8:00 AM
Free period (catch up on HW, or get ahead)
9:30 AM
Conference block (more HW)
6:30 PM
Orchestra rehearsal
Weekend
9:00 AM
Wake up, get ready
7:00 PM
Hang out with friends
One thing about Choate I really believed made it so unique was the variety of classroom experiences one could have in just ONE academic day. Many schools utilize the classic classroom set up where the. . .
The community is definitely Choate's greatest asset, and the admissions folk do a great job of picking students. We're a pretty chill bunch, so you won't find much of the cut-throat competitiveness that usually accompanies. . .
Choate was unique in that during my junior year, they did away with AP labels on courses in order to let the teachers have more power over the curriculum. This created a culture in which. . .
Show more reviews (

27 reviews

)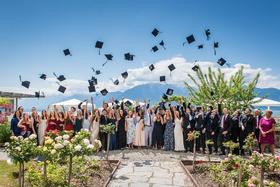 Nurturing Futures: A Journey through Boarding at Haut-Lac School in Switzerland
Nestled in the hills overlooking Lake Geneva in the French-speaking part of Switzerland lies an educational gem that embodies a unique blend of academic excellence, cultural richness and a profound sense of community. Founded over 30 years ago, Haut-Lac International Bilingual Day and Boarding School is now home to both 600 day students and a maximum of 30 boarders from around the world.
What To Wear at Your Job Interview
Navigating job interviews can be stressful, but knowing what to wear shouldn't be. Our comprehensive guide covers the essential dress code tips for men and women interviewing at boarding schools. Make your first impression count with style and professionalism.
Navigating the Modern Maze: Emerging Challenges for Boarding Schools
Explore the pressing challenges facing boarding schools, from marketing difficulties and rising insurance costs to facility maintenance and recruitment of competent trustees and teachers. This article delves into these complex issues and proposes innovative strategies to overcome them.