Reflections and Advice:
1.) What do you think makes your school unique relative to other boarding schools?
Blair Academy provided me with the foundation to pursue serious academic study in college, medical school and what I learned at Blair continues to stand me in great stead as I practice medicine. The Blair experience is one of rigorous academic requirements combined with a very nurturing(often described as "family like")environment. The teachers at Blair are fully dedicated to their craft and they care deeply about their students. Many of my former mentors at Blair still remain after years of selfless dedication. Of all the institutions which I have attended, from college to medical school, The Cleveland Clinic and Mayo Clinc, none were as meaningful to me as was my experience at Blair. I owe the school much.
2.) What was the best thing that happened to you in boarding school?
The best thing to happen to me at Blair was what the school did for me in the classroom and as a human being. I left the school as a better student, confident in my abilities, but as importantly with as sense of fairness and concern for others. I now practice medicine. So many times I have had to call upon skills which had their genesis at Blair.
3.) What might you have done differently during your boarding school experience?
My advice is to look for a nurturing environment, one which suits your personaliy, and a school which can help you gain admittance to the finest colleges. I don't regret anything about my experience at Blair.
4.) What did you like most about your school?
Wonderful academics, wonderful teachers who are also wonderful human beings, and bright, articulate students who have remained great friends! I certainly hope my daughter will attend Blair!
5.) Do you have any final words of wisdom for visiting or incoming students to your school?
Just make the most of your time at Blair!! This school will not let you down!
Academics:
1.) Describe the academics at your school - what did you like most about it?
The academics at Blair were very challenging. I came from an excellent public school to Blair, but was not at all prepared initially for the increased work load or the seriousness of the academic environment. However, I fairly quickly came to terms with the demands, helped by wonderful teachers, and quickly became an honors student. The classes are small, averaging around 10 students and individual accountability is always demanded in class. I had never seen a blue book exam until I entered Blair and I never saw a multiple choice test again after I went there! Classes were always a dynamic place and the teachers made learning fun, while demanding our best. The depth and breadth of offerings have both improved since I was there. They offer everything from Chinese to honors in just about every science. They recently procured a Thermal Cycler which will allow advanced biology students to perform DNA sequencing experiments....highly advanced and unuasual for a secondary school!
Athletics:
1.) Describe the athletics at your school - what did you like most about it?
I like athletics at Blair because, while an important part of our educational experience, athletics never took precedence over academics. Just about everything imaginable is offered including Crew, Ice Hockey, Squash and the more usual sports. Blair has the best prep school wrestling team in the nation and currently has graduates playing varsity basketball at Duke, UConn, Stanford and Texas.
Art, Music, and Theatre:
1.) Describe the arts program at your school - what did you like most about it?
The performing arts are incredibly strong at Blair. The Armstrong-Hipkins Center for the arts was built a few years ago and is widely considered one of the best prep school facilities of its kind nationally. Choral music is particularly strong. The Blair Academy Singers have performed at the Kimmel Center with the Orpheus Club and are scheduled to tour Italy this Spring.
Extracurricular Opportunities:
1.) Describe the extracurriculars offered at your school - what did you like most about it?
Many opportunities are available, more so than when I went to Blair. The catalogues lists about 20 different clubs and activities.
Dorm Life:
1.) Describe the dorm life in your school - what did you like most about it?
The dorm was great. Each dorm has a Housemaster and ours had 2 additional junior faculty living in apartments within the dorm. The dorms are now all wired for internet access. Faculty are always available to help with academic questions or personal support no matter what hour of the day or night. My dorm was East Hall which was steam heated...quite nice during the cold N.J. winters!
Dining:
1.) Describe the dining arrangements at your school.
The food was always consistently good and the formal family style dinners promoted chesion among the students and faculty. The no longer have sit down family style lunches to open up more time for academics during the day.
Social and Town Life:
1.) Describe the school's town and surrounding area.
There isn't much in Blairstown, either good or bad. That fact never really meant much to me as the school is completely self contained.
2.) Describe the social life at your school - what did you like most about it?
The social life at any boarding school has some common characteristics, I'm sure. The student body was and I believe still is collaborative rather than competitive. This really promotes closer ties among students. The usual dances, movies and so forth are held. Basketball and wrestling are big at Blair so sports events also attract a lot of student interest.
Daily Schedule:
Weekday
3:00 PM
team sports or other activities
Weekend
Blair's emphasis on community made it stand out. For me, that started on my tour, when everyone seemed to know everyone else as we walked around the 400-acre campus. The friendly atmosphere and. . .
Blair Academy is a beautiful school that provided a lot of nourishment for students looking for an alternative to local private/public schools. Blair was the perfect size school with students from around the world. . .
The Campus is a park like setting with a growing infrastructure that helps it adapt to our ever changing world. It is somewhat isolated so campus life is our focus.. . .
Show more reviews (

6 reviews

)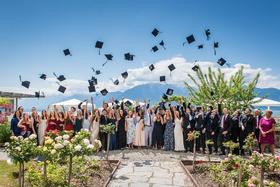 Nurturing Futures: A Journey through Boarding at Haut-Lac School in Switzerland
Nestled in the hills overlooking Lake Geneva in the French-speaking part of Switzerland lies an educational gem that embodies a unique blend of academic excellence, cultural richness and a profound sense of community. Founded over 30 years ago, Haut-Lac International Bilingual Day and Boarding School is now home to both 600 day students and a maximum of 30 boarders from around the world.
What To Wear at Your Job Interview
Navigating job interviews can be stressful, but knowing what to wear shouldn't be. Our comprehensive guide covers the essential dress code tips for men and women interviewing at boarding schools. Make your first impression count with style and professionalism.
Navigating the Modern Maze: Emerging Challenges for Boarding Schools
Explore the pressing challenges facing boarding schools, from marketing difficulties and rising insurance costs to facility maintenance and recruitment of competent trustees and teachers. This article delves into these complex issues and proposes innovative strategies to overcome them.