Reflections and Advice:
1.) What do you think makes your school unique relative to other boarding schools?
The athletic program is very unique to IMG. The focus on college and applications is also unique.
2.) What was the best thing that happened to you in boarding school?
I got to play college soccer which I am proud of. I learned how to live away from family and I made really good connections with people all over the world.
3.) What might you have done differently during your boarding school experience?
It is very overwhelming the first few weeks so prepare yourself mentally. I probably should have packed better so make sure you pack well.
4.) What did you like most about your school?
The athletics
5.) Do you have any final words of wisdom for visiting or incoming students to your school?
Get involved in activities and groups. If you are visiting just take It all in the campus is truly amazing.
Academics:
1.) Describe the academics at your school - what did you like most about it?
The academics at my school were pretty diverse in terms of the level of difficulty. If you wanted to challenge yourself and take tougher classes that was available. But, at the same time if you struggled in specific subjects you could take easier classes. Teachers, registrars, and counselors were always willing to work with me and figure out the best decision for me. This was one of the good parts about this School the amount of care you get from the teachers and staff. The downside to having some kids in classes that are intentionally easier is that it gives the impression that they don't really care about the education that they get as long as they fulfill the requirements.
Athletics:
1.) Describe the athletics at your school - what did you like most about it?
IMG academy's athletics are unmatched by any school in the country. It is very focused on developing world class athletes and it does its job well. There's really not much to say aside from it is the place to go if you want to play college sports.
Art, Music, and Theatre:
1.) Describe the arts program at your school - what did you like most about it?
Almost non existent. This school was not built for the arts and this is clear. However, those who attend go in knowing this. There are art classes you can take but it is very minimalistic.
Extracurricular Opportunities:
1.) Describe the extracurriculars offered at your school - what did you like most about it?
Extracurriculars are accessible and a good way to get involved in the community as many of them are service based. One issue is that a lot of students get burnt out and stop attending meeting which leads to the group becoming stagnant.
Dorm Life:
1.) Describe the dorm life in your school - what did you like most about it?
Dorm life was great the dorms are clean and new with new additions being made all the time. It is safe and the people working there really know what they are doing.
Dining:
1.) Describe the dining arrangements at your school.
Dining at this School is better than what I have gotten at college. The cafeteria is very new and the food is very nutritious. The hours are kind of annoying as it is only open at certain times throughout the day which leads to it being crowded during those times.
Social and Town Life:
1.) Describe the school's town and surrounding area.
The surrounding area directly outside of the school is nothing special and kind of a bad part of town but 5 miles in any direction and there will be something to do.
2.) Describe the social life at your school - what did you like most about it?
social life revolved around your sport and the connections you make within it. You also have some friends in other sports but for the most part your social group is determined by your sport.
Daily Schedule:
Weekday
10:00 AM
End soccer start weights
Weekend
1:00 AM
Usually we have a game or two on the weekend it depends on the weekend.
IMG is exceptionally well organized, efficiently run and super clean. The facilities are absolutely top notch and the one your post great experience that my son had was excellent. Nice dorm rooms, good food options. . .
The most important I feel safe at the boarding school and campus very tight security 24/7. The academics are top of the line and all of my teachers have been excellent and always willing. . .
Parent Review:The excellent blend of quality academics and first-class athletic training are what makes IMG an amazingly unique experience in my opinion as a parent of a first-year senior.While IMG boasts incredible athletic facilities. . .
Show more reviews (

3 reviews

)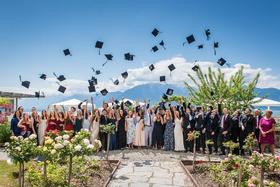 Nurturing Futures: A Journey through Boarding at Haut-Lac School in Switzerland
Nestled in the hills overlooking Lake Geneva in the French-speaking part of Switzerland lies an educational gem that embodies a unique blend of academic excellence, cultural richness and a profound sense of community. Founded over 30 years ago, Haut-Lac International Bilingual Day and Boarding School is now home to both 600 day students and a maximum of 30 boarders from around the world.
What To Wear at Your Job Interview
Navigating job interviews can be stressful, but knowing what to wear shouldn't be. Our comprehensive guide covers the essential dress code tips for men and women interviewing at boarding schools. Make your first impression count with style and professionalism.
Navigating the Modern Maze: Emerging Challenges for Boarding Schools
Explore the pressing challenges facing boarding schools, from marketing difficulties and rising insurance costs to facility maintenance and recruitment of competent trustees and teachers. This article delves into these complex issues and proposes innovative strategies to overcome them.