Reflections and Advice:
1.) What do you think makes your school unique relative to other boarding schools?
I think that the main aspect that makes this boarding school unique is the fact that it is on a ship. This causes an increased friendship between the students and even with the teachers and the crew members. I believe this makes living in the ship a lot better and that these friendships are the kind to last for a long time. It teaches the students to trust more, to learn and accept more from other students that live in other countries or even continents.
2.) What was the best thing that happened to you in boarding school?
I'm not a trusty person, I never really had close friends at school and I didn't like to be exposed to people. On the ship I learned that trusting others with your problems can actually solve them faster and better. I learned what a true friend is and I'm proud to say that I'm still in touch with them despite the distance. I also learned how to love. I never really had a guy I felt something for but I learned what it was. Now despite us not being together anymore I have great memories.
3.) What might you have done differently during your boarding school experience?
I would have tried to hang out with other people more. At the end I always hung out with the same friends but now I regret not going out with the others.
4.) What did you like most about your school?
The fact that we would travel so much around the world. I love travelling and getting to know new places. It was the best thing.
5.) Do you have any final words of wisdom for visiting or incoming students to your school?
Get along with the crew, it's essential plus they're really nice and interesting people. Try not to eat too much at the beginning. Buy healthy snacks for the long sails, popcorn is very recommended. Try to befriend everyone without pretending to be nice (you'll get tired of it).
Academics:
1.) Describe the academics at your school - what did you like most about it?
I liked that the ambience in the classroom was more relaxed than in a normal school. You could sit in the most comfortable position for you and since the space was wider than a normal classroom you could see the teacher all the time and the other students. These teachers are people who know a lot and not only of their subject. They would relate certain themes to worldwide problems or give an example using a similar theme.
Athletics:
1.) Describe the athletics at your school - what did you like most about it?
The athletics as exercise are limited on board because of the space but aerobics and yoga will be made on the main deck if the weather allows it. However the most athletic thing you will do is sail work. Between hoisting the sails and the masts, trimming the yards, climbing the masts and furling the sails, you will work out muscles you didn't even know were there.
Art, Music, and Theatre:
1.) Describe the arts program at your school - what did you like most about it?
We had movie nights once a month more or less. They were on deck if the weather allowed it. We would hang a piece of canvas and project the movie while lying on deck in our sleeping bags and pillows. For the singing we would learn sea shanties and sing them while cleaning or sail handling.
Extracurricular Opportunities:
1.) Describe the extracurriculars offered at your school - what did you like most about it?
We had a Holiday club where they planned the activities for every holiday we went through. We had cookies for Valentine's day, a costume contest for Halloween, special meals for Christmas and thank you cards for thanksgiving.
Dorm Life:
1.) Describe the dorm life in your school - what did you like most about it?
You basically share your dorm with about 30 people since all the boys sleep on one side and all the girls on the other. I think it was really nice since the trust between everyone gets really tight since we all shared one space. When I arrived on board, we would get a number assigned. This number will determine if you sleep in a bed or a hammock, your lockers or seachests and your watch group. I got a hammock and personally it's the best thing that could happen. At first I was very sceptical about sleeping in a hammock but it's the best when the boat is rolling a lot. You'll never get sea sick on a hammock.
Dining:
1.) Describe the dining arrangements at your school.
For the food there were groups of people assigned each day to help. There were six: one would serve the food in the aft (for the crew), two would help the cook in the kitchen and the other three would serve the food to the students and clean the dishes. There were 10 groups and everyday would be one different. The food was good, there was always enough for every appetite.
Social and Town Life:
1.) Describe the school's town and surrounding area.
The surroundings would change all the time. It would go from sea everywhere to a new port m. It could in Africa or a beautiful island in the Caribbean or a classic European city. That was the best part, not knowing what the next port would look like and be surprised on arrival.
2.) Describe the social life at your school - what did you like most about it?
Social life was everywhere all the time. You'll be surrounded by people almost 24/7 which sounds crazy but you get used to it. At the end it was almost weird coming back home and be completely alone sometimes.
A + World Academy is an Unique School which allows you to grow as a person. It offers a program combining normal classes With Field studies all around the world, allowing you to Discover new. . .
The biggest difference from other schools is that all the students live on a ship while sailing the world. That experience is something you can carry for the rest of your life.Another aspect of. . .
The moats unique thing about A+ World Academy is the fact that it's a school on a tall ship. You're not only attending the school, you're also working as a crew member on the ship. . .
Show more reviews (

5 reviews

)
Mastering the Boarding School Selection Process: A 5-Step Guide
Discover the ultimate 5-step guide to choosing the perfect boarding school for your child. Explore essential factors, such as academics, campus facilities, extracurricular activities, and more. Make an informed decision to provide your child with an enriching and transformative educational experience. Read now!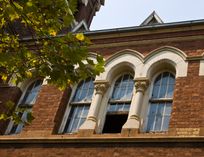 5 Founders and Their Boarding Schools
What prompts somebody to start a boarding school? The motives range from idealism to munificence right on through to capitalism. The common thread seems to be ample capital and a vision of what education can do.