Reflections and Advice:
1.) What do you think makes your school unique relative to other boarding schools?
The moats unique thing about A+ World Academy is the fact that it's a school on a tall ship. You're not only attending the school, you're also working as a crew member on the ship. This taught me a how to cooperate better with the people around me, and also a lot of discipline. The fact that you get to visit a lot of different countries and cultures during the school year as well is a big plus! I learned so much about myself the year I attended A+ World Academy. For me, since I'm Norwegian, being taught everything in English was really helpful in improving my English.
2.) What was the best thing that happened to you in boarding school?
The year on the boarding school just really changed me completely as a person in all possible ways. During the year I grew into a much more mature and reflected person, and I noticed that when I came home, stupid things that meant a lot to my friends were things I really couldn't care less about anymore.The absolut best thing that happened to me was getting to know lake the people. We're all really good friends today and we met regularly, maybe once every two or three months. They know me better than anyone else.
3.) What might you have done differently during your boarding school experience?
If I could do anything differently it would probably be to appreciate it more when I was there. There were many times when we were complaining about being tired or just stayed at the ship during ports to relax, but I wish I just pushed through it to get even more out of my year than I already did.
4.) What did you like most about your school?
I liked everything. There actually isn't anything I disliked. Of course, visiting different countries is exciting, but the life onboard the ship was amazing as well.
5.) Do you have any final words of wisdom for visiting or incoming students to your school?
Please, enjoy your time there. You may think 9-10 months is a long time, but I promise the time just flows away and suddenly it's graduation and time to go back home again..
Academics:
1.) Describe the academics at your school - what did you like most about it?
We had academics going on from 9 in the morning til 6 in the afternoon, with some free hours and day watch in between. We also har school every day when we were out sailing, so no weekends. I actually liked that because it made it possible for us to have a lot of freetime in port. Our classes were small and the teachers were all very helpful and available all the time because we were living with them.
Athletics:
1.) Describe the athletics at your school - what did you like most about it?
We didn't have much of an athletic program at the school, other than working out on deck which was voluntary so I don't have so much to say about it. It would probably be better if we had some mandatory athletics, but all our working on the ship counted as athletics for us.
Art, Music, and Theatre:
1.) Describe the arts program at your school - what did you like most about it?
There was really no arts, music and theatre program other than the drama club which is also voluntary. I did not participate in the drama club, so I don't have much to say about it.
Extracurricular Opportunities:
1.) Describe the extracurriculars offered at your school - what did you like most about it?
As earlier mentioned, we only had a few clubs like the drama club, baking club and prom committee. We didn't really have any extracurricular activities other than that.
Dorm Life:
1.) Describe the dorm life in your school - what did you like most about it?
I loved the dorm life in my school! We all slept in the same room in hammocks, but the boys side and the girls side was divided by some curtains. It may sound tiring but I really loved it. Also, most of us slept in hammocks, only a few had beds and those who had beds mostly wished for hammocks. We also had to get up during the night for 2 hours to work and be on watch, so we slept in "watches". All the people in the same watch slept in the same areas so it would be easier to wake us up and not everybody else.
Dining:
1.) Describe the dining arrangements at your school.
All dining, both breakfast, lunch and dinner happens in the same room as we sleep. The beds turns into benches and the hammocks are hung away in the morning. There was in fact a lot of diversity in the food, and vegetarian options were offered to those who needed that. Allergies were also taken care of by the chef. Students help out making the food in galley-teams. So we had to help out every 10 days or so.
Social and Town Life:
1.) Describe the school's town and surrounding area.
We didn't really have a specific town life as we moved around to so many different towns.
2.) Describe the social life at your school - what did you like most about it?
The social life at our school was amazing. We were 60 students and around 20 crew members, and living in such a small space together we quickly turned into a big family. I never felt alone or like I didn't have anyone to talk to. Everyone was so open to getting to know each other. I travelled alone and didn't know anyone, but I got friends really quickly, and the friends I got in the first couple of friends are still my best friends today.
Daily Schedule:
Weekday
7:00 AM
Wake up, hang my hammock and eat breakfeast
8:00 AM
Cleaning the ship for one hour (this happens everyday) until 9
9:00 AM
My first class of the day on Mondays was math
12:00 PM
Lunch, and after lunch an hour of free time until 2 pm
3:00 PM
Day watch, my firs hour of day watch for the day
4:00 PM
Spanish at 4 and than chemistry at 5
6:00 PM
Second hour of the day of day watch
8:00 AM
After dinner we had free time until bedtime or night watch
Weekend
7:00 AM
Wakeups were always at 7, no matter what day it was
8:00 AM
Cleaning also happened every day
9:00 AM
Since we had no weekends, saturdays and sundays were also spent with school. Let's say I had day 5 of my schedule on a Saturday, my first and second classes would be AP biology and AP English.
11:00 AM
I had one hour of free time before lunch, which I usually spent doing mud homework or sleeping
1:00 PM
I also had one hour of free time after lunch, which I also spent doing homework or sleeping
2:00 PM
Classes started again, and I had math and Spanish
4:00 PM
Another free hour spent doing homework or sleeping
6:00 AM
2 hours of day watch combined with a break for dinner in between
We normally have 6 lessons a day and the school makes sure the lessons aren't too long for our understanding and the six lessons are very useful to us in that we cover alot and. . .
The biggest difference from other schools is that all the students live on a ship while sailing the world. That experience is something you can carry for the rest of your life.Another aspect of. . .
The moats unique thing about A+ World Academy is the fact that it's a school on a tall ship. You're not only attending the school, you're also working as a crew member on the ship. . .
Show more reviews (

5 reviews

)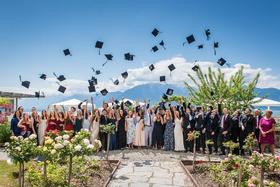 Nurturing Futures: A Journey through Boarding at Haut-Lac School in Switzerland
Nestled in the hills overlooking Lake Geneva in the French-speaking part of Switzerland lies an educational gem that embodies a unique blend of academic excellence, cultural richness and a profound sense of community. Founded over 30 years ago, Haut-Lac International Bilingual Day and Boarding School is now home to both 600 day students and a maximum of 30 boarders from around the world.
What To Wear at Your Job Interview
Navigating job interviews can be stressful, but knowing what to wear shouldn't be. Our comprehensive guide covers the essential dress code tips for men and women interviewing at boarding schools. Make your first impression count with style and professionalism.
Navigating the Modern Maze: Emerging Challenges for Boarding Schools
Explore the pressing challenges facing boarding schools, from marketing difficulties and rising insurance costs to facility maintenance and recruitment of competent trustees and teachers. This article delves into these complex issues and proposes innovative strategies to overcome them.