Reflections and Advice:
1.) What do you think makes your school unique relative to other boarding schools?
We normally have 6 lessons a day and the school makes sure the lessons aren't too long for our understanding and the six lessons are very useful to us in that we cover alot and have time for extra curricular activities unlike other boarding schools.We also had good counciling sessions every Wednesday after classes for everyone it actually helped alot of students with problems.
2.) What was the best thing that happened to you in boarding school?
Honestly I learnt alot while I was in a boarding school like doing things independently and learning not to depend on parents and also being self centered which I came to realize that I would have not learnt that if I was attending a day school.
3.) What might you have done differently during your boarding school experience?
Boarding school is really nice tho it's hard for students attending it for the first time they would have difficulty in living with new people and missing their families and parents but that teaches you to be independent and boarding school gives you time to concentrate on school.
4.) What did you like most about your school?
I liked the environment, the meals and the community fellow students were really nice to me which made everything easy for me.
5.) Do you have any final words of wisdom for visiting or incoming students to your school?
Chose friends who have similar dreams to yours and similar character that's the main thing and it will make life easier for you in boarding school.
Academics:
1.) Describe the academics at your school - what did you like most about it?
I liked that the teachers were available after classes so that students who had difficulty in courses would ask for guidance.
Athletics:
1.) Describe the athletics at your school - what did you like most about it?
We used to have competitions with different schools each week in swimming and basketball and our coaches were really hard on us to work harder so we could get better at it
Art, Music, and Theatre:
1.) Describe the arts program at your school - what did you like most about it?
I was only participating in dance and drama and we once had a competition at the national theater with different schools and we were inspired by successful acters we found there.
Extracurricular Opportunities:
1.) Describe the extracurriculars offered at your school - what did you like most about it?
I was in the Red Cross club and we often went to the ophanage and donated things to them.
Dorm Life:
1.) Describe the dorm life in your school - what did you like most about it?
I liked that our dorm rooms were really spaced and were easy for us to clean without any complaint.
Dining:
1.) Describe the dining arrangements at your school.
We were often given a balanced diet of nice food and our dining hall was nicely organized and enough.
Social and Town Life:
1.) Describe the school's town and surrounding area.
The town surrounding my school was really busy but not noisy and it had all kinds of services around.
2.) Describe the social life at your school - what did you like most about it?
Students were really nice and disciplined and I had alot of friends who could help me with alot.
Daily Schedule:
Weekday
6:15 PM
Resting and taking a shower
8:00 PM
Night prep for serious students or students who want to revise
Weekend
11:15 AM
Free activity the rest of the day
A + World Academy is an Unique School which allows you to grow as a person. It offers a program combining normal classes With Field studies all around the world, allowing you to Discover new. . .
The biggest difference from other schools is that all the students live on a ship while sailing the world. That experience is something you can carry for the rest of your life.Another aspect of. . .
The moats unique thing about A+ World Academy is the fact that it's a school on a tall ship. You're not only attending the school, you're also working as a crew member on the ship. . .
Show more reviews (

5 reviews

)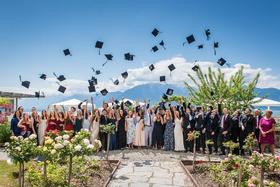 Nurturing Futures: A Journey through Boarding at Haut-Lac School in Switzerland
Nestled in the hills overlooking Lake Geneva in the French-speaking part of Switzerland lies an educational gem that embodies a unique blend of academic excellence, cultural richness and a profound sense of community. Founded over 30 years ago, Haut-Lac International Bilingual Day and Boarding School is now home to both 600 day students and a maximum of 30 boarders from around the world.
Navigating the Modern Maze: Emerging Challenges for Boarding Schools
Explore the pressing challenges facing boarding schools, from marketing difficulties and rising insurance costs to facility maintenance and recruitment of competent trustees and teachers. This article delves into these complex issues and proposes innovative strategies to overcome them.
What To Wear at Your Job Interview
Navigating job interviews can be stressful, but knowing what to wear shouldn't be. Our comprehensive guide covers the essential dress code tips for men and women interviewing at boarding schools. Make your first impression count with style and professionalism.