Reflections and Advice:
1.) What do you think makes your school unique relative to other boarding schools?
An aspect that sets Deerfield apart from its peer institutions would be the lack of Saturday classes. Many comparable schools have half days on both Wednesdays and Saturdays, so it's noteworthy that Deerfield does not, with its students completing rigorous coursework in the same amount of time. Apart from that, every student is required to participate in either sports, the arts, or volunteering every weekday after class, forcing students to prioritize their social life and academic coursework in a responsible way.
2.) What was the best thing that happened to you in boarding school?
I would say the access to such an unparalleled, secondary education was the best thing that's happened for me at Deerfield and my life. Before it, I never had teachers that demanded so much from me and truly wanted to see me achieve and succeed. During my time, I became a very strong writer, which made it very easy for me when it came time to write essays of any length during college. In the moments where I struggled in the classroom and learned to ask questions and own my education, it really set me up to pursue my career. I grew tremendously and my interpersonal and networking skills flourished.
3.) What might you have done differently during your boarding school experience?
I wish I had pursued Arabic, Chinese, or a language tougher than Spanish. Despite minoring in the language in college, if I had started the aforementioned languages at Deerfield, with the rigor and precision they teach languages, I would practically be fluent now. I would encourage students going to boarding school to be as open and fearless as possible. Avail yourself to all opportunities and to feel empowered by asking questions and seeking help - academic and emotional. It's important to recognize that school is about having fun and becoming an educated, well-rounded adult, so it moments where raising your hand might seem silly or scary, at the end of the day, what's important is your life and education.
4.) What did you like most about your school?
What I enjoyed the most about Deerfield was the pride and values it promotes. There's a very strong sense of camaraderie amongst students, rallying behind the illustrious Big Green. During sports, students are loud and rowdy, supporting their peers from Biology class and the dorm halls. Students feel very strongly about the rivalry against Choate Rosemary Hall too. The week preceding our big game day, where every team competes against Choate, is filled with green (the school color), fun, and song.
5.) Do you have any final words of wisdom for visiting or incoming students to your school?
I would recommend students to visit the Greer, order a blueberry muffin, or a cinnamon bun from the Koch cafe. They're really tasty. If you can, sit in on a class to see how instruction is lead and what's expected of students. As an incoming student, you should feel comfortable in your intellect and skills, you were selected for a reason. What's equally important is to respect and give time to all your peers, because they have a lot to offer, and many of them ending up being your peers in college and beyond. Deerfield is fabulous school and I wouldn't trade my education or experience for anything.
Academics:
1.) Describe the academics at your school - what did you like most about it?
The large majority of Deerfield's teachers have doctorates from well-regarded schools, thus you are being taught by some of the most brilliant minds and their expectations are high. The coursework is rigorous but in all moments, comprehensive assignments, experiments, and exams will encourage the student to think critically, leaving them feeling very informed on subjects. Deerfield's budget for academics is enormous, meaning students will read many compelling novels, have access to premier resources and technology, and perform experiments with state of the art tools.What I enjoyed the most was the after hours help allotted to students after class. Teachers are very passionate about their students and willing to recover material and work with them to ensure you understand the material.
Athletics:
1.) Describe the athletics at your school - what did you like most about it?
The athletics program is robust, has many offerings, and most sports have three levels, meaning you can participate independent of your experience. Students are expected to attend every practice and game, on Wednesdays and Saturdays. Most of the sports are pretty competitive, as Deerfield looks to enroll well-rounded, agile minds. At times, you can find teachers who don't have any experience in the sports they coach; however, hard work, class, and grace are expected.During my last year, they opened the new gym, with an almost excessive number of machines, which allowed me to become a more competitive athlete and build the confidence in the gym I have today.
Art, Music, and Theatre:
1.) Describe the arts program at your school - what did you like most about it?
The arts at Deerfield are wondrous. It's really a pleasure to see the skills of your friends, displayed outside of the classroom, on canvas and on stage. Every trimester students have many opportunities to act, draw, dance, and sing. It is very common for students to participate in one of the art programs during their time at Deerfield. What is so remarkable about the dance program is the number of male participants they have. It's very much encouraged and well-regarded by the student body. I enjoyed the seasonal dance showcases they would hold.
Extracurricular Opportunities:
1.) Describe the extracurriculars offered at your school - what did you like most about it?
During my time, there were many student affinity, political, and interest-based groups, that were funded, managed budgets, and met regularly. There was a decent amount of autonomy within the groups, with teachers who oversaw them attending occasionally, which allowed students leadership skills to blossom. Deerfield has a Big Brother Big Sister partnership, which a large number of students do, and volunteering opportunities are regularly announced and sponsored. I really enjoyed the Big Brother program, which partners with a local town with a lot of poverty, because it was well-funded and had many offerings for the children when they visited campus.
Dorm Life:
1.) Describe the dorm life in your school - what did you like most about it?
Dorms are single-sex and pretty small in size. Most rooms are singles, but you will find an occasional double or triple even. They're spacious, clean, with common spaces maintained by friendly, janitorial staff. On each floor, a teacher and their families live in apartments connected to the dorms, where they're very accessible and provide feeds, where they make food and snacks for their students. It's always something students look forward to, where they can kick back, enjoy the company of their peers and teacher over good food. During my time, dorm rooms are assigned through a lottery system.
Dining:
1.) Describe the dining arrangements at your school.
On campus, there is one dining hall, where breakfast, lunch, and dinner are served every day. There are also campus cafes spread out between the athletic and academic buildings for students to enjoy. On certain days of the week, there are required meals where you sit down in tables of 10, eat family style, and dress code is expected. The food at Deerfield is well-liked and every member of the community has their favorite meal and dessert that's served because it's that good. The menu is posted online so everyone knows what to anticipate and can strategize the best time to get buffalo chicken and not wait in line. I really enjoyed the balance of open and required meals. The tables assignments switched monthly and are diversified by grade level and sex, so during your four years, you end up interacting with most of the community.
Social and Town Life:
1.) Describe the school's town and surrounding area.
Deerfield is quiet, small, historic New England town. There is a lot of greenery, an active river flowing through it, and nature to behold. With that said, Deerfield is a bit remote, which can be a turnoff for a boarding student looking for metropolitan access. It takes nearly the same amount of time to get to Boston as New York. With that said, during the weekends, the school buses students to the local area so they can go to the mall, movies, get a bite to eat, and shop. A lot of students like to go to Friendly's and catch a movie in Greenfield. I enjoyed the beauty of Deerfield and the fact that it was pretty easy to explore the surrounding area as teens.
2.) Describe the social life at your school - what did you like most about it?
Since most of the student body lives on campus, there's a lot of time to interact, work with, and kick it with your friends. Almost every weekend, there's an entertainment offering of some sort, whether it be a campus dance, magician, hypnotist, or movie showing. You can see some cliquey behavior, but you witness that everywhere. While the coursework is rigorous for all students, I believe the athletic/arts/volunteering aspect really helps students be responsible with their time, setting them up for college. I most enjoyed hanging out in the Greer cafe, eating food with friends, shooting hoops, and having fun in town.
Daily Schedule:
Weekday
1:00 PM
Sports practice/game
One unique aspect of living in the Pioneer Valley is all the outdoor activities that come along with it. Whether it be biking, hiking to the rock, running the small loop, or swimming in the. . .
Deerfield has a very student-centered learning environment that encourages students to learn to ask for help and use all the resources available to them. Deerfield also has "feeds," when the hall associate on duty for a. . .
Deerfield's location in the Pioneer Valley makes it an incredibly beautiful place to live, and opportunities abound for hiking, biking, swimming, and otherwise engaging with the surroundings. Because the school is tucked away from the. . .
Show more reviews (

11 reviews

)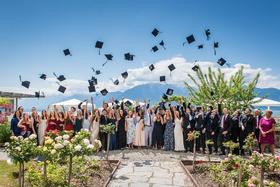 Nurturing Futures: A Journey through Boarding at Haut-Lac School in Switzerland
Nestled in the hills overlooking Lake Geneva in the French-speaking part of Switzerland lies an educational gem that embodies a unique blend of academic excellence, cultural richness and a profound sense of community. Founded over 30 years ago, Haut-Lac International Bilingual Day and Boarding School is now home to both 600 day students and a maximum of 30 boarders from around the world.
What To Wear at Your Job Interview
Navigating job interviews can be stressful, but knowing what to wear shouldn't be. Our comprehensive guide covers the essential dress code tips for men and women interviewing at boarding schools. Make your first impression count with style and professionalism.
Navigating the Modern Maze: Emerging Challenges for Boarding Schools
Explore the pressing challenges facing boarding schools, from marketing difficulties and rising insurance costs to facility maintenance and recruitment of competent trustees and teachers. This article delves into these complex issues and proposes innovative strategies to overcome them.