Reflections and Advice:
1.) What do you think makes your school unique relative to other boarding schools?
the campus is unique, since it is an old tallship. there is also a rater small teachers to students ratio.
2.) What was the best thing that happened to you in boarding school?
The sunsets in the pacific. In general realizing over and over again how fortunate I am to be part of the crew sailing the ship through the oceans.
3.) What might you have done differently during your boarding school experience?
You are part of making it what it wil be. Be acitve! Involve, be open!
4.) What did you like most about your school?
The community, the team spirit.
5.) Do you have any final words of wisdom for visiting or incoming students to your school?
Make the cook and all the shipcrew your friends, also your teachers. Be nice and follow the rules! This makes living together much easier and enjoyable!
Academics:
1.) Describe the academics at your school - what did you like most about it?
The very small students to teacher ratio was nice and we had a good student to teacher relationship. On the other hand it was a bit hard with the workload since we also had to do many sailing duties.
Athletics:
1.) Describe the athletics at your school - what did you like most about it?
The sailing that was mandatory was super fun and we learnt a lot. We all signed up for this boarding school on the ship so it was chosenly mandatory.
Art, Music, and Theatre:
1.) Describe the arts program at your school - what did you like most about it?
We had a mandatory Arts Media Culture class but no other program in that direction.
Extracurricular Opportunities:
1.) Describe the extracurriculars offered at your school - what did you like most about it?
the extra sailhandling was extracurricular.
Dorm Life:
1.) Describe the dorm life in your school - what did you like most about it?
I liked sleeping in hammocks and living in and on a ship.
Dining:
1.) Describe the dining arrangements at your school.
It was a bit rushed but well organised.
Social and Town Life:
1.) Describe the school's town and surrounding area.
The shore leave was amazing since we visited amazing places.
2.) Describe the social life at your school - what did you like most about it?
Amazing! Ship mates are the best class mates. We grew together like a familiy, also with the teachers and the ships staff and the volunteers.
Daily Schedule:
Weekday
8:00 AM
Morning Anouncements
11:00 AM
Steering the Helm
Weekend
8:00 AM
Morning Anouncements
1:00 PM
Helming (stearing the ship)
3:30 PM
Family Dinner with whole crew
A + World Academy is an Unique School which allows you to grow as a person. It offers a program combining normal classes With Field studies all around the world, allowing you to Discover new. . .
The biggest difference from other schools is that all the students live on a ship while sailing the world. That experience is something you can carry for the rest of your life.Another aspect of. . .
The moats unique thing about A+ World Academy is the fact that it's a school on a tall ship. You're not only attending the school, you're also working as a crew member on the ship. . .
Show more reviews (

5 reviews

)
Mastering the Boarding School Selection Process: A 5-Step Guide
Discover the ultimate 5-step guide to choosing the perfect boarding school for your child. Explore essential factors, such as academics, campus facilities, extracurricular activities, and more. Make an informed decision to provide your child with an enriching and transformative educational experience. Read now!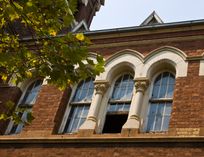 5 Founders and Their Boarding Schools
What prompts somebody to start a boarding school? The motives range from idealism to munificence right on through to capitalism. The common thread seems to be ample capital and a vision of what education can do.