Reflections and Advice:
1.) What do you think makes your school unique relative to other boarding schools?
the campus is unique, since it is an old tallship. there is also a rater small teachers to students ratio.
2.) What was the best thing that happened to you in boarding school?
The sunsets in the pacific. In general realizing over and over again how fortunate I am to be part of the crew sailing the ship through the oceans.
3.) What might you have done differently during your boarding school experience?
You are part of making it what it wil be. Be acitve! Involve, be open!
4.) What did you like most about your school?
The community, the team spirit.
5.) Do you have any final words of wisdom for visiting or incoming students to your school?
Make the cook and all the shipcrew your friends, also your teachers. Be nice and follow the rules! This makes living together much easier and enjoyable!
Academics:
1.) Describe the academics at your school - what did you like most about it?
The very small students to teacher ratio was nice and we had a good student to teacher relationship. On the other hand it was a bit hard with the workload since we also had to do many sailing duties.
Athletics:
1.) Describe the athletics at your school - what did you like most about it?
The sailing that was mandatory was super fun and we learnt a lot. We all signed up for this boarding school on the ship so it was chosenly mandatory.
Art, Music, and Theatre:
1.) Describe the arts program at your school - what did you like most about it?
We had a mandatory Arts Media Culture class but no other program in that direction.
Extracurricular Opportunities:
1.) Describe the extracurriculars offered at your school - what did you like most about it?
the extra sailhandling was extracurricular.
Dorm Life:
1.) Describe the dorm life in your school - what did you like most about it?
I liked sleeping in hammocks and living in and on a ship.
Dining:
1.) Describe the dining arrangements at your school.
It was a bit rushed but well organised.
Social and Town Life:
1.) Describe the school's town and surrounding area.
The shore leave was amazing since we visited amazing places.
2.) Describe the social life at your school - what did you like most about it?
Amazing! Ship mates are the best class mates. We grew together like a familiy, also with the teachers and the ships staff and the volunteers.
Daily Schedule:
Weekday
8:00 AM
Morning Anouncements
11:00 AM
Steering the Helm
Weekend
8:00 AM
Morning Anouncements
1:00 PM
Helming (stearing the ship)
3:30 PM
Family Dinner with whole crew
We normally have 6 lessons a day and the school makes sure the lessons aren't too long for our understanding and the six lessons are very useful to us in that we cover alot and. . .
The biggest difference from other schools is that all the students live on a ship while sailing the world. That experience is something you can carry for the rest of your life.Another aspect of. . .
The moats unique thing about A+ World Academy is the fact that it's a school on a tall ship. You're not only attending the school, you're also working as a crew member on the ship. . .
Show more reviews (

5 reviews

)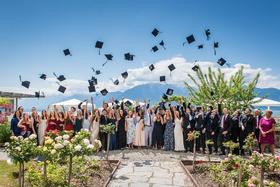 Nurturing Futures: A Journey through Boarding at Haut-Lac School in Switzerland
Nestled in the hills overlooking Lake Geneva in the French-speaking part of Switzerland lies an educational gem that embodies a unique blend of academic excellence, cultural richness and a profound sense of community. Founded over 30 years ago, Haut-Lac International Bilingual Day and Boarding School is now home to both 600 day students and a maximum of 30 boarders from around the world.
What To Wear at Your Job Interview
Navigating job interviews can be stressful, but knowing what to wear shouldn't be. Our comprehensive guide covers the essential dress code tips for men and women interviewing at boarding schools. Make your first impression count with style and professionalism.
Navigating the Modern Maze: Emerging Challenges for Boarding Schools
Explore the pressing challenges facing boarding schools, from marketing difficulties and rising insurance costs to facility maintenance and recruitment of competent trustees and teachers. This article delves into these complex issues and proposes innovative strategies to overcome them.