Reflections and Advice:
1.) What do you think makes your school unique relative to other boarding schools?
I think one of Choate's best features is the variety of specialized programs it offers. From the new John F. Kennedy Program in Government and Public Service, to the Science Research Program, to Arts Concentration, Choate's curriculum allows students of all academic persuasions to really delve into their interests. When I was a junior, I took American Studies (a specialized class that combined honors English with A.P. U.S. History) and it was by far the best academic experience I had in high school.
2.) What was the best thing that happened to you in boarding school?
The best thing that happened to me in boarding school was learning how to be independent. Choate taught me how to be my own person — not only how to be mostly self-sufficient in terms of my living habits, but also how to cultivate my own personality and have my own ideas.
3.) What might you have done differently during your boarding school experience?
I would have put myself out there more from the very start. I was pretty shy my freshman year, and missed out on many activities and friendships I could have made. My advice would be just to throw yourself into the Choate community from the second you enter the school, and make the most of it that you can.
4.) What did you like most about your school?
The people I met there — students and teachers alike.
5.) Do you have any final words of wisdom for visiting or incoming students to your school?
Don't be afraid to sit alone in the dining hall!!! Get a bagel, sit down with your laptop, and do some work — and more often than not, people will come join you :)
Academics:
1.) Describe the academics at your school - what did you like most about it?
The best part of my academic experience at Choate was by far the teachers. Even when I was not particularly fond of a subject, my teachers always had enough passion to make their material interesting. Similarly, when I struggled with certain topics, my teachers would always take the time to explain them to me both in and outside of class. I was also able to form extremely strong bonds with certain teachers by virtue of the small class sizes — a feature that I now really miss in college.
Athletics:
1.) Describe the athletics at your school - what did you like most about it?
Since I am not very athletic, I was initially nervous about Choate's sports requirement when I entered the school as a freshman. However, Choate offers plenty of non-traditional activities for the less athletically inclined. Throughout my Choate career, I did everything from community service to intramural squash to managing ultimate frisbee.
Art, Music, and Theatre:
1.) Describe the arts program at your school - what did you like most about it?
I did not participate in any of Choate's artistic programs outside of the requirements I had to fulfill, but I always had a great experience watching my peers perform. Whether it was an a cappella performance at a weekly school meeting, or one of the theatrical productions performed each semester, I was always blown away by the talent and dedication of my fellow students.
Extracurricular Opportunities:
1.) Describe the extracurriculars offered at your school - what did you like most about it?
I loved being an editor for The Choate News. Being able to work with a team of students equally dedicated to putting in the work necessary to produce a newspaper each week was really special, and I still treasure all the friendships that I made during those late nights in the newsroom. Choate gave us all the resources we needed to create the closest thing high school students can to a professional newspaper possible, and I will forever be grateful for the experience.
Dorm Life:
1.) Describe the dorm life in your school - what did you like most about it?
What I liked most about Choate's dorm life was how it enabled me to foster friendships I would not have made anywhere else. Even though I more often than not did not have much in common with my dorm mates, the tight knit nature of our living spaces allowed us to bond over late night homework sessions in the common room or food runs led by our advisor. I owe many of my friendships from Choate to the dorms I lived in, and miss that sense of community immensely now that I'm in college.
Dining:
1.) Describe the dining arrangements at your school.
I will confess that I do not have many fond memories of the food itself from Choate — however, I do still feel a strong positive association with the dining hall. Choate's dining hall is separated into sections by form, which makes it easy to find people who you know to sit with. Throughout my 4 years there, I always knew that I could just walk into the dining hall (during its operating hours, that is) and pretty much be guaranteed to find some of my friends. I can still recall some of the amazing conversations I had around dining hall tables — memories which I will always treasure.
Social and Town Life:
1.) Describe the school's town and surrounding area.
Although Wallingford is a small town, there is still plenty to do. North Main Street is just a 5 minute walk away from campus, and has plenty of restaurants like Half Moon and Mr. D's to eat at. Additionally, there are even more shops and attractions (like a movie theater) that are about a 7 minute Uber ride away, and you can easily visit New Haven or even New York if you want to get away to a bigger city on the weekends (just make sure to sign out!)
2.) Describe the social life at your school - what did you like most about it?
Living and collectively growing up with a bunch of other people your age really brings you close, and by graduation I felt like the friends I made at Choate were practically my family.
Daily Schedule:
Weekday
7:00 AM
Wake up/get ready for class/eat breakfast
11:45 AM
Free period/lunch
One thing about Choate I really believed made it so unique was the variety of classroom experiences one could have in just ONE academic day. Many schools utilize the classic classroom set up where the. . .
The community is definitely Choate's greatest asset, and the admissions folk do a great job of picking students. We're a pretty chill bunch, so you won't find much of the cut-throat competitiveness that usually accompanies. . .
Choate was unique in that during my junior year, they did away with AP labels on courses in order to let the teachers have more power over the curriculum. This created a culture in which. . .
Show more reviews (

27 reviews

)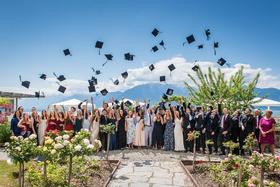 Nurturing Futures: A Journey through Boarding at Haut-Lac School in Switzerland
Nestled in the hills overlooking Lake Geneva in the French-speaking part of Switzerland lies an educational gem that embodies a unique blend of academic excellence, cultural richness and a profound sense of community. Founded over 30 years ago, Haut-Lac International Bilingual Day and Boarding School is now home to both 600 day students and a maximum of 30 boarders from around the world.
What To Wear at Your Job Interview
Navigating job interviews can be stressful, but knowing what to wear shouldn't be. Our comprehensive guide covers the essential dress code tips for men and women interviewing at boarding schools. Make your first impression count with style and professionalism.
Navigating the Modern Maze: Emerging Challenges for Boarding Schools
Explore the pressing challenges facing boarding schools, from marketing difficulties and rising insurance costs to facility maintenance and recruitment of competent trustees and teachers. This article delves into these complex issues and proposes innovative strategies to overcome them.