Reflections and Advice:
1.) What do you think makes your school unique relative to other boarding schools?
As almost any Exonian will tell you, the best part of an Exeter education is the Harkness method of teaching, where students and teacher sit together around a large, round conference table and learn through open discussion. Instead of listening and taking notes while the teacher lectures, the teacher guides the discussion so the students can learn from each other. Hand-raising is dropped in favor of dynamic discourse. You learn to wait your turn, to think on your feet, and to articulate your thoughts. In addition, this discussion-based method of teaching is applied to *all* subjects. For example, foreign languages, even introductory level courses, are taught in the language, through reading and discussion of level-appropriate literature. Even the mathematics curriculum is brilliantly designed to adhere to the Harkness system. Instead of using textbooks, the faculty develop workbooks of word problems that are carefully designed to teach important mathematical concepts, so you prove to yourself that trigonometry works and build on that to understand calculus.
2.) What was the best thing that happened to you in boarding school?
I remember taking an Asian History class my first year at Exeter. We were immersed in a fierce debate and I took a very controversial point of view. I ended up having to defend my opinion against the critiques of all nine other students. We never reached a consensus, but I learned a lot about argumentation, about developing and defending a point of view, and about how to hold a reasonable, mature debate with other people even when it's clear you will never agree with each other. I think I grew out of my shell at Exeter. I became more self confident and more vocal. I also developed a sense of political awareness.
3.) What might you have done differently during your boarding school experience?
I was too satisfied to just hang out with my little group of friends. I should have made an effort to become good friends with more people outside of my dorm. My advice: Meet lots of people!
4.) What did you like most about your school?
The people: faculty, staff, students. Exeter wouldn't be the same without the amazing people who put so much of themselves into upholding its ideals.
5.) Do you have any final words of wisdom for visiting or incoming students to your school?
Preserve the V! Yeah DVNBAR... =) Dvnbar Hall was a great dorm to live in. It's the largest girl's dorm, but that makes it the largest community. People are very supportive and friendly, and you will make tons of friends. Penang and Tokyo had good Malaysian/Japanese food when I was there... check it out. Grill cookies are the best cookies in the world. I must have bought some every other day.
Academics:
1.) Describe the academics at your school - what did you like most about it?
In addition to the style of teaching I mentioned above, I liked the intensity of the place. I left Exeter feeling like I worked hard and gained something as a result. I learned a lot, yes, but I also developed interpersonal skills, an understanding of responsibility, and time-management skills. I also really enjoyed being in an environment with smart, motivated, interesting students, while being taught by smart, motivated, interesting teachers. It made for a really wholesome learning experience. Finally, the sheer number of offered courses was astounding. I managed to take classes I never dreamed I could take in high school: Capitalism and its Critics, a European History class on the Renaissance and Reformation, a class on the Truth and Reconciliation Commission in Post-Apartheid South Africa. And I did a Senior Project in which I, along with two friends, cleaned and assembled a dolphin skeleton, which now hangs in the Phelps Science Center, somewhat dwarfed by the whale, but visible nevertheless. =)
Athletics:
1.) Describe the athletics at your school - what did you like most about it?
There are so many choices! I ran cross-country in the fall, but the other semesters, I explored. I learned to play lacrosse and tennis. I took a dance class. I tried squash. Also, Exeter has a river, a strong crew team, and a better boathouse than my university has now. In additon, the rest of the facilities are phenomenal, and the coaches are dedicated and generally quite good. The mandatory participation forces students to try new things and get some exercise. It also is a nice way to meet people outside of classes and dorms. Finally, I love the school spirit. The Exeter/Andover rivalry is unmatched among prep schools in intensity, and it brings the entire Exeter community together. GO BIG RED! =D
Art, Music, and Theatre:
1.) Describe the arts program at your school - what did you like most about it?
Well, my experience is somewhat limited in this area. I was pretty involved with the music program, and I can say that it is amazing. You can take lessons in almost any instrument you can imagine... I took Tabla lessons (a North Indian hand drum), and got involved with the West African Drumming Ensemble. In addition, their are a number of traditional music ensembles, for all levels of experience and ability. The school also hosts a number of outside performances each year. I got a lot of exposure to fantastic musical performance through these concerts. I also went to almost every student theater performance over my three years, and they were all very good. Very talented students, and very talented faculty helping them out. I also know Exeter has a lot of other arts facilities. Students can get involved with photography, pottery, painting... probably other things I was just too oblivious to notice. And don't forget the art gallery with its rotating exhibits... saw lots of cool art while I was there. I definitely miss it. Finally, something I really appreciated was the proximity of Exeter to the Portsmouth Music Hall and to Boston. I saw a few concerts, dance performances, and a unique version of Much Ado About Nothing at the Music Hall, and also got to see Hamlet at the Wilbur Theatre in Boston. Now that I live in Boston, I don't get nearly as many chances to see good art at an affordable price.
Extracurricular Opportunities:
1.) Describe the extracurriculars offered at your school - what did you like most about it?
I was a bit crazy about Community Service and extracurriculars when I was at Exeter. However, it was really only because there were so many opportunities to get involved. At the beginning of the school year, there was a big activities midway, where all the student groups had booths with information and signup sheets. I think I signed up for everything and ended up whittling the list down as a realized I wouldn't have the time to *do* everything. I liked that I wasn't limited by the number of organizations, but more by my own time-constraints, because it meant that I could choose to indulge any interest I might have. And if something doesn't exist to satisfy your interest, you can create a new organization!
Dorm Life:
1.) Describe the dorm life in your school - what did you like most about it?
Dorm life was the highlight of my Exeter experience. I made some of my closest friendships during my three years living in an all-girls dorm at high school. Most people end up living near their friends, which creates tight floor and wing communities, within the more diverse dorm community. Also, the rooms are *very* large and the dorm facilities are good. The facilities in the newly renovated dorms. however, are better than good. The dorm faculty are wonderful people, and they're awesome to just spend time with. I was a proctor my senior year and ended up working with the faculty as well, and they spend a mind-boggling amount of time and energy caring for the students in their dorm.
Dining:
1.) Describe the dining arrangements at your school.
The dining halls are open all day. That means that after sports or during a break, you can run over to dining hall and grab a bite to eat. The dining halls offer a variety of foods: cereal, bread, bagels, salad bar, plus entrees. The food quality, while not stellar, is better than cafeterias and dining halls at a lot of colleges. Every Sunday, there's brunch with an omelette bar. Also, the desserts are usually pretty yummy, and there's always FroYo and fresh fruit to fall back on. Finally, they dining halls have a few themed meals every semester. Around Thanksgiving break and winter break, they provide festive dinners. Karaoke night comes with its own menu. Jazz Brunch every winter provides some of the best food and best music, attracts tons of people, and wins awards. Spring is characterized by BBQs on the lawns to celebrate all sorts of things, from diversity to Principal's Day.
Social and Town Life:
1.) Describe the school's town and surrounding area.
The town is small, but everyone at Exeter goes into town on weekends anyway. It's a good place to get off-campus food. There are also a few small stores to poke around in. The townies (as we called them) are generally nice. And if you walk a little bit you'll get to such fun hangouts as Walgreen's and Shaw's. Still, there are weekend buses to Boston and Portsmouth, and now there's a train to Boston too, so if you really get bored, you can go there.
2.) Describe the social life at your school - what did you like most about it?
Well "social life" at Exeter means something very different from social life elsewhere. The early curfews mean you hang out in the dorm a lot at night. That translates into watching movies, playing games, and talking with friends, which is fun, but not exactly thrilling. At the same time, there are lots of things to do on campus before the curfew, like free movies, shows (hypnotists, comedians, concerts), dances, etc.
Daily Schedule:
Weekday
Weekend
1:00 PM
Go to town for lunch, shopping
3:00 PM
Athletic events, nap, read, hang out
6:00 PM
Dinner in town (or order in)
7:00 PM
Plays, shows, movies
9:00 PM
Chill with friends
11:30 PM
Hang out with friends in dorm
Phillips Exeter is distinct for its use of the Harkness Method and its unique athletic opportunities afforded by a robust alumni network and excellent teachers from various high-level academic positions within their fields. Harkness, a. . .
The Harkness method is one of Exeter's unique and best aspects. Teachers have very little involvement in class — homework is either reading or problem based, and nearly every class, from Math to English. . .
Exeter is the founding place of the Harkness method, in which students gather around a round table to discuss their homework and class material as a group. The idea of this method is that. . .
Show more reviews (

27 reviews

)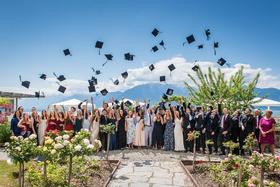 Nurturing Futures: A Journey through Boarding at Haut-Lac School in Switzerland
Nestled in the hills overlooking Lake Geneva in the French-speaking part of Switzerland lies an educational gem that embodies a unique blend of academic excellence, cultural richness and a profound sense of community. Founded over 30 years ago, Haut-Lac International Bilingual Day and Boarding School is now home to both 600 day students and a maximum of 30 boarders from around the world.
What To Wear at Your Job Interview
Navigating job interviews can be stressful, but knowing what to wear shouldn't be. Our comprehensive guide covers the essential dress code tips for men and women interviewing at boarding schools. Make your first impression count with style and professionalism.
Navigating the Modern Maze: Emerging Challenges for Boarding Schools
Explore the pressing challenges facing boarding schools, from marketing difficulties and rising insurance costs to facility maintenance and recruitment of competent trustees and teachers. This article delves into these complex issues and proposes innovative strategies to overcome them.