Reflections and Advice:
1.) What do you think makes your school unique relative to other boarding schools?
Our two children have been attending OVS as day students since pre-K. Our son is in the 4th grade, our daughter in the 1st. My husband attended school there once upon a time, too (late elementary - high school graduation). I have taught academics during seven summer camps as well. We love and appreciate the OVS experience because of the small classes, outdoor ed opportunities, multi-cultural inclusivity, fine arts, thoughtful teachers/admin, friendly staff, parent club involvement, interesting productions, challenging academics, aftercare/club childcare coverage, and amazing lunches!
2.) What was the best thing that happened to you in boarding school?
The school has really shown resilience following the devastating Thomas Fire (which burned part of the Upper Campus) and pandemic. After the fire, volunteers from both campuses helped to replant and redesign the landscape. We also came together for fundraising efforts. During the pandemic, the teachers quickly formed a plan to connect with and support students remotely. Our school is offering more than any other school I know of by way of Google Meet, email, video compilations, links, apps, reading books, workbooks, worksheets, and a continuation of classes in all disciplines, even including PE, equestrian, and the fine arts classes. The flexibility of staff is remarkable. We appreciate the time, energy, and heart that is going into distance learning.
3.) What might you have done differently during your boarding school experience?
Connect with families, ask about what to expect, befriend someone who has been attending awhile, go to All School, attend Family Weekends, join the Parent Club
4.) What did you like most about your school?
I like that OVS is my kids' home away from home. I can trust that they are safe and comfortable there, uniquely challenged and developing as time goes on. They are stretching themselves academically, athletically, musically, creatively, linguistically, artistically, and social-emotionally. I also like that parents are welcome-invited and involved.
5.) Do you have any final words of wisdom for visiting or incoming students to your school?
Check out the summer camp program in addition to the academic year's offering. Summer camp is well rounded with academics and activities indoor and out. My son has taken photography, robotics, archery, swimming, and cooking classes, for example. He has also met students from all over the world. Plus, the thematic competitions/games and enthusiasm from staff is infectious.
Academics:
1.) Describe the academics at your school - what did you like most about it?
I like that my kids learned to read early on. They learned the sounds first, then progressed to reading simple books and eventually chapter books, all while learning sight words, spelling words, and vocabulary as decoding, fluency, and comprehension developed. I've never seen children so excited about the semi-annual book fair! Both of my kids love reading.
Athletics:
1.) Describe the athletics at your school - what did you like most about it?
PE challenges students on the field and in the pool. They practice a variety of skills via dance, stretching, games, swimming, cardio, and sometimes even parkour offerings. Outdoor ed provides additional opportunities to grow by way of class hikes and semi-annual camping trips.
Art, Music, and Theatre:
1.) Describe the arts program at your school - what did you like most about it?
I like that students get up on stage early on-to showcase things they've learned, to sing and perform for an audience. This develops courage and public speaking/comfort at a young age. The school has two assemblies a week, highlighting academic and individual achievements. Parents are welcome to attend. Plus, there is a middle-school and an elementary play every year, and those taking additional music lessons have recitals the wider community can enjoy. The school hosts a holiday show called Campus Lighting. It is super cute, and cultural diversity is displayed. Our favorite function has been High Tea, where students practice manners, etiquette, and more. All the above require rehearsal and refinement-goals to live up to on stage.
Extracurricular Opportunities:
1.) Describe the extracurriculars offered at your school - what did you like most about it?
I like seeing student council members speak over the mic. They are great models for younger students. Their organization with events and school-wide programs is exemplary. The Parent Club is also a neat way to give back to the school. We plan a teacher-appreciation week, fundraisers, help foster community, volunteer at the book fair, send correspondence, decorate the school for seasonal holidays, and support faculty with events and projects.
Dorm Life:
1.) Describe the dorm life in your school - what did you like most about it?
I was a dorm parent for two summer camps. This was before I had kids. I enjoyed the camaraderie between students, sense of personal responsibility for keeping one's room tidy, and citizenship with chores in order to keep the common spaces sanitary.
Dining:
1.) Describe the dining arrangements at your school.
I like that the school offers a variety of healthy and colorful options during meals. The food is fresh, homemade, nutritional, and thoughtfully prepared in order to accommodate diverse diets.
Social and Town Life:
1.) Describe the school's town and surrounding area.
The Ojai valley is an artsy community with frequent festivals and functions held in the centrally located park. There are other parks and playgrounds on the periphery of town as well. The downtown Ojai area is quaint and interesting--with its art galleries, local shops, non-chain restaurants, ice cream shops, pizza parlor, and health-food stores. Smaller offshoots of Ojai proper include the areas of Mira Monte, Meiners Oaks, Oak View, Casitas Springs, and Upper Ojai. The valley has a variety of hiking trails and a meadow maintained by the local land conservancy.
2.) Describe the social life at your school - what did you like most about it?
I like how students of different ages can interact during after-care and recess, including themed clubs held after school. The activities are well supervised, so that students can play and learn together. The school also has a "reading buddies" program where older students read to and befriend younger learners. This builds confidence and companionship.
Daily Schedule:
Weekday
8:00 AM
All school assembly
9:00 AM
classes and fine arts or PE
1:00 PM
classes and fine arts or PE
3:00 PM
school ends, aftercare begins (with snacks available)
5:00 PM
day students get picked up
Weekend
8:00 AM
my kids are day students, not boarding students
Our two children have been attending OVS as day students since pre-K. Our son is in the 4th grade, our daughter in the 1st. My husband attended school there once upon a time. . .
I started boarding at Ojai Valley School (OVS) since fifth grade in Elementary School and this experience had been the best time of my life largely due to the supportive environment of the faculty members. . .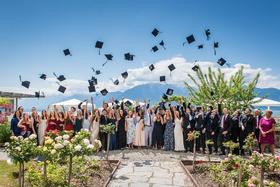 Nurturing Futures: A Journey through Boarding at Haut-Lac School in Switzerland
Nestled in the hills overlooking Lake Geneva in the French-speaking part of Switzerland lies an educational gem that embodies a unique blend of academic excellence, cultural richness and a profound sense of community. Founded over 30 years ago, Haut-Lac International Bilingual Day and Boarding School is now home to both 600 day students and a maximum of 30 boarders from around the world.
What To Wear at Your Job Interview
Navigating job interviews can be stressful, but knowing what to wear shouldn't be. Our comprehensive guide covers the essential dress code tips for men and women interviewing at boarding schools. Make your first impression count with style and professionalism.
Navigating the Modern Maze: Emerging Challenges for Boarding Schools
Explore the pressing challenges facing boarding schools, from marketing difficulties and rising insurance costs to facility maintenance and recruitment of competent trustees and teachers. This article delves into these complex issues and proposes innovative strategies to overcome them.