Reflections and Advice:
1.) What do you think makes your school unique relative to other boarding schools?
One or two aspects that I love personally is the hard work and dedication the teachers and staff of southern prep academy that they will never give up on you no matter what the second aspect is the morals of the school how everything is held to a higher standard even yourself.
2.) What was the best thing that happened to you in boarding school?
Me it was being promoted to Battalion commander for the 2019-2020 school year it was the final achievement I felt that I have accomplished for the four years I been at the academy
3.) What might you have done differently during your boarding school experience?
What I will say I wish I could change was my first year even though this will be your first year at a military academy and it could be overwhelming take my word for it everyone has been in your shoes before and felt the same as you and if anyone ask who told you that when your their at the academy tell the cadet Houston told you.
4.) What did you like most about your school?
The friendly faces staff and faculty that pushed and helped me and never gave up on me to get me to the point I'm at today.
5.) Do you have any final words of wisdom for visiting or incoming students to your school?
Final words don't be down on yourself embrace the process don't fight the system it's their to better you secondly when you get to the canteen tell Mr. Webber to add a smoothie machine and no eating in the movie room!! And the best company and floor of all delta company staff
Academics:
1.) Describe the academics at your school - what did you like most about it?
Academic so academic I believe is set up on a block schedule so you will have 4 classes a day. The most I liked about the academics is that every teacher can and will help you with anything your having trouble with it's like the staff their it's set up that's you can't fell. There is no possible way you could fail, that's what I like about the academic and the mandatory study time period.
Athletics:
1.) Describe the athletics at your school - what did you like most about it?
Athletic part of the academy I feel like it's like other sports in school but one thing that is special about southern prep academy when it comes to sports and that is the brotherhood the bond we have we come together to play as a team so yea I can say the brotherhood is what I like most about the sports aspects
Art, Music, and Theatre:
1.) Describe the arts program at your school - what did you like most about it?
What I like about Band my first year was that it was fun it was a class that we learn about music even if this is you first time or been playing for years it's a great class to come get a feel of music.
Extracurricular Opportunities:
1.) Describe the extracurriculars offered at your school - what did you like most about it?
The activity that I liked when it comes to opportunity which there is allotted, but the one that stuck out to me and put me on the track to look in the future was Beta club it offered we to have a chance to look at colleges and start my plans with my life with just being a sophomore in High school.
Dorm Life:
1.) Describe the dorm life in your school - what did you like most about it?
Absolutely the best part of the dorm room life is the bed and sleep and space this is a amazing experience first you would be split up into a company depending on your grade level so if your in 11th 12th grade you will be in bravo company if your in 9th 10th you will be in Charlie company if your in 6th - 8th grade you will be in echo company you will have to wall lockers bunk beds you will be lucky if you have a room by to yourself.
Dining:
1.) Describe the dining arrangements at your school.
Dining Hall so you have 3 meals a day breakfast lunch and dinner breakfast is from 715 dish to like 730 lunch is from 1135 to 1230 dinner starts around 6.
Social and Town Life:
1.) Describe the school's town and surrounding area.
The school is not much around anything but the fun and outstanding city of all auburn Al, home of the tigers.
2.) Describe the social life at your school - what did you like most about it?
Everyone is close to each other and has a close bond with each other.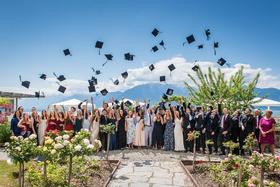 Nurturing Futures: A Journey through Boarding at Haut-Lac School in Switzerland
Nestled in the hills overlooking Lake Geneva in the French-speaking part of Switzerland lies an educational gem that embodies a unique blend of academic excellence, cultural richness and a profound sense of community. Founded over 30 years ago, Haut-Lac International Bilingual Day and Boarding School is now home to both 600 day students and a maximum of 30 boarders from around the world.
What To Wear at Your Job Interview
Navigating job interviews can be stressful, but knowing what to wear shouldn't be. Our comprehensive guide covers the essential dress code tips for men and women interviewing at boarding schools. Make your first impression count with style and professionalism.
Navigating the Modern Maze: Emerging Challenges for Boarding Schools
Explore the pressing challenges facing boarding schools, from marketing difficulties and rising insurance costs to facility maintenance and recruitment of competent trustees and teachers. This article delves into these complex issues and proposes innovative strategies to overcome them.