Reflections and Advice:
1.) What do you think makes your school unique relative to other boarding schools?
I was bullied a lot in the schools I went to as a child. At Nancy Campbell, I actually felt like I fit in. I don't remember there ever being a point I felt like I was out of place. We gathered daily in the cafeteria together before school started to have a morning attendance speech. This was usually accompanied by some sort of ice breaker activity. After, students would volunteer to say inspirational and motivational quotes at the microphone, to start the mood for the day. It really gave me a sense of community.
2.) What was the best thing that happened to you in boarding school?
The best thing that happened to me at NCA was probably being exposed to new cultures. Being from a demographically homogenous town, I had no idea about the many things other cultures and peoples did. Not only was I able to learn about cultures, languages, foods and geographical locations I'd never heard of, but I was actively invited to participate in their customs, learn their languages and ask any questions I wanted. Going to NCA directly influenced my personal feeling of being a world citizen.
3.) What might you have done differently during your boarding school experience?
I think I would have tried not to act so stand-offish and like the cool kid. I'd never been to a private school before and was expecting the cold shoulder you get whenever you move and attend a new public school. Looking back now, I'm cringing at how I initially acted. The fact I didn't get bullied at all and acted like I was the bee's knees is a testament to the non-bullying and kind atmosphere of the school itself.My advice is to be yourself - they love you for it, truly!
4.) What did you like most about your school?
My favourite part about attending NCA was definitely the community. You actually felt like you were part of this big community and never felt like an outcast. I've never felt that feeling anywhere else, and I wish I could go back in time and experience it all over again.
5.) Do you have any final words of wisdom for visiting or incoming students to your school?
The curry may look weird, but it tastes absolutely incredible. Don't be afraid to try to international foods in the cafeteria! I ate rice for 6 months before I gave the other food a try to instantly wanted to teleport back in time and enjoy the amazing things I'd ignored from ignorance!
Academics:
1.) Describe the academics at your school - what did you like most about it?
I really liked World Citizenship class. We'd put on mock trials and debate about controversial and historical global issues. It really made me feel like I had a voice that mattered, and that's something very essential to a young teenager.
Athletics:
1.) Describe the athletics at your school - what did you like most about it?
I'm not going to lie - I was not a thin teenager. I was pretty fat. Even being able to say that, I loved that we went on field trips to the public pool, and although I hated it then, the mandatory laps at the beginning of gym class were probably good for me.
Art, Music, and Theatre:
1.) Describe the arts program at your school - what did you like most about it?
Nancy Campbell Academy has a program where older students go abroad and to inter-cities to perform dances that raise awareness about a variety of subjects (mental illness, drug abuse, domestic abuse, etc). I think the dance workshop was one of the most fun things I've done in school (other than art). They really made you feel like you can change the world with your own two hands, as a youth.
Extracurricular Opportunities:
1.) Describe the extracurriculars offered at your school - what did you like most about it?
At NCA, students are required to do 50 hours of community service a year. This may seem daunting for kids that were super shy and awkward (me!), and especially those with disabilities (me as well, with aspergers and ADHD). For me, this was a great experience looking back on it though. It helped me overcome some of that shyness and awkwardness by knowing that the world isn't out to get you - in fact, the kinder you are to others, the more forgiving they are of your own personal flaws! I volunteered at a veterinarian clinic for my hours while I attended NCA.There were other things we did as a group too, we fasted for 24 hours to raise money for charity and had a sleepover at the school to help motivate one another to continue through with it! Afterwards we all went to a buffet and stuffed our faces - it made for quite the memory! I remembered being able to spend as much time as I wanted in the art room - even during lunch and after school (until the teacher left, of course). The best part about it was that kids I'd never met would join in, and we'd already feel like family!
Dorm Life:
1.) Describe the dorm life in your school - what did you like most about it?
I was a day student at Nancy Campbell, but I remember there being an extreme sense of community between those boarding. I was invited to the dorms quite a few times to hang out and I remember them being clean, spacious and very relaxing.
Dining:
1.) Describe the dining arrangements at your school.
I liked that the day students also ate with the boarding students. The cafeteria was located in the school for both groups, and the food was amazing! I'll never forget the one cook that used to sneak me extra sugar cookies because she knew I loved them so much.Another thing I liked was that the teachers sat down and ate with the students. It wasn't separate like how schools usually are - everyone did everything together!
Social and Town Life:
1.) Describe the school's town and surrounding area.
When I attended Nancy Campbell, it was in London, Ontario (it has since moved to Stratford, Ontario). Since I've also lived in Stratford, Ontario, and I can speak for the town the school currently resides in. The city is nice and quaint, but still has lots of going-on. There is a big town square where markets happen every weekend (most notably the Christmas markets). The architecture of the town is very Victorian-esque. It's beautiful and gives you a sense you're walking somewhere from a long time ago. The downtown is filled with little boutiques that carry all sorts of items. The biggest attraction, however, which is my favourite, is the theatre. Stratford is internationally famous for the Shakespeare festival, held from spring to fall yearly, and some of my favourite memories are watching the musicals and plays there in absolute awe. The talent is unbelievable.
2.) Describe the social life at your school - what did you like most about it?
The best part of the social life at NCA is you are free to drop in and out of whatever is happening and everyone welcomes it. You never feel like a stranger - the attitude was always "the more, the merrier!". In fact, if people found you sitting by yourself, strangers would come up and ask if you wanted to join in with what they were doing and actively try to engage you. It's hard to not have friends at Nancy Campbell.
Something that I feel makes Nancy Campbell Academy special, and unique is the approach towards service and how it is integrated into how learning happens at the school. The school offers students unique opportunities to. . .
I was bullied a lot in the schools I went to as a child. At Nancy Campbell, I actually felt like I fit in. I don't remember there ever being a point I felt like. . .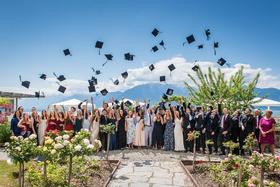 Nurturing Futures: A Journey through Boarding at Haut-Lac School in Switzerland
Nestled in the hills overlooking Lake Geneva in the French-speaking part of Switzerland lies an educational gem that embodies a unique blend of academic excellence, cultural richness and a profound sense of community. Founded over 30 years ago, Haut-Lac International Bilingual Day and Boarding School is now home to both 600 day students and a maximum of 30 boarders from around the world.
What To Wear at Your Job Interview
Navigating job interviews can be stressful, but knowing what to wear shouldn't be. Our comprehensive guide covers the essential dress code tips for men and women interviewing at boarding schools. Make your first impression count with style and professionalism.
Navigating the Modern Maze: Emerging Challenges for Boarding Schools
Explore the pressing challenges facing boarding schools, from marketing difficulties and rising insurance costs to facility maintenance and recruitment of competent trustees and teachers. This article delves into these complex issues and proposes innovative strategies to overcome them.