Reflections and Advice:
1.) What do you think makes your school unique relative to other boarding schools?
Something that I feel makes Nancy Campbell Academy special, and unique is the approach towards service and how it is integrated into how learning happens at the school. The school offers students unique opportunities to go on international service trips to different parts of the world. During these trips, students experience and interact with different cultures while also spreading the message of social justice through different mediums with an emphasis on the arts.
2.) What was the best thing that happened to you in boarding school?
Maturity is probably the biggest thing that happened to me during my time at boarding school. I was exposed to so much more, and I learned a lot about life and myself, and those lessons were valuable. Since attending the school, my view of the world has changed I know that I can influence change, and that change starts with me.
3.) What might you have done differently during your boarding school experience?
If I could do something different when I initially arrived is shift my mindset. By that, I mean I had a negative opinion about boarding schools and didn't give them a fair chance. Throughout my first semester, I could have had more fun and enjoyed the experience more if I got out of my own way. So my advice to other kids is to get out of your way and immerse yourself in the experience and trust me, you will have a great time.
4.) What did you like most about your school?
The community feeling like I had a family away from my family. The residence allowed me to encounter the people that are some of my best friends today. Service trips and volunteer work allowed me to establish bonds with my fellow peers through service. Perhaps the biggest thing I enjoyed about the school is bringing out the best in students and helping develop their capacity and achieve their potential. During my time at the school, I finally felt that I had people believing in me even when I didn't believe in myself, and for that, I am forever grateful.
5.) Do you have any final words of wisdom for visiting or incoming students to your school?
To all future visitors support the student council and shop at the cage!
Academics:
1.) Describe the academics at your school - what did you like most about it?
Something that I undoubtedly enjoyed at Nancy Campbell was the fact that I was never alone and every single staff member was geared towards my success. The smaller size of the school allows for real and immersive learning within the classroom and regular one-on-one time with my teachers. The approach that teachers maintain with students is amazing because the student is treated as an equal rather than someone inferior to them, which really aided the learning process. With a wide variety of university-level courses offered at the school, there is no lack of classes to challenge yourself in. If you are struggling to meet those challenges, the staff are ready to assist in any way possible to make sure that you rise to the occasion.
Athletics:
1.) Describe the athletics at your school - what did you like most about it?
There is no serious athletics program at the school because the focus is on the arts. At school, athletes may feel that they won't fit in, but there are options around Stratford such as club teams that student-athletes can join.
Art, Music, and Theatre:
1.) Describe the arts program at your school - what did you like most about it?
What I enjoyed about the programs at the school was that anyone could get involved, and it brought people out of their comfort zones. Students that felt that they didn't have much to offer in the way of the arts were pushed to succeed and excelled at them because the staff at the school encourage creative freedom. We have creative camps like wildfire where we go to a lodge and split off into different creative groups like dance, photography, visual art, and music. Within those groups make and create art which we share at showcases that the school puts on and with each other. Drama class was my favorite class, as we were challenged as actors when tasked with reciting monologues and creating our own skits to perform. I also enjoyed performing plays for the student body and community at showcases. In communications technology class students learn a variety of things, but being able to write and record music in a studio at the school is probably the coolest thing.
Extracurricular Opportunities:
1.) Describe the extracurriculars offered at your school - what did you like most about it?
There are a lot of volunteering opportunities outside of school. There is a service sign up board and you will find students are volunteering all over Stratford. Each of these opportunities is unique and offers students the chance to work with some brilliant people in the community and establish connections. Other activities include football(soccer) Fridays where we all go and play a match at the YMCA where all students receive a membership.
Dorm Life:
1.) Describe the dorm life in your school - what did you like most about it?
Dorm life at Nancy Campbell is a big part of life at the school in general. For me living at the residence (or res as we call it.) Was an amazing experience and something I will not soon forget. Living in the boy's residence, there was a genuine sense of camaraderie. These weren't just my classmates but my brothers', guys that I would go on to make lasting friendships with. The residential advisors aren't just staff but like parents making sure every student has what they need and are supported and loved throughout the school year. The common room where both guys and girls were able to go hangout was a place where I made a lot of memories. Game nights, dance parties, ukelele lessons, and deep meaningful conversations with friends are just some memories that I have in the common room. The food situation at the residence was good too, with a kitchen and lounge for students to use to make meals of their own, grab a snack from the fridge and relax and chat with friends. At the residence,, each student has their own room which has a single bed, a desk, a mini-fridge, a closet, storage space, a sink, and a choice of wardrobe or dresser.
Dining:
1.) Describe the dining arrangements at your school.
Dining at the school is very good there is a dedicated kitchen staff who are always in there making great meals for the students and staff. The kitchen staff caters to all students and their diets with keto, vegetarian, vegan, gluten-free, and halal options all available to students. There is a variety of wide variety of dishes on the menu from different parts of the world.
Social and Town Life:
1.) Describe the school's town and surrounding area.
Stratford is a quiet theatre town in the summers it is lively with the world-renowned Stratford Festival. Stratford is the ideal place to attend school as it is a safe city and there are not a lot of things that distract students from their goal to succeed at school. Stratford is very beautiful with many parks and a river running right through it there is no lack of nature. What I enjoy about Stratford the most is how friendly everyone is over here no matter where you are from you can always expect a smile from Stratfordians.
2.) Describe the social life at your school - what did you like most about it?
What I liked about the social life at the school is that because the school is so small I was able to become with friends people from varying backgrounds and build meaningful relationships. Another thing that I liked about the school was that it was very easy to socialize and interact with different classes and age groups within the school. On weekends students go to the movie theatres, out to restaurants, or the YMCA to work out and play some basketball. With parental permission, students can take trips to nearby cities like Waterloo and Toronto.
Something that I feel makes Nancy Campbell Academy special, and unique is the approach towards service and how it is integrated into how learning happens at the school. The school offers students unique opportunities to. . .
I was bullied a lot in the schools I went to as a child. At Nancy Campbell, I actually felt like I fit in. I don't remember there ever being a point I felt like. . .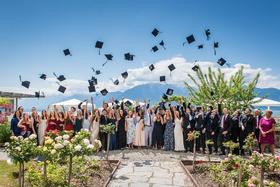 Nurturing Futures: A Journey through Boarding at Haut-Lac School in Switzerland
Nestled in the hills overlooking Lake Geneva in the French-speaking part of Switzerland lies an educational gem that embodies a unique blend of academic excellence, cultural richness and a profound sense of community. Founded over 30 years ago, Haut-Lac International Bilingual Day and Boarding School is now home to both 600 day students and a maximum of 30 boarders from around the world.
What To Wear at Your Job Interview
Navigating job interviews can be stressful, but knowing what to wear shouldn't be. Our comprehensive guide covers the essential dress code tips for men and women interviewing at boarding schools. Make your first impression count with style and professionalism.
Navigating the Modern Maze: Emerging Challenges for Boarding Schools
Explore the pressing challenges facing boarding schools, from marketing difficulties and rising insurance costs to facility maintenance and recruitment of competent trustees and teachers. This article delves into these complex issues and proposes innovative strategies to overcome them.