Reflections and Advice:
1.) What do you think makes your school unique relative to other boarding schools?
SBS is unique primarily due to the fact that ONLY girls may attend. Without the distractions of boys in the classroom, students may focus on finding, creating, and speaking their powerful voices. A great deal of support is available for the students who dare to succeed and challenge themselves.The single sex education theory is what attracted me to the school, but the staff motivated me and inspired me to stay. The athletic teams, music department, and riding departments are world famous and excellent sources of expressing talent for both students and teachers.
2.) What was the best thing that happened to you in boarding school?
I know I found my voice at SBS. I know I became an individual who was strong, assertive, and influential. The experience is hard to express in words; it is just worth giving it a try.
3.) What might you have done differently during your boarding school experience?
I would have tried more activites and branched out more with my electives. However, all the hard work pays off later!
4.) What did you like most about your school?
The experience... overall was what I liked the best.
5.) Do you have any final words of wisdom for visiting or incoming students to your school?
Get to know PB while you can. He is a great guy! Say hi to Emily and John Whitney who just had a baby boy- Emily, a grad of SBS, works in admissions.
Academics:
1.) Describe the academics at your school - what did you like most about it?
I loved the challenges it provided to me. I remember sitting in front of a computer in college, typing away, while my roommate struggled with grammar, organization of her thoughts, and spending countless hours learning the structure of written material. My life was easier due to the hard work I did at SBS.There were challenging AP courses, countless electives, and so many options from which to choose. I found my interests and talents and was able to fit it all in a schedule.I also really enjoyed the advisor relationships that we could have. There were 2 days a week where we would have an all school meeting and 1 day a week reserved for advisors. Even though a lax week would end in a conversation with my advisor, I am so grateful for the opportunity.
Athletics:
1.) Describe the athletics at your school - what did you like most about it?
I LOVED sports at SBS. The tradition of success and teamwork have been unmatched in any other levels of athletics since. I went on to play College Softball and Basketball. Without the sports at SBS, I would not be where I am today. The coaches were outstanding motivators and professionals. I loved it!
Art, Music, and Theatre:
1.) Describe the arts program at your school - what did you like most about it?
While singing in Octet and chorus, and playing trumpet in the musials, I realize that I was one of the reasons the music program excelled. We traveled to England and multiple cities in the Northeast to perform, receiving countless standing ovations and praise.For a small school, SBS has a phenominal Music Director in Cyndee Meese.
Extracurricular Opportunities:
1.) Describe the extracurriculars offered at your school - what did you like most about it?
There are many extracurricular activites from which to choose at SBS. There are many avenues where students can be a part of their education and be respected for their ideas. Each extracurric is a challenge in and of itself, but all the work is well worth it in the end.
Dorm Life:
1.) Describe the dorm life in your school - what did you like most about it?
I did not live at SBS, I was a day student, but I lived there during the summer when we held softball camp since 1991. The rooms are big enough to have your own space, but small enough to call home.
Dining:
1.) Describe the dining arrangements at your school.
The dining hall was excellent!!!! There was always a ton of choices and plenty of time in which to eat. We had a chef (while I was there) who could really cook!
Social and Town Life:
1.) Describe the school's town and surrounding area.
I like the town so much, I eventually moved back into it! The town needs to grow, but still offers small town New England life with all the comforts of a larger city.
2.) Describe the social life at your school - what did you like most about it?
I liked being able to call and hang out with my border friends all weekend, but having games on weekends made it difficult for them to go home. I know that boys are located at other local schools, but this was the area where we had to initiate the most contact.
Daily Schedule:
Weekday
7:45 AM
CHeck in at Breakfast
10:00 AM
break!!!!!!! Octet practice
10:30 AM
Class Meeting or Octet
12:15 PM
Lab classes get out for lunch
2:30 PM
6th begins- CHORUS
7:00 PM
Meetings for STUCO etc
Weekend
1:00 PM
Games, travel to games
5:00 PM
Return from games, call friends, make plans for food, movies
Attending Stoneleigh-Burnham was one of the greatest experiences I had as I journeyed toward becoming an independent, self-motivated young woman. Unlike the standard high school and other boarding schools, Stoneleigh offers a greater acceptance of. . .
SBS provided two things I was looking for in a boarding school: a small tight knit community and a rigorous academic program combined with opportunities for social growth as well. . .
The reason I chose my school was because I am an equestrian and the barn at my high school was at the end of the driveway. The reason I stayed was because I found a. . .
Show more reviews (

12 reviews

)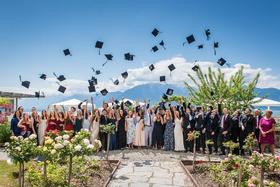 Nurturing Futures: A Journey through Boarding at Haut-Lac School in Switzerland
Nestled in the hills overlooking Lake Geneva in the French-speaking part of Switzerland lies an educational gem that embodies a unique blend of academic excellence, cultural richness and a profound sense of community. Founded over 30 years ago, Haut-Lac International Bilingual Day and Boarding School is now home to both 600 day students and a maximum of 30 boarders from around the world.
What To Wear at Your Job Interview
Navigating job interviews can be stressful, but knowing what to wear shouldn't be. Our comprehensive guide covers the essential dress code tips for men and women interviewing at boarding schools. Make your first impression count with style and professionalism.
Navigating the Modern Maze: Emerging Challenges for Boarding Schools
Explore the pressing challenges facing boarding schools, from marketing difficulties and rising insurance costs to facility maintenance and recruitment of competent trustees and teachers. This article delves into these complex issues and proposes innovative strategies to overcome them.