Reflections and Advice:
1.) What do you think makes your school unique relative to other boarding schools?
There are several things that make Episcopal unique. The classes are small and held in discussion style, which I found to be a wonderful way to learn. Teachers and students develope good relationships because we see them not only in class, but also have lunch with them and run into them around campus. Some of my teachers really became my friends and mentors as well.The Honor Code is important. When we are living together, we can trust everyone else. This way, we feel comfortable leaving our bookbags lying around random spots on campus, and teachers give us take-home exams.The school is located in Alexandria, which is twenty minutes from downtown DC. We had opportunities to go with our class into DC as supplement to our studies. Students have gone to Crossfire of CNN for their AP government class, which I think is good times. I became really involved with music at school. Every month or so, we would receive an email about all the cultural activities planned. They are wonderful excursions to the Kennedy Center, Blues Alley, or whatever venue with interesting programs. To such an email, I would only need to reply, and on the day of the performance, an Episcopal van would take us there. I saw so many wonderful performances while I was there, for example, Kurt Masur conducting the New York Philharmonic, John Williams conducting his own music, Murray Perahia, Alvin Ailey, Mamma Mia... The cultural events are really uncomparable. Those are things that I will never forget.
2.) What was the best thing that happened to you in boarding school?
In the two year I was there, I learnt so much about the world around me and about myself. Boarding school is an invaluable experience.
3.) What might you have done differently during your boarding school experience?
I didn´t know really what to expect, and I don´t know if it´s necessary. It was good to be surprised and sometimes, even mildly shocked.
4.) What did you like most about your school?
Classes, teachers, friends, Harrison, grass, trees, squirrels, puppies on campus...
5.) Do you have any final words of wisdom for visiting or incoming students to your school?
Chocolate cookies at the snack bar are stuff that dreams are made of. One may feel the need to gawk at the Ainslie Arts Center. When backpacking across campus, a good place to stay is the Harrison dorm (although book ahead at least a year in advance, because it fills up quickly and remains so).
Academics:
1.) Describe the academics at your school - what did you like most about it?
I always looked forward to going to class. There are so many interesting classes and also many AP classes, that it is only hard to settle on what to take. Some of my favorites were Religious Thought in Music, AP Micro and Macroeconomics, and AP Physics B. I learnt so much in them and also had a lot of fun. The workload depends on what kind of classes the students take. AP classes are of course more work than regular classes. The learning environment is healthy competition where everybody helps everybody else out. One would find a couple of study groups assembled on nights before a test.
Athletics:
1.) Describe the athletics at your school - what did you like most about it?
There is a certain number of athletic credits students must earn to graduate. Few have problems filling them. There are so many sports available to students. Epsicopal is also highly competitive in many of them. There is a gym with weight rooms, a swimming pool, tennis courts, baseball court, outdoor track, and a huge indoor track. Outdoor excursions are provided by options of Outdoor Program, Rock Climbing, Kayaking and so on. Ballet, Jazz, and modern dance also fulfills the athletic requirement.
Art, Music, and Theatre:
1.) Describe the arts program at your school - what did you like most about it?
I, clearly, loved it. I could not have had a better time being immersed in culture in every possible way.
Extracurricular Opportunities:
1.) Describe the extracurriculars offered at your school - what did you like most about it?
I loved that fact that there was always such a large offering. Possibilities include: all kinds of sports, yearbook, the computer team that updates the web which I don´t know what they are called, independent study in photo or art, community service, and so on. One unique option that I took advantage of is independent study in music. I practiced instruments in the afternoons and kept a log of my progress, culmunating in a end of season recital.
Dorm Life:
1.) Describe the dorm life in your school - what did you like most about it?
Dorm life is truly unforgettable. We lived in single-sex dorms, and the freshmen lived together on one dorm. The dorm life is kept in order by monitors, who are student leaders. room are usually doubles, with a sprinkling of triples and singles. Room selection is determined by a lottery system. Upperclassmen can have fridges in their rooms, and there is a fridge on dorm for everyone. My dorm mothers often brought food to 10 o´clock sign-ins, which we adored them for. Running around the dorm looking for food is also a good way to keep in touch with old friends and make news ones.
Dining:
1.) Describe the dining arrangements at your school.
The dining hall has big round tables. Regular meals are buffet style. Seated meals have student waiters. We have seated meals on weekday lunches and Monday dinner, where there is at least one teacher at each table, and seating is rotated. Food is pretty good. Brunch on Sundays is excellent.
Social and Town Life:
1.) Describe the school's town and surrounding area.
The center fulfills your every need. It is a five minute walks from campus and has Rite Aid, small restaurants, bank, a grocery store, and Maggie Moo´s. Other places popular destinations are Old town, Shirlington, Pentagon City Mall, Georgetown... One would never have trouble going somewhere fun.
2.) Describe the social life at your school - what did you like most about it?
Boarding school collects students from everywhere. Things we have in common may not be so obvious at first. I made friends that are very different from I am in where we come from, what we have done before, or even what we will do later, but we share the same interests, same sense of humor, or same taste in music. They are valuable friends that I can learn much from.
Daily Schedule:
Weekday
10:30 AM
Break, Snack Bar opens for frantic service
12:00 PM
Chapel or Community Meeting
3:45 PM
Sports and afternoon activities begin
5:00 PM
Afternoon activities end
7:00 PM
Study, freshmen have study halls
9:30 PM
Pizza for sale at Snack Bar
11:00 PM
Bedtime for freshmen, later times for upperclassmen
Weekend
10:00 AM
Awake, take breakfast
12:00 PM
Sign on AIM and see if my friends are awake
1:00 PM
Hopefully, they are, and wander to the center and eat
7:00 PM
Eat some good food off campus, watch a movie, something like that
11:00 PM
Sign in for the last time
Episcopal is unique in the boarding school world in that 100% of the students are boarders. While the school advertises this statistic heavily, I personally do not think that it could be said too. . .
I think what sets Episcopal apart from other comparable boarding schools is its unique location. Situated right outside the nation's capital, EHS students are constantly exposed to the world beyond just the high school. Very. . .
One aspect of Episcopal that is unique is the fact that is 100% boarding. Since there is not this divide in the community, the sense of community at EHS is quite strong. Everyone is there. . .
Show more reviews (

9 reviews

)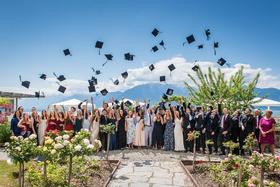 Nurturing Futures: A Journey through Boarding at Haut-Lac School in Switzerland
Nestled in the hills overlooking Lake Geneva in the French-speaking part of Switzerland lies an educational gem that embodies a unique blend of academic excellence, cultural richness and a profound sense of community. Founded over 30 years ago, Haut-Lac International Bilingual Day and Boarding School is now home to both 600 day students and a maximum of 30 boarders from around the world.
What To Wear at Your Job Interview
Navigating job interviews can be stressful, but knowing what to wear shouldn't be. Our comprehensive guide covers the essential dress code tips for men and women interviewing at boarding schools. Make your first impression count with style and professionalism.
Navigating the Modern Maze: Emerging Challenges for Boarding Schools
Explore the pressing challenges facing boarding schools, from marketing difficulties and rising insurance costs to facility maintenance and recruitment of competent trustees and teachers. This article delves into these complex issues and proposes innovative strategies to overcome them.