Reflections and Advice:
1.) What do you think makes your school unique relative to other boarding schools?
The campus location in Hawaii is very unique, and I think that this is a big plus for people coming to study outside of the state. Although I personally went home the majority of weekends because my family lived on-island, I know that my international student roommates took part in a lot of the outings that the boarding program organized to explore the island. Also, there were mandatory after school activities that students chose from (sports, music, theatre, etc) so pretty much everyone is kept busy from the morning to about 5pm in the afternoon. Having mandatory after school activities can be challenging to balance with schoolwork because you're already tired by the time you have to do homework and often the provided study hall time in the evening isn't enough if you're taking more challenging classes, but it also prepares you well for college because you'll most likely be balancing extracurricular activities with classes in college as well.
2.) What was the best thing that happened to you in boarding school?
I think the best thing that's happened to me in boarding school is the people I've met. I haven't stayed in touch with all of my friends after we graduated, but I have stayed close with a couple of them and I have connections with people from all over the world because I attended HPA. I actually think that I grew most from the most challenging moments during my high school experience, and because of those experiences I am more independent and better able to stand up for myself. Also, I was on scholarship while I was at HPA and I didn't grow up wealthy, but because I had that boarding school experience I know that people are people regardless of their economic position, and I have friends from all different socio-economic groups. The transition to college was also relatively smooth for me since I already knew what it was like to live in a dorm with a roommate and I was already used to the challenging academic environment. In addition, the college counselors at HPA are amazing and I don't think I would've been able to get into the college that I ended up attending if I didn't go to a school like HPA. The college counselors at HPA really listened to each student's desires and helped support us throughout the college application process starting from the end of Sophomore year.
3.) What might you have done differently during your boarding school experience?
Because of my particular situation and goals I kind of wish that I went to a performing arts boarding school so that I wouldn't have felt so behind when I first came to college and saw the caliber of the other students who were also admitted, but at the same time I don't regret going to HPA because of the people I was able to meet and also for the fact that I was able to stay close with my family while getting the best education possible on-island.
4.) What did you like most about your school?
I really liked the student body and the mix of local and international students, as well as the teachers because a lot of them were very involved not just during classes but also in extracurriculars and dorm life. I really liked that I was able to get to know everybody not just as fellow students and teachers, but also as people.
5.) Do you have any final words of wisdom for visiting or incoming students to your school?
I would say sign up for the honors and AP classes for the subjects you're interested in because although they will be more difficult, they will also be a lot more enjoyable than the regular-level classes. It's easy to get overwhelmed with the quantity of class and activity options, so I would say spend your time doing what you actually enjoy doing rather than signing up for things because your friends are doing it or because you think it'll look good on your college applications. As for dorms, I've lived at both Carter Hall and Robertson Hall, and I had a great experience in both of them. Finally, if you're at all interested, try out horseback riding for your after school activity because it's quite a unique experience!
Academics:
1.) Describe the academics at your school - what did you like most about it?
I had some great teachers during my time at HPA, and I liked that I was able to get to know a lot of them personally and I sensed that most of them really care about their students as people both inside and outside of the classroom. I will say that I noticed a big difference between honors and non-honors classes, but it may have more to do with the types of students who enroll in each type of class. The honors classes are definitely a lot more work, but they were also a lot more engaging because the people who took those classes seemed to be more invested in the material. I think where HPA stands out is the project-based capstones that you can do when you're an upperclassmen. I personally did a biotechnology project my senior year instead of a normal science class, and since I tend to learn best by doing I found that a lot more fun and engaging than a normal science class.
Athletics:
1.) Describe the athletics at your school - what did you like most about it?
I wasn't really involved in athletics, but it is mandatory that all students participate in some kind of after school activity and I believe that at least one of them throughout the year needed to be physical (but it could be things like pilates, weightlifting, horseback riding, and dance instead of team sports).
Art, Music, and Theatre:
1.) Describe the arts program at your school - what did you like most about it?
I think that the theatre program has changed since I was there, but to be honest I was disappointed by the quality of the theatre program while I was there mostly because there was a lot of turnover with the theatre teacher and most of the people who were hired in the position while I was there weren't the best people personality-wise. I'm now a theatre major in college and I plan on pursuing it professionally, but I don't think that I would've been able to get to the level where I could audition and get into college theatre programs if solely relied on the theatre program at HPA. I hope that it has changed significantly now that a new teacher took over, but based on my experience I wouldn't recommend coming to HPA specifically for theatre unless you're from the Big Island and you're choosing between the high schools on island or if you want to try it out for fun and you don't mind doing something else if the experience wasn't what you hoped. As for choir and dance, these activities collaborated heavily with groups in Waimea outside of school. For example, I remember going to choir rehearsal with Waimea Community Chorus, and the dance teacher was affiliated with Prince Dance Institute and a lot of my friends participated in a dance recital at the Kahilu Theater. I thought that this was a really good way to engage with the community outside of school because I imagine that it could be very easy to get stuck in the HPA bubble if you're not from the island. That being said, if you want to do more of the backstage side of theatre, HPA has great facilities for that and Mr. Terpak the stagecraft teacher was amazing.
Extracurricular Opportunities:
1.) Describe the extracurriculars offered at your school - what did you like most about it?
I think that the diversity of the extracurricular offerings at HPA was great, and I think that one activity that is pretty unique is horseback riding since HPA is on a ranch property and has its own horses.
Dorm Life:
1.) Describe the dorm life in your school - what did you like most about it?
Dorm life at HPA was pretty structured - there were hall parents who lived at the end of each floor who were teachers or other staff who had a big presence on campus, and we would have mandatory study hall every evening. I think the best part was being roommates with students from different countries. I'm still very close with my roommate from Freshman year of high school, and I even visited her in her home city while I was studying abroad in college. I think living with people from all over the world made me more open to different cultures, and it also prepared me well for college because it taught me to be independent. I was also a five day boarder, so for me that was the perfect balance of learning to be independent while still being able to spend time with family on the weekends.
Dining:
1.) Describe the dining arrangements at your school.
The cafeteria food was one of the biggest complaints everyone had while I was there, but I heard that the food provider changed and the food improved a lot as a result after I graduated. Also, we had formal dinners once a month were we dressed up and sat in assigned seats with some faculty members. I think it was to practice dining in a more formal setting, but I haven't really used those skills yet after graduation.
Social and Town Life:
1.) Describe the school's town and surrounding area.
Waimea, the town surrounding the school, is a very idyllic area and it's actually one of my favorite parts of the Big Island. I liked that it was in one of the cooler parts of the island so it wasn't too hot, but it was also pretty close to Hapuna beach so the school would take us there for activities. Waimea is also very green and beautiful, and there are farmers markets every Saturday as well as some very nice places to eat and hang out around town. HPA organized weekly busses to go to town, but I remember that you had to be in good standing student conduct-wise to be able to go.
2.) Describe the social life at your school - what did you like most about it?
There were definitely social groups going on and people tended to consistently hang out with the same groups of people, but I wouldn't say that one social group dominated. I know that there were dances and events organized regularly, but unfortunately I wasn't able to go to a lot of them because I was so focused on my extracurricular activities.
HPA Campus is set up in a unique natural surrounding. HPA does a lot of volunteer work. HPA has a lot of good and nice teachers. They help you where they can. . .
The boarding and day community were both very diverse, inclusive, and welcoming. They encouraged a lot of socializing and bonding that effectively made the school feel like family. The events that were held such as. . .
The campus location in Hawaii is very unique, and I think that this is a big plus for people coming to study outside of the state. Although I personally went home the majority of weekends. . .
Show more reviews (

4 reviews

)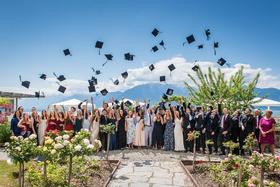 Nurturing Futures: A Journey through Boarding at Haut-Lac School in Switzerland
Nestled in the hills overlooking Lake Geneva in the French-speaking part of Switzerland lies an educational gem that embodies a unique blend of academic excellence, cultural richness and a profound sense of community. Founded over 30 years ago, Haut-Lac International Bilingual Day and Boarding School is now home to both 600 day students and a maximum of 30 boarders from around the world.
What To Wear at Your Job Interview
Navigating job interviews can be stressful, but knowing what to wear shouldn't be. Our comprehensive guide covers the essential dress code tips for men and women interviewing at boarding schools. Make your first impression count with style and professionalism.
Navigating the Modern Maze: Emerging Challenges for Boarding Schools
Explore the pressing challenges facing boarding schools, from marketing difficulties and rising insurance costs to facility maintenance and recruitment of competent trustees and teachers. This article delves into these complex issues and proposes innovative strategies to overcome them.