Reflections and Advice:
1.) What do you think makes your school unique relative to other boarding schools?
A lot of the classes were conference-based, which gives students the unique opportunity to share their thoughts and ideas with the teachers and with each other, thus giving them an opportunity to learn from each other and to communicate better. The mandatory sports/activities were a wonderful way to have everybody build a wonderful resume full of achievements.
2.) What was the best thing that happened to you in boarding school?
I believe that the answer to this question is a combination of all my answers in this questionnaire.
3.) What might you have done differently during your boarding school experience?
I probably would have hung out with more of the American students. WMA has a very diverse student body, and as an international student, I initially hung out mostly with other international students. Later on I realized that it is worth the effort to truy and get to know some of the American students. That's how I made my best friends. So no matter if you are an American or an international student, I advise that you spend some time getting to know people of different backgrounds. It will make a huge difference in your life.
4.) What did you like most about your school?
I loved the fact that we had a chance to make life-long friendships while receiving a quality education. I never felt that I was wasting time, even though I was having fun. A lot of the classes were fun!!
5.) Do you have any final words of wisdom for visiting or incoming students to your school?
Wallace Blake is the dorm I likes a lot. Hang out in the campus center, they have good pizza.. Check out the bookstore and say hi to the staff there - they are really friendly.
Academics:
1.) Describe the academics at your school - what did you like most about it?
As mentioned above, I loved the conference classes. Furthermore, all the teachers were available for help. There was a specific time in the schedule set aside for extra help when you could go to the teacher's office and get your questions answered in person. The school has a lot of AP classes and prepared us really well for AP exams.
Athletics:
1.) Describe the athletics at your school - what did you like most about it?
Wilbraham and Monson Academy has an excellent academic program. Students are required to take at least 2 PE classes per year, with classes meeting every day, thus giving students intensive preparation in the chosen sports. The school has very highly competitive soccer, basketball, lacrosse, football, track and field teams that are some of the best ones in the area. I loved the consistency in the sports preparation.
Art, Music, and Theatre:
1.) Describe the arts program at your school - what did you like most about it?
I only took one keyboard class, a basic acting class, and I participated in the student-directed school play. During the one year I was there, I learned how to appreciate art and theater - areas that had always been overlooked at my other high school. I liked the fact that the Arts, Music and Theater were an integral and very important part of the program. This definitely makes the students more well-rounded individuals
Extracurricular Opportunities:
1.) Describe the extracurriculars offered at your school - what did you like most about it?
There are a lot of extracurricular opportunities. The ones I enjoyed the most was the community service program, which gave students an opportunity to work with elderly people and children, giving them a feeling of instant satisfaction from helping the community they are apart of.
Dorm Life:
1.) Describe the dorm life in your school - what did you like most about it?
The dorm life was very well-organized. A lot of dorm parents were always available, be it to chat with you, or to help you with a problem you are having. This created a very supportive environment to work and live in.
Dining:
1.) Describe the dining arrangements at your school.
The food was always diverse, and you can always go for refills without having to pay extra. The people working there were extremely friendly.
Social and Town Life:
1.) Describe the school's town and surrounding area.
The town of Wilbraham is fairly small and quiet, but yet close to some bigger cities. Weekend trips to Northampton, to the Eastfield mall, Springfield etc. have always been a pleasure.
2.) Describe the social life at your school - what did you like most about it?
The schedule was very conducive to making long-lasting contacts and friendships. The discussion based classes, as well as the mandatory sports/activities requirements were a great way of meeting other students and making friends. The campus center was always a fun place to hang out or study. I have made some of my best friends at this school.
Daily Schedule:
Weekday
2:00 PM
Environmental Science
Weekend
10:30 AM
Van leaving for track event
7:00 PM
Hang out with friends
WMA, more than any other prep school that I have visited, is a community. Everyone knows one another. With over fifty percent of all faculty and staff living on campus, the students really get to. . .
One aspect that sets Wilbraham and Monson Academy a part from other similar private institutions is the CEGS Department. CEGS stands for Center for Entrepreneurial and Global Studies, and is in place of a traditional. . .
Firstly, and most noticeably unique, is the diversity at WMA. There are over 30 different countries represented, and this played a major role in my learning experience. With so many different cultures present in the. . .
Show more reviews (

8 reviews

)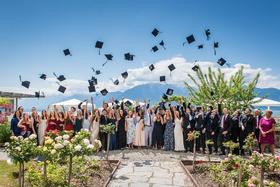 Nurturing Futures: A Journey through Boarding at Haut-Lac School in Switzerland
Nestled in the hills overlooking Lake Geneva in the French-speaking part of Switzerland lies an educational gem that embodies a unique blend of academic excellence, cultural richness and a profound sense of community. Founded over 30 years ago, Haut-Lac International Bilingual Day and Boarding School is now home to both 600 day students and a maximum of 30 boarders from around the world.
What To Wear at Your Job Interview
Navigating job interviews can be stressful, but knowing what to wear shouldn't be. Our comprehensive guide covers the essential dress code tips for men and women interviewing at boarding schools. Make your first impression count with style and professionalism.
Navigating the Modern Maze: Emerging Challenges for Boarding Schools
Explore the pressing challenges facing boarding schools, from marketing difficulties and rising insurance costs to facility maintenance and recruitment of competent trustees and teachers. This article delves into these complex issues and proposes innovative strategies to overcome them.