Reflections and Advice:
1.) What do you think makes your school unique relative to other boarding schools?
Thacher School has no governing law beyond the personal responsibility of each student. As difficult as it is to believe, during my time there, although there were certainly infractions of the rules, each and every time the students bravely stood forward admitting their faults, willing to learn from the mistake. The extreme responsibility that each student carries for him or herself creates a truly unparalleled community of trust and support where honesty prevails.
2.) What was the best thing that happened to you in boarding school?
Boarding school helped me grow up. The responsibility it placed upon me led me to understand that each person has a duty to the well being of the world, and if you don't uphold that, or you corrupt that duty, the whole ship starts to sink. The unrequited love of my classmates, their support and genuine concern for everyone around them made an atmosphere where I grew to be confident in myself, my abilities, and my ability to help others. The best thing that happened to me in Boarding School was that i learned to be good at life.
3.) What might you have done differently during your boarding school experience?
There was nothing i would have done differently. I have always been the type to dive in head first, and i did just that. I got immediately involved in theater, i made as many friends as i could as quickly as i could, and just had fun. My one advice would be that School is about grades, yes, but it's also about learning who you are as a person, and if your school has to suffer along that journey, let it. Perfect grades are not what is most important, but i can tell you that when you find a place of comfort where you're happy and things are going well, you will have no problem doing well in everything.
4.) What did you like most about your school?
Thacher is a place where so many positive aspects coalesce into a truly magical entity. Beautiful landscapes, challenging academics, and great people. The atmosphere is unparalleled and should be experience by anyone that can.
5.) Do you have any final words of wisdom for visiting or incoming students to your school?
watch the sunrise in the outdoor chapel. you have the best view in the entire valley and you can slowly see the sun rising above the peaks of the Sespe turning the sky a pale pink while fog sits sleepily on the town below. This is one of those moments where you see why nature is the most beautiful thing there is.
Academics:
1.) Describe the academics at your school - what did you like most about it?
The academics are certainly rigorous, but in a way where you want to learn. Each of the professors is extremely well educated, and is passionate enough to want to inspire it in their students.
Athletics:
1.) Describe the athletics at your school - what did you like most about it?
Athletics are required, but there is a sport for every person from state champion teams to yoga. The diversity of the field is large, and since Southern California is beautiful year round, you can play any sport any time of year.
Art, Music, and Theatre:
1.) Describe the arts program at your school - what did you like most about it?
The musical director at Thacher is a genius, the Theater director being equally brilliant. They are each extremely distinguished in their respective fields and have a passion for teaching that cultured my arts interest. I participated extremely actively in the performing arts and had nothing but an amazing time. They are currently in the process of building a new multi-million dollar performing arts center that is sure to bring the performing arts up to a new and amazing level. The course offerings in visual arts are extensive, while the performing arts offerings are limited, but the opportunities are myriad.
Extracurricular Opportunities:
1.) Describe the extracurriculars offered at your school - what did you like most about it?
Thacher is a school where academics takes first place. The day is fully packed with classes, the evening reserved for study hours. Extra-curricular activities are difficult to undertake, although possible for those who are dedicated. Outside of the sports and performing opportunities, community service is possible, and heavily encouraged, although fitting them into your schedule can be challenging.
Dorm Life:
1.) Describe the dorm life in your school - what did you like most about it?
Dorms are single sex, with the opposite sex forbidden entry into the building except on special occasions. Dorm life, however, is the single most life changing thing i have ever experienced. Living with 30 other boys who each live the same life creates a very strong bond. The close quarters that are kept between the boys make friendships stronger than words can say. The views from the dorms are breathtaking with vistas of the Ojai valley, and the rooms can be cramped, but they are certainly adequate. The nature of such an atmosphere is that if you need to work hard, you can close your door and be shut off, but if you're looking to fool around or order pizza and watch a movie, there is always someone willing to do the same. Dorm life is fun, its teenage boys living together, what else could it be?
Dining:
1.) Describe the dining arrangements at your school.
The dining hall is always accessible for a quick bite, or full meal depending on the time of day, and the food is very very good. Formal dinner takes place four times per week with assigned seating designed to introduce students to people they may not normally interact with, but the experience is enjoyable. All other meals are informal and usually something to look forward to, plus we have a soft serve ice cream machine, always a popular pick.
Social and Town Life:
1.) Describe the school's town and surrounding area.
Ojai is a very small town untouched by modern chain-store civilization as there is actually a law preventing the presence of chain stores. There is a one screen movie theater, one grocery store, a few coffee shops, some restaurants and a farmer's market on the weekends. The park is beautiful, though, and the town itself has a very charming atmosphere.
2.) Describe the social life at your school - what did you like most about it?
Social life exists most predominantly in the dorm after check-in. An upper classman will order pizza and everyone will sit around chatting or playing video games for a couple of hours before bed. Every week night, though, there is 30 minutes before check-in reserved specifically for socializing where students meet at the Student Union to play pool or just talk on the porch. Social life is very relaxed. Since Thacher is so small and closely knit, there is no social discrimination that occurs, "cliques" don't form, and everyone hangs out with everyone as long as you're around. There's always some way to have fun whether its sliding down a rain soaked hill, or jamming in the music room.
Daily Schedule:
Weekday
7:30 AM
wake up, shower, grab a quick bite at the dining hall.
8:00 AM
first class, classes are 45 minutes long.
11:00 AM
lunch, a nice break.
3:00 PM
classes end, go back to the dorm and change for sports
3:30 PM
sports/horse riding/independant project work begins
5:00 PM
sports time is over, head back to the dorm and shower for dinner, do some homework if you have free time.
6:00 PM
Formal Dinner begins, assigned seating with one member of the faculty. Usually good conversation and a good meal.
7:30 PM
Study hours begin, dorms are quiet, and students are required to be working or in academic pursuit.
9:30 PM
Study hours end, 30 minutes to socialize and hang out with friends.
10:00 PM
Check-in. Students must be in their dorm building and remain there until the next morning.
Weekend
10:00 AM
wake up and saunter down to brunch
12:00 AM
head into Ojai for lunch, or a movie, or just some groceries and a latte.
3:00 PM
Bum around for most of the day, sit by the pool, or read and watch a DVD, options are endless.
8:00 PM
Some school activity will begin, either an open house at the Headmaster's, or a campus wide game, or concert or something.
9:00 PM
free reign to roam the campus and do whatever there is to be done
11:00 PM
check-in, students must be in their dorm building until the next morning.
The tight knit community is a really rare quality at high schools in general but especially boarding schools. The relationships with teachers and students is so close and the fact that there is very few. . .
The horse department at Thacher is both unique and outstanding. Unique because the school strives to keep the cowboy culture alive with over 100 horses and a fully outfitted western riding center. It is outstanding. . .
Thacher's community on campus is unlike any other, connections at the school go beyond merely knowing every student's name but having had interacted closely with everyone whether on a camping trip, in the dining hall. . .
Show more reviews (

23 reviews

)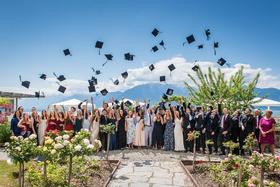 Nurturing Futures: A Journey through Boarding at Haut-Lac School in Switzerland
Nestled in the hills overlooking Lake Geneva in the French-speaking part of Switzerland lies an educational gem that embodies a unique blend of academic excellence, cultural richness and a profound sense of community. Founded over 30 years ago, Haut-Lac International Bilingual Day and Boarding School is now home to both 600 day students and a maximum of 30 boarders from around the world.
Navigating the Modern Maze: Emerging Challenges for Boarding Schools
Explore the pressing challenges facing boarding schools, from marketing difficulties and rising insurance costs to facility maintenance and recruitment of competent trustees and teachers. This article delves into these complex issues and proposes innovative strategies to overcome them.
What To Wear at Your Job Interview
Navigating job interviews can be stressful, but knowing what to wear shouldn't be. Our comprehensive guide covers the essential dress code tips for men and women interviewing at boarding schools. Make your first impression count with style and professionalism.