Reflections and Advice:
1.) What do you think makes your school unique relative to other boarding schools?
I really enjoyed the small class sizes and the student-teacher interaction. The teachers all welcomed input and encouraged different opinions. The presence of teachers in the dorms also helped improve student-teacher relationships on the whole.
2.) What was the best thing that happened to you in boarding school?
The best thing that happened to me in boarding school was being named captain of the varsity hockey team at the end of my junior year. This accomplishment meant a lot because it was voted on by my teammates. It showed that they all looked at me as a leader and I took a great deal of pride in that. I also had a piece of creative writing published in the school's alumni magazine and this was something very special to me. My senior year I was awarded Cum Laude status for academic achievement and being recognized for my hard work over the past two years with my parents present at graduation was a moment I'll never forget.
3.) What might you have done differently during your boarding school experience?
Perhaps I would have made time for a photography course while at Williston, but otherwise I wouldn't change a thing. I enjoyed every minute of my experience and encourage anyone who reads this to seriously consider Williston Northampton in their prep/private school search.
4.) What did you like most about your school?
Definitely the people. Everyone from the students, teachers, and staff were all exceptional to live and learn with.
5.) Do you have any final words of wisdom for visiting or incoming students to your school?
I loved living in Ford Hall. It was a great place to live for two years. The Stu-Bop snack bar was always great for a milkshake and the back staircase in the student's center definitely deserves a visit.
Academics:
1.) Describe the academics at your school - what did you like most about it?
I liked the challenge of the programs offered. I always felt like I was being pushed to the best of my ability. Never below, and never beyond. There were AP courses offered in all areas I was looking for and the French Language program allowed me to continue my education in this subject to the point where I received my Bilingual status from the Government of Canada. The professors were excellent, always offering constructive criticism when needed and praise when deserved. An extracurricular seminar course in advanced creative writing also allowed me to develop a skill that I hadn't even realized I possessed until it was recognized by a teacher at Williston.
Athletics:
1.) Describe the athletics at your school - what did you like most about it?
I thoroughly enjoyed the athletics program at Williston. The facilities were excellent and the coaching staff was exceptional. The athletic offerings were diverse for anyone to be able to participate in some aspect. The schedule was intense and offered a healthy dose of competition. I was able to parlay this experience into a hockey scholarship at a Division III college.
Art, Music, and Theatre:
1.) Describe the arts program at your school - what did you like most about it?
I didn't participate in this program as much as I would have liked. My schedule was always full with academic and athletic activities. From dropping in to see what friends were doing the facilities appeared first rate and the program produced some exceptional work.
Extracurricular Opportunities:
1.) Describe the extracurriculars offered at your school - what did you like most about it?
The extracurricular activities were always well planned and there was a wide variety. Day trips to various parts of New England, concerts, and other events were always available to students.
Dorm Life:
1.) Describe the dorm life in your school - what did you like most about it?
I really enjoyed dorm life. Coming from Canada there wasn't a huge cultural difference, but it quickly enabled me to meet people and make friends that I will have for the rest of my life. Whether it was splitting a pizza with my roommate or hanging out to watch movies on weekends with other friends, there was a real sense of family. It was like I was living with thirty brothers.
Dining:
1.) Describe the dining arrangements at your school.
The dining hall was great. There was a wide variety of food to choose from and there was always a grill item that allowed students a certain amount of customized choice in a hot meal prepared right in front of our eyes. My favorite meal was weekend brunch and the end of term steak dinners were always a student favorite.
Social and Town Life:
1.) Describe the school's town and surrounding area.
Easthampton was a great town to go to school in. There were never any problems with the residents of the town and we co-existed very well. There were ample stores and shops to provide all of the necessities and Northampton and Holyoke were also very close by to provide anything out of the ordinary.
2.) Describe the social life at your school - what did you like most about it?
I liked the accepting nature of the school and its students. You never felt out of place or second rate among the children of some of the elite in New England and the U.S. I was worried at first that private school students would be snobbish but this couldn't be further from the truth.
Daily Schedule:
Weekday
9:15 AM
Free Period (Shoot pucks at the rink on campus or give a tour)
12:00 AM
Conversational French
2:00 PM
Work Study (Campus job)
2:30 PM
Athletics Practice
Weekend
10:00 AM
Hang out with friends or depart for site of an away game.
4:00 PM
Relax/Hang out with friends
6:00 PM
Get ready to go out or to a student activity
12:15 PM
Watch movies/hang out
Williston has a great balance of day students and boarding students, which allow students to know and learn more about the area. With a widespread campus in a safe neighborhood and numerous stores and restaurants. . .
Williston was the best community I could've ever established an identity with. My parents teach at the school, so we actually had a house on the campus. I developed close relationships with not only. . .
At a first glance, The Williston Northampton School appears similar to most college preparatory schools. It contains a beautiful New England campus, wonderful and caring teachers, and great athletic and artistic facilities. However, as many. . .
Show more reviews (

14 reviews

)
Mastering the Boarding School Selection Process: A 5-Step Guide
Discover the ultimate 5-step guide to choosing the perfect boarding school for your child. Explore essential factors, such as academics, campus facilities, extracurricular activities, and more. Make an informed decision to provide your child with an enriching and transformative educational experience. Read now!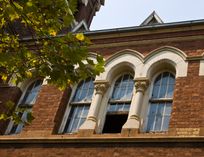 5 Founders and Their Boarding Schools
What prompts somebody to start a boarding school? The motives range from idealism to munificence right on through to capitalism. The common thread seems to be ample capital and a vision of what education can do.