Randolph-Macon Academy - Review #3
About the Author:

College Enrolled
George Mason University
Home Town, State (Country)
Burke, VA
Years Attended Boarding School
2
Activities During Boarding School
I played tennis and volleyball, was on the unarmed drill team, an assistant flight commander.
Review

Description

Roanoke College

One aspect that I liked most about R-MA was the fact that the classes consisted of no more than twenty students. Having this few students in a classroom meant that as an individual student I. . .

Virginia Tech

Diversity. R-MA offers a wide range of valuable experiences and opportunities (both academic & non-academic) that will certainly propel you to your desired college/university, not to mention have you very well prepared. In. . .

George Mason University

Randolph Macon Academy is a military academy with many aspects of a non-military prep school--chapel for instance. It is also a co-ed military academy, which was great for me (being a woman!). . .

Virginia Tech

Randolph-Macon is unique for 2 reasons: 1) The ROTC experience is quite unique. I think that drilling as a unit really builds friendships and camaraderie among students. It certainly helps the students. . .

Show more reviews

(-1

reviews)
April 20, 2018
Actually, there is no secret to getting your child into boarding school. Just a lot of hard work and a heavy commitment of time.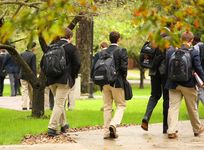 March 22, 2018
Some cynics think single-sex education is old-fashioned. The Kiski School shows how educating boys in a single-sex school is successful.
March 08, 2018
The wide range of fine academic, athletic, and other facilities found in boarding schools underscores the determination of schools to provide the very best for their students.