Reflections and Advice:
1.) What do you think makes your school unique relative to other boarding schools?
Diversity. R-MA offers a wide range of valuable experiences and opportunities (both academic & non-academic) that will certainly propel you to your desired college/university, not to mention have you very well prepared. In addition to the various selection of courses, the student population is made up of a very diverse set of cultures, ethnicities, and backgrounds.Discipline. Whether you're enrolled for the purposes of academic/study or social behavior, this military/college prep school has what you need.
2.) What was the best thing that happened to you in boarding school?
Not that I might have realized it at the time, but reflecting on the accomplishments, achievements, and unusual adventures that I have acquired and endured, I am honestly glad to have been apart the R-MA experience.I don't think I would have been as goal-oriented and strongly driven to succeed. Most important, I was able to get accepted into the primary colleges and programs that I set out for.
3.) What might you have done differently during your boarding school experience?
I would have taken advantage of the Flight Program to the extent of getting my private pilot license.Advice to others... be prepared for some disciplining. That includes taking orders, operating on a strict time schedule everyday, and constantly having a room clean enough to pass military standards.
4.) What did you like most about your school?
Again, the diverse set of friends made while I was there. This includes many of the teachers as well. I would also say the amount of preparation I was provided with for college and the real world.
5.) Do you have any final words of wisdom for visiting or incoming students to your school?
If you ever acquire any rank, or a position of authority, while enrolled at R-MA, please... make sure not to let the power of authority go to your head. Even though the JROTC program is a test of ones discipline, it is also a test of ones personality. Randolph-Macon Academy is after all a high school... you're not exactly in the military yet =)Also, find Tops China if it hasn't closed down yet. It's the second best American-Chinese food I've ever had... and I'm going on 23 now.
Academics:
1.) Describe the academics at your school - what did you like most about it?
I realize that just about every student has a few favorite teachers during the course of their journey through high school. At R-MA, it seems that they are more than well-equipped with exceptional teachers. Any student is sure to encounter more than enough instructors with unique & effective teaching styles, exceptional personalities.There are even a few teachers that I feel would make amazing college professors, to the extent at which their method of conducting their class resembles that of a college level course. In addition, I am fairly certain that some of the instructors have mastered the art of making a "boring" subject/class, a very interesting and entertaining one.Another unique aspect of R-MA is the Aerospace classes and flight program available to students. 4 years of required Aerospace classes will give you an understanding of everything from the fundamentals of air & space, to military customs & courtesies, to the in-depth teachings of aircraft flight and navigation. They will even let you experience trips to actual military bases and aerospace facilities.Although the flight program is only optional, you will find that the majority of the students at R-MA will certainly take advantage of the Flight Program. I mean... who wouldn't want to earn a private pilot license while they are in high school?
Athletics:
1.) Describe the athletics at your school - what did you like most about it?
Like most humans, I enjoy winning. Even though you will sometimes find that your Tennis coach is also your Calculus teacher, this school is breeding grounds for #1 sports teams.As far as the diversity of sports available, R-MA goes as far as having their own rifle team and golf team. There is of course all the other more common sports available like football, basketball, etc.
Art, Music, and Theatre:
1.) Describe the arts program at your school - what did you like most about it?
The theatre/acting program was excellent while I attended R-MA. I was never apart of the actual theatre program however, but you could tell from the shows and plays that they put on... the acting/Shakespeare instructor certainly brought out some amazing acting ability out of the students in her class.The military Marching & Concert band has its own spacious and isolated facility. This is something that I was actually fortunate to be apart of. The practice sessions may have been somewhat tedious and repetitive, but the opportunity to participate in major parades all over the East coast was exhilarating. I don't think I ever would have imagined being part of the Macy's Day Parade in NY, performing at Universal Studios in Florida, or marching on the Indy 500 track. Sweet.
Extracurricular Opportunities:
1.) Describe the extracurriculars offered at your school - what did you like most about it?
There were several of opportunities for extracurricular activities. Habitat for Humanity, offering services to churches/community, and joining the Environmental Team are a few examples of volunteer opportunities available.In addition, there are several international clubs such as the German, French, and Korean clubs.
Dorm Life:
1.) Describe the dorm life in your school - what did you like most about it?
This is where the social behavior disciplining comes into play. The dormitory staff keeps all students on a strict schedule, and will usually know where you are for the majority of the day. The break room isn't too bad, nice big screen tv, couches, foozball table, vending machines, a few places to lounge... all compensation for what you are limited to having in your own room.You are most likely to have a roommate whom you will bunk with. If you are a band member, you will live in close quarters with the rest of the band. Otherwise, I believe room selection process is somewhat random.
Dining:
1.) Describe the dining arrangements at your school.
Most horror stories and rumors about school/cafeteria food can be put to rest at RMA. The quality of the food is actually quite decent. I wouldn't expect a 5-star meal, lobster tails, or a filet mignon... but what High School do you know asks you whether you'd like your steak medium, or medium-well?You will get to know the individuals that you dine with very well, as they will always be the ones in your designated flight/team/group. Assigned seating, every day... sorry folks.
Social and Town Life:
1.) Describe the school's town and surrounding area.
I'm not sure if it still exists, but if it does, you will find yourself spending lots of time at Tops China and the neighboring laundry mat.Other than that, I remember frequent trips to a K-Mart, fast food restaurants, and grocery stores. All time well spent stocking up on food for the school week.
2.) Describe the social life at your school - what did you like most about it?
I actually enjoyed my social life at R-MA. Personally I found it very interesting and entertaining getting know such a diverse set of peers. Chinese, Koreans, Spanish, Arabic, Russian, African... all of which consist of some of the best friends I've ever made while attending.You may at times feel "trapped" or anxious for more freedom since R-MA can be somewhat restrictive of what you can and can't do on campus; however, they tend to make up for that with frequent trips to the mall, bowling alley, play paintball, etc.
Daily Schedule:
Weekday
8:00 AM
Listen to my Flight Commander wake everyone up
9:00 AM
Breakfast & Morning Formation
5:00 AM
Sports / Extracurricular Activities
7:00 AM
Formation & Dinner
10:00 AM
Free time, followed by lights out.
Weekend
7:00 AM
Dinner (not mandatory)
One aspect that I liked most about R-MA was the fact that the classes consisted of no more than twenty students. Having this few students in a classroom meant that as an individual student I. . .
Diversity. R-MA offers a wide range of valuable experiences and opportunities (both academic & non-academic) that will certainly propel you to your desired college/university, not to mention have you very well prepared. In. . .
Randolph Macon Academy is a military academy with many aspects of a non-military prep school--chapel for instance. It is also a co-ed military academy, which was great for me (being a woman!). . .
Show more reviews (

1 review

)
Mastering the Boarding School Selection Process: A 5-Step Guide
Discover the ultimate 5-step guide to choosing the perfect boarding school for your child. Explore essential factors, such as academics, campus facilities, extracurricular activities, and more. Make an informed decision to provide your child with an enriching and transformative educational experience. Read now!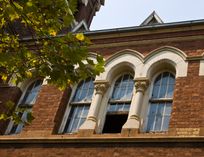 5 Founders and Their Boarding Schools
What prompts somebody to start a boarding school? The motives range from idealism to munificence right on through to capitalism. The common thread seems to be ample capital and a vision of what education can do.