Reflections and Advice:
1.) What do you think makes your school unique relative to other boarding schools?
EHS is very unique in its way of teaching and creating relationships between students and faculty. Teachers are like parents to us and there is always someone that students can talk to. Students always feel comfortable to ask questions and teachers are always willing to help. Episcopal has such a strong community that I definitely consider this place as my second home.
2.) What was the best thing that happened to you in boarding school?
The best thing that's happened to me in boarding school is that I have successfully become more independent. I have changed a lot from where I started from when I first came here. Although independence is a part of growing up, I feel like I would have taken a lot more time if I were at home to realize how important it is to be independent and how to become independent. I have also found friends that I know will remain my best friends for the rest of my life, especially my roommate. I have understood that life isn't just about doing well academically or achieving once goals, but also to establish connections and strong friendships with people around me.
3.) What might you have done differently during your boarding school experience?
The thing that I would have done differently is that to open yourself right at the moment you step on the campus for the first time. I personally took too long to get over my homesickness and didn't start to really socialize my second year of high school.
4.) What did you like most about your school?
It's balance between academics and fun. I realized how both of these aspects are important, and EHS has given me both.
5.) Do you have any final words of wisdom for visiting or incoming students to your school?
Breakfast bagels and smoothies at the snack bar are the best! You should definitely check out the Ainslie Art Center and Baker Science Building. Take a look at our Chapel too! All the dorms at Episcopal are exceptional. Hoxton and Dalrymple Dormitories stand out the most.
Academics:
1.) Describe the academics at your school - what did you like most about it?
The professors at Episcopal are extremely knowledgeable on the subjects that they teach. They strongly encourage students to put their best into their work and are always available to assist anyone. There are many classes available, despite the requirements that each student has to fulfill by the time they graduate. The foreign Languages classes available are French, Spanish, German, Latin and Greek, all to AP level courses. Studio Art classes are Drawing, Painting, Ceramics and Photography. There is no doubt that students will find what they would love to study here. The workload is reasonable, although sometimes very heavy during the end of the quarters. Students will never feel like they have nothing to keep them busy with. Students are competitive among themselves. Everyone strives to reach their own set goals in the class room, which has helped me reach my own.
Athletics:
1.) Describe the athletics at your school - what did you like most about it?
Athletics is very important at EHS. Students are required to participate in the sport or activity they signed up for, which help build up a discipline. Many sports are available for each student throughout the year, and almost all sport has its JV team or Junior team (boys only). Outdoor programs such as Kayaking and Rock Climbing or also available. Sports at EHS is what brings everyone together, during important events and games. As I was part of a team, I saw the degree of how competitive the sport can be. We always had a goal in front of us that we would strive for. Either we win or lose a game, we do it with grace. The fields and turfs are of excellent condition during the season while they are to be played on. Centennial Gym has an excellent court inside of it, and the new fitness room has also receive excellent feedback from both faculty and students. Coaching at Episcopal seems to be a tough job for coaches, but coaches never show any hardships while doing it. They are extremely passionate, ambitious and at the same time very caring.
Art, Music, and Theatre:
1.) Describe the arts program at your school - what did you like most about it?
The newly built Ainslie Art Center is a perfect place for artists. Each course has its own room. I was amazed by the recording studio when I first discovered it. It also has many practice rooms with pianos in each for musicians. The piano studio, where piano lessons are taught, has two grand pianos: one for the teacher and one for the student. Teachers are extremely passionate in their teaching. AP Studio Art and AP Music Theory courses are also available. Acting classes are also available, and students are always encouraged to join the productions of play and musicals. Musicals happen once a year in the winter. Students are also always welcome to perform at coffee houses, sponsored by the department of art, or perform during a chapel or community meeting service. EHS is extremely dedicated to the arts and always encourage students to produce their works and to put a lot of effort in them.
Extracurricular Opportunities:
1.) Describe the extracurriculars offered at your school - what did you like most about it?
Students can choose from Athletics, Visual or Performing arts, Community service, Yearbook, Managing, to Equipment room and weight room supervisors. Since EHS has such a strong sense of community, students can always work one on one with teachers. And thanks to Washington D.C. being so close to the school, students always get an opportunity to enjoy what DC has to offer, such as performances at the Kennedy Center, and the National Art Gallery. Many student organizations are extremely active at EHS, such as the Environmental Club, Young Democrats and Young Republicans, and Spectrum. We often receive speakers to join our community for these clubs. Community service tours are offered every Wednesday and sometimes during the weekends. Our annual Special Olympics always attract competitors throughout Northern Virginia to participate.
Dorm Life:
1.) Describe the dorm life in your school - what did you like most about it?
Rooms are of reasonable sizes. Either big but never too small. Students can bunk or lofts their beds. Singles, doubles and triples are available. Dorm faculties often bring food for students to enjoy. By the end of the school year students can choose their rooms in a lottery process, but seniority within class still apply, which gives the students that have been here longer than other the privilege to get their rooms of first choice.
Dining:
1.) Describe the dining arrangements at your school.
The Cafeteria is open 3 times a day for the meals, and students and faculty are always able to get some coffee, fruits.... The Dining Hall is arranged with round tables where students will sit with an advisor at each table during seated lunch and dinner times. Mostly the dining hall serves buffet dinner, when students can sit with their group of friends. EHS has gone major changes in the quality and diversity of food. This year, we had the chance to try out almost a new meal everyday. During buffet, students can choose from the special menu for each day, or make their own sandwich and salad. Deserts are served at each meal.
Social and Town Life:
1.) Describe the school's town and surrounding area.
Students often go to Bradlee Shopping Center, where they find many restaurants and services. Located in Bradlee is also the bus stop where students can go straight to King Street Metro Station. Students can travel to DC very easily without to feel forced to take the cab or to own a car. Close to EHS is a huge park, Fort Ward, and many schools such as TC Williams, Minnie Howard and St. Stephens St. Agnes. EHS students can create friendships with students from off-campus.
2.) Describe the social life at your school - what did you like most about it?
Since EHS is such a community based school, social life is crucial for a successful experience in a boarding school. Whether it is on dorm, in the class room or on a soccer field, students here are constantly bonding with one another. No one would feel left out if one decides to contribute to this wonderful community.
Daily Schedule:
Weekday
3:00 PM
End of Academic Day
Weekend
9:00 AM
Work Program (selected students only)
6:00 PM
Movie night/DC/on campus activities
Episcopal is unique in the boarding school world in that 100% of the students are boarders. While the school advertises this statistic heavily, I personally do not think that it could be said too. . .
I think what sets Episcopal apart from other comparable boarding schools is its unique location. Situated right outside the nation's capital, EHS students are constantly exposed to the world beyond just the high school. Very. . .
One aspect of Episcopal that is unique is the fact that is 100% boarding. Since there is not this divide in the community, the sense of community at EHS is quite strong. Everyone is there. . .
Show more reviews (

9 reviews

)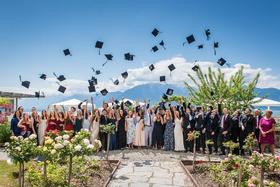 Nurturing Futures: A Journey through Boarding at Haut-Lac School in Switzerland
Nestled in the hills overlooking Lake Geneva in the French-speaking part of Switzerland lies an educational gem that embodies a unique blend of academic excellence, cultural richness and a profound sense of community. Founded over 30 years ago, Haut-Lac International Bilingual Day and Boarding School is now home to both 600 day students and a maximum of 30 boarders from around the world.
What To Wear at Your Job Interview
Navigating job interviews can be stressful, but knowing what to wear shouldn't be. Our comprehensive guide covers the essential dress code tips for men and women interviewing at boarding schools. Make your first impression count with style and professionalism.
Navigating the Modern Maze: Emerging Challenges for Boarding Schools
Explore the pressing challenges facing boarding schools, from marketing difficulties and rising insurance costs to facility maintenance and recruitment of competent trustees and teachers. This article delves into these complex issues and proposes innovative strategies to overcome them.