Reflections and Advice:
1.) What do you think makes your school unique relative to other boarding schools?
I attended Westtown from 1974-1977 as a boarder, and graduated in 1977 and it literally changed my life. The education there was nothing short of remarkable, and the living-learning dynamic worked incredibly well for me, and added to my informal education (outside of the classroom). By far, Westtown is the best investment that my family made (and I went to some high end colleges)... probably because of the Quaker ethos and culture which values inquiry and doesn't see education as an end unto itself, but rather as a means to creating a better world.
2.) What was the best thing that happened to you in boarding school?
Boarding school was so exceptional for me that I ended up returning as a teacher and administrator. Now, I serve the association of all independent private schools since I am committed to this particular model of education and feel that every kid deserves to have a Westtown in their lives. The experience of connectedness and community is forever ingrained in your DNA and carries you (buoys you actually) through life.
3.) What might you have done differently during your boarding school experience?
Go! Just GO! It will be the best decision that you ever make, if you are ready to be independent, more academically focused, challenged by a community of learners and teachers, AND if you want to find out a lot about yourself too.JUST DO IT!
4.) What did you like most about your school?
When I look back on my experience at Westtown, the single greatest gift that was given by my education, was the knowledge that I could make a difference and indeed, I SHOULD make a difference in this world. That is quite empowering at age 16 and even more empowering at mid life.Also -- Westtown is just absolutely a beautiful campus. While the buildings and interior design might not be Architectural Digest level, the physical plant is something to behold. When I return to Westtown (now as a trustee), I am always touched by the aesthetics of it.
5.) Do you have any final words of wisdom for visiting or incoming students to your school?
Sit in a classroom with Tom Woodward or Spencer Gates (two of my favorite teachers who are at the top of their game now!)Walk to the lake.Visit the organic garden.See if you can meet the wonderful head of school John Baird.
Academics:
1.) Describe the academics at your school - what did you like most about it?
The academics were excellent; I had many teachers who had a great deal of experience and passion for their subjects. Because of my senior art history teacher (the late Warren Krebs, a well known artist on Nantucket), I majored in art history at Mount Holyoke College.The atmosphere did not embrace conventional competition between students, but it played a very high emphasis on your "personal best." This ethic was served me well, ever since, in my work environments where teaming is a far better skill to possess, than outright competitive cut throatedness.
Athletics:
1.) Describe the athletics at your school - what did you like most about it?
Everyone participates in athletics at Westtown. During my time there (late 1970s) the men's soccer team dominated our various athletic leagues and the wrestling team was extremely powerful. (Note: the wrestling team to this day, is exceptional and coached by very strong directors.)There is a brand new athletic facility on campus that is state of the art, which should continue to support the already excellent athletic program and philosophy at Westtown.
Art, Music, and Theatre:
1.) Describe the arts program at your school - what did you like most about it?
The arts program is exceptional at Westtown and the school is committed to offering strong theater, music, fine arts. During my day, I dabbled in all of those areas and also took weaving and ceramics. Some of my greatest memories relate to putting together a play -- and doing everything from performing to building the set to constructing the costumes -- an incredibly rich experience and one which ignited my ongoing passion for theater.
Extracurricular Opportunities:
1.) Describe the extracurriculars offered at your school - what did you like most about it?
Because Westtown is a residential community, it has many extracurricular programs for upper school students. Increasingly, according to the alumni magazine, the school has embraced more active and global experiences so a lot of the extracurricular activities have those themes in them -- and the school is a leader in environmental activism, with appropriate organic gardening and "green" clubs to support volunteerism in this area.
Dorm Life:
1.) Describe the dorm life in your school - what did you like most about it?
Dorm life was great for me and it has been upgraded with newer facilities since my days there... excellent new dorm for girls in the 9/10 grade years and the main building dorm space has been improved for juniors and seniors. The best part, of course, are the close friendships formed with the people who live with you 24/7.
Dining:
1.) Describe the dining arrangements at your school.
Dining at Westtown is part of the communal experience and the man who directs the kitchen is one of the most beloved people on staff at Westtown. (in fact, students have dedicated the yearbook to Ernie more than once!) Increasingly, the school has moved to organic and nutritious foods and they offer great salad/hot bars for students at lunch and dinner, so you always have a choice when eating. The best part, again, of dining at Westtown, is the community gathered experience... and there are still nice tables with white tablecloths which makes everyone slow down, pause and dine together in a casual, but refined setting.
Social and Town Life:
1.) Describe the school's town and surrounding area.
There is no town -- Westtown is an island unto itself, surrounded on all of its side (total 600 acres) by development. It used to be in rural farmlands and when you enter the campus, you can still sense the old bucolic culture... in fact, part of Westtown's lands are still farmed which helps to make the viewscape absolutely breathtaking for students.West Chester -- the nearest town -- is a hip and happening town, with a university and it is only 5 minutes away.
2.) Describe the social life at your school - what did you like most about it?
People (students and faculty both) are incredibly at ease with one another. Socially, all types are accepted... what is NOT accepted in the Westtown culture is arrogance. No one puts on airs, and everyone is free to be themselves -- which is a blessing -- especially in adolescence. I remember going off to college and feeling that I was suddenly surrounded by prima donnas (I was actually!), and missing those very natural relations that I had at Westtown.
Daily Schedule:
Weekday
Weekend
1:00 PM
sports games or trips off campus
7:00 PM
weekend activities -- dances, cooking, movies, games
Westtown has a beautiful campus. It was beautiful and especially safe to walk around any time of day. Also the style of teaching is very hands on and has small classes, usually with. . .
Small Quaker school, tight group, not so much focused on strong academics as much as creating good individuals in society.. . .
Extremely beautiful campus. It is a Quaker boarding school with wonderful teachers. They require a senior project where students can travel the world. Also encourages volunteer work and has a campus farm. . .
Show more reviews (

41 reviews

)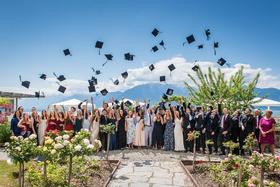 Nurturing Futures: A Journey through Boarding at Haut-Lac School in Switzerland
Nestled in the hills overlooking Lake Geneva in the French-speaking part of Switzerland lies an educational gem that embodies a unique blend of academic excellence, cultural richness and a profound sense of community. Founded over 30 years ago, Haut-Lac International Bilingual Day and Boarding School is now home to both 600 day students and a maximum of 30 boarders from around the world.
What To Wear at Your Job Interview
Navigating job interviews can be stressful, but knowing what to wear shouldn't be. Our comprehensive guide covers the essential dress code tips for men and women interviewing at boarding schools. Make your first impression count with style and professionalism.
Navigating the Modern Maze: Emerging Challenges for Boarding Schools
Explore the pressing challenges facing boarding schools, from marketing difficulties and rising insurance costs to facility maintenance and recruitment of competent trustees and teachers. This article delves into these complex issues and proposes innovative strategies to overcome them.