Reflections and Advice:
1.) What do you think makes your school unique relative to other boarding schools?
The primary quality that distinguishes Choate from other seemingly similar boarding schools is that the students and faculty at Choate are open-minded, liberal, and socially-conscious. Most other boarding schools are full of entitled, privileged students who aren't necessarily that intellectually motivated. Choate's populations much more resembles that of a college -- it is extremely diverse, and students are extraordinarily intellectual. Those who might come in snobbish graduate changed people, with their minds open to social challenges in the world. After I graduated, mandatory community service was implemented. Also, each student is required to do "work crew", in which they have dining hall or similar duty as part of their course schedule.Another critical feature of Choate is that the coursework is extremely demanding. I found it to be much more challenging than college, and even more work than graduate school (I am in a PhD program now). I learned an enormous amount at Choate. Essentially, I feel like I went to college twice (this was a good thing!)
2.) What was the best thing that happened to you in boarding school?
I learned how to love learning. I was not very interested in academics before about halfway through my time at Choate. I also learned how to work very, very hard in school, and I came to college extremely prepared. Finally, I left Choate thinking more critically than I had before about politics, social justice, and tolerance.
3.) What might you have done differently during your boarding school experience?
I may have enjoyed Choate even more had I been a boarding student. However, I would have found it even more difficult to get all of my work done.
4.) What did you like most about your school?
The academic opportunities were unparalleled, and I felt lucky to share it with such a diverse group of students.
5.) Do you have any final words of wisdom for visiting or incoming students to your school?
Enjoy the beautiful campus -- go wandering around once in a while. The sooner you learn to manage your time, the more able you will be to stay afloat. Finally, try to get a normal amount of sleep (at least 8 hours), and this will be hard to do. Never in my life have I been as consistently sleep deprived as I was in high school. For adolescents, this is the kiss of death! Get your sleep.
Academics:
1.) Describe the academics at your school - what did you like most about it?
The academics at Choate were phenomenal -- as good as a top liberal arts college. The class sizes were always small -- never more than 16 or so students, but usually closer to 10-12. My personal academic interests were a bit unconventional, so I felt very grateful to be able to take such courses as music theory (which was more intensive and comprehensive than the equivalent course at my college), psychology, and philosophy. Since I've graduated, Choate has expanded their science training to offer an independent research program that allows students to have the equivalent of senior college or graduate student training! In addition to the unique course offerings Choate had, it was outstanding in its "staples" as well. The math and humanities programs stick out in my mind as being particularly strong. Most "honors" math students take the BC AP calculus exam, and in my year I heard that out of the 45 students who took the exam, only 2 of them got a 4/5 (the rest got 5/5). "Regular" math students taking the AB exam also did well. As for humanities (English, history, etc), I found these courses particularly challenging, because science was my strength. Not until I got to college did I realize that at many schools, the humanities courses are considered the less challenging ones. Sure enough, in the few English courses I took in college, I found myself towards the top of the group, in spite of not feeling this way at Choate. Choate'straining had allowed me to achieve this goal.
Athletics:
1.) Describe the athletics at your school - what did you like most about it?
Choate offers interscholastic opportunities in a huge number of sports, and intramural opportunities in many others. Thus, no matter what you like to play, you will likely be able to play it at Choate. In spite of spreading itself thin, Choate tended to be competitive in many sports (especially those such as women's ice hockey -- a team that produced 3 Olympic athletes in as many years). There are two reasons Choate can accomplish this: 1) students are required to participate in sports each term (with only a few exceptions), so athletic talent gets out there. 2) the coaching is quite good. I played squash at Choate, and most of my teammates were brand new to the sport their freshman year. We still went on to place in the top 10 nationally each year, because our coaches taught us well!
Art, Music, and Theatre:
1.) Describe the arts program at your school - what did you like most about it?
The arts are probably Choate's greatest strength beyond its academics (and the two are related, hence my ability to take rigorous music theory courses for credit). First, Choate houses its arts program in the Paul Mellon Arts Center (PMAC), an architectural monument of south/central Connecticut. Professional performing arts companies frequently perform at PMAC. The arts program rises to the occasion of this location. In particular, theater is Choate's forte. Students put on professional-level musicals yearly, in addition to many smaller productions throughout the year. Directing and play-writing opportunities are available to students. I didn't participate in theater, but I was a musician and found great opportunities here. In addition to music theory, I took a music production course in which we learned how to electronically produce our own compositions. I also took private lessons through the school as a course. These were stellar.
Extracurricular Opportunities:
1.) Describe the extracurriculars offered at your school - what did you like most about it?
There were many student organization and volunteer options at Choate. Students were on average very proactive, so if there was an interest, they'd create a group for it.
Dorm Life:
1.) Describe the dorm life in your school - what did you like most about it?
I was actually a "day student" at Choate, so I did not live in the dorm. However, when I visited friends, I could tell that the facilities were excellent. When I was a freshman in 1995/1996, Choate already had private phone lines for each student (even roommates had two phone lines). The furniture seemed new, and students had decent- to large-sized rooms (no smaller than the average college dorm room). Each night there were "study hours" from about 8pm-11pm (after which time students could continue to study, but had to be extra quiet, and maybe keep the lights down as well.) At around 9pm, students got a 30 minute break where they could leave the dorm, buy food, and socialize outdoors. Food vendors (pizza, ice cream, etc) came to a centralized location at this time, so students would have easy access. Though I was not a boarder, I think it was a good system of enforcing some study time while providing flexibility.
Dining:
1.) Describe the dining arrangements at your school.
The food at Choate was better than the food at each of four different college dining halls I've been to. They used fresh ingredients, had a constant high-quality salad bar (in case you didn't like the meal that day), and had a good variety. The dining hall is large, beautiful, and comfortable. The hours were reasonable, allowing students to eat if they had any of 3 or 4 different periods free. You could also go to lunch twice -- there was no card-swipe system preventing this. Day students were also permitted to eat as many meals there as they pleased; I often had all three of mine at school. The seats are completely unassigned, though there is a tradition for where the seniors sit...and to a lesser degree the faculty and freshman (no tradition for sophomores and juniors). At peak hours the line could get long, but I never remember waiting more than 10-15 minutes at these busy times (and if it's not busy you get your food immediately).
Social and Town Life:
1.) Describe the school's town and surrounding area.
Wallingford is not an exciting town. We sometimes walked into town for fun, but all we could really do was head to a local coffee shop, restaurant, or candy store. Students looking for more excitement usually found a way to get to New Haven, or took a longer trip to New York or Boston (this was possible via Amtrak, which went through town.)
2.) Describe the social life at your school - what did you like most about it?
The social life at Choate was much better than most high schools. First of all, there was less "clique" activity than you'd typically find. It wasn't always clear who the "cool" kids were, even though people did have groups of friends. The school also created many socializing opportunities for students. Almost weekly there were dances, and there was a lively student center with video games, foosball, pool, TVs and couches. The only disadvantage to the social life at Choate was that there was hardly any time for it. The academic workload was so intense that students who also fit in socializing ended up getting little sleep!
Daily Schedule:
Weekday
5:00 AM
wake up early to finish my work from the night before
7:00 AM
leave for school, have breakfast at the dining hall
8:00 AM
classes start; I might have a free period to study or hang out
12:15 PM
classes resume; I might have another free period
2:45 AM
classes end; go to gym to get ready for sports.
6:00 PM
go to dinner; get picked up at around 7 or 8pm and start homework
12:30 PM
finally can't stay awake any longer; homework might not be done yet.
Weekend
8:00 AM
wake up, shower, breakfast
12:00 AM
lunch, get dressed for game, leave for school
1:15 PM
train for home sports game
5:00 PM
talk on the phone with friends
At Choate, I felt that the faculty and administration really cared about my wellbeing and growth. Classes were mostly organized to allow for discussion and office hours were easy to attend and allowed for personal. . .
Choate has a diverse and interesting study body from all around the world. While it is an old and prestigious boarding school, I found Choate to be less traditional than some of its peer schools. . .
The community is definitely Choate's greatest asset, and the admissions folk do a great job of picking students. We're a pretty chill bunch, so you won't find much of the cut-throat competitiveness that usually accompanies. . .
Show more reviews (

27 reviews

)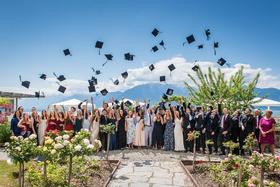 Nurturing Futures: A Journey through Boarding at Haut-Lac School in Switzerland
Nestled in the hills overlooking Lake Geneva in the French-speaking part of Switzerland lies an educational gem that embodies a unique blend of academic excellence, cultural richness and a profound sense of community. Founded over 30 years ago, Haut-Lac International Bilingual Day and Boarding School is now home to both 600 day students and a maximum of 30 boarders from around the world.
What To Wear at Your Job Interview
Navigating job interviews can be stressful, but knowing what to wear shouldn't be. Our comprehensive guide covers the essential dress code tips for men and women interviewing at boarding schools. Make your first impression count with style and professionalism.
Navigating the Modern Maze: Emerging Challenges for Boarding Schools
Explore the pressing challenges facing boarding schools, from marketing difficulties and rising insurance costs to facility maintenance and recruitment of competent trustees and teachers. This article delves into these complex issues and proposes innovative strategies to overcome them.