Reflections and Advice:
1.) What do you think makes your school unique relative to other boarding schools?
Westtown School is a Quaker School that provides students with an opportunity to grow and learn among a community of friends. Students attend programs such as Meeting for Worship and Shoe Maker Lectures which expose the student body to various religious and cultural perspectives while simultaneously showing them how much they actually have in common. Faculty advisors and student prefects work to ensure that all new students have a smooth and comfortable transition into boarding school life. As a student of color at Westtown, I was also impressed with the strong support network that I found while attending the school. Our student-run organization S.U.F.A.P. (Student Union For All People) was always encouraged to address issues of diversity and student of color retention. Through work program detail and dorm clean-up responsibilities, all students were mandated to work together and be accountable for the school's up keep. But it did not feel as if we were "forced" but rather contributing to Westtown's overall success.
2.) What was the best thing that happened to you in boarding school?
All and all I feel that much of the boarding school experience is generic. Boarding School provides great preparation for college. Through this experience you have a better sense of how to deal with home sickness, how to budget you finances, how to strengthen your time management skills and how to build and maintain a strong social network. However while talking with friends who attended other boarding schools, I realized that Westtown is unique in several ways. As a Quaker School, Westtown is devoted to creating a student body which acts both in theory and in practice as a community. Where the voice of all members is acknowledged and respected. Westtown helped me to develop my talents on both an academic and personal level. At Westtown I was encouraged to strengthen my leadership skills through various positions, including Junior Class President and Head Student Receptionist. Also through Meeting for Worship services, I discovered my sense of spirituality and my true moral perspective of what is right and what is wrong. I have always been outspoken but Westtown showed me how to combine my strong sense of self with a genuine concern for the views and values of others. Westtown encourages its students to consider their role in the global community and the subsequent responsibiltity which that implies.
3.) What might you have done differently during your boarding school experience?
I don't mean to glorify Westtown but in retrospect I can not single out any one negative anecdote or critic of a policy. I believe that while I was a student at Westtown and in the immediate years which followed, the school made continued efforts to improve its technical support/computer access, minority student and faculty recruitment/retention and alumni relations. Westtown is not perfect. As I said, students are natural born complainers. But when looking back I value the experience and cherish the opportunity. Westtown helped me to flourish into the successfully sound person I am today. Those four years were probably the best of my life in many ways.
4.) What would you never want to change about your school?
The sense of community, Meeting for Worship services, Shoe Maker Lectures, Drug & Alcohol Awareness Week & the Service Network Program.
5.) What things could be improved about your school?
The outdoor track!
6.) Do you have any final words of wisdom for visiting or incoming students to your school?
Don't be negatively influenced by the Brown and White school colors or the mascot (a Moose). The school stores sells paraphenalia which makes the color combination quite acceptable. Also these icons will grow on you and help to form a bond among you and your potential classmates that the outside world could never understand.
Academics:
1.) What did you like best about your school's academics?
As a visual learner I appreciated Westtown's small class settings. None of my classes had more than 15 students. Also the teachers made it a point to tailor their lesson plans towards the needs of the students. If there was a topic (especially in Geometry & Adv. Physics) that was difficult for the class to understand, the teachers would review the topic, using multiple means of explaining the subject matter.
2.) What did you like least about the academics in your school?
I would have enjoyed seeing more faculty of color on staff at Westtown. More faculty of color serves as a motivation to students of color, giving them encouragement to pursue various professional endeavours. I also would have appreciated more courses which discussed minority issues (politics, economics, poverty, education) and literature. This would have been a help to students of color, who during this period of identity crisis, often wonder about their background and heritage.
Athletics:
1.) What did you like best about your school's athletics?
At Westtown the athletic program was geared towards fitness and physical well being. As a Quaker School we were dissuaded from being competitive and focused on winning. Instead, we worked as a team, encouraging one another to improve individual strengths and develop a supportive team/group ethic.
2.) What did you like least about the athletics in your school?
I wish we had an all-weather outdoor track.
Art, Music, and Theatre:
1.) What did you like best about your school's art program?
There was something for everyone at Westtown, no matter your previous exposure or involvement. Everyone was allowed to participate in painting workshops, pottery lessons, photo development and dramatic events. As a student with no previous exposure to many of the featured arts options, I thoroughly enjoyed sampling everything from the Dark Room to the Green Room to the Pottery Wheel. The work of students was always on display. Faculty instructors offered multiple classes both during the class day and on the weekend. The sky was the limit!
Extracurricular Opportunities:
1.) What did you like most about the extracurricular activities offered at your school?
There was a lot of free time, especially on the weekends at Westtown. Students were encouraged to participate in outdoor activities like Habitat for Humanity, teaching English to tenement farmers and joining the annual AIDS Walk in Philadelphia. There were frequent mall trips and bowling/ice skating excursions. Faculty (who were our surrogate parents in the evenings and on weekends) were open to student suggestions about potential weekend "hot spots", usually the Granite Run Mall.
Dorm Life:
1.) What was the best thing about dorm life in your school?
Having a roommate was probably the best experience for me. Living in close proximity with others really gives you a keen sense of yourself and your preferences. Also it provides great preparation for college. Rommates have to communicate with each other about their feeling and needs on a constant basis in order to avoid fights about communal space and cleanliness. Through dorm life I was exposed to many different cultures, languages, perspectives, and genres of music!
2.) What did you like least about dorm life?
At times dealing with diverse up bringing and "home training" was frustrating. After all not everyone is taught to pick up their clothes and store food in a refrigerator but you learn very quickly that compromise and forgiveness are the key elements to successful dorm life.
Dining:
1.) What was the best thing about your dining arrangements?
Eating three healthy meals a day was definitely something that in hind sight I appreciate, especially as a college student who lived off campus. The food at Wesstown was very nutritious and diverse. The buffet style dining allowed students to get what they wanted and as much of it as they needed to be "full".
2.) What did you like least about your dining arrangements?
At times the food was bland but when catering to the dietary needs of 400 students it's better to be "seasonally" safe than sorry. Students are big complainers.
Social and Town Life:
1.) How welcome did you feel by the other students when you first arrived at the school
The student body is very close knit at Westtown. Students go out of their way to make new students feel comfortable and supported. Through the student prefect program I participated in various activities which helped me to get familiar with the campus and boarding school life in general. As a member of a prefect group, I was able to establish quick friendships with other freshmen. This proved to be a valuable asset in my overall adjustment to Westtown's academic expectations.
2.) Describe the level of diversity and integration of students in your school:
Westtown has a high level of diversity and student integration. Various programs at Westtown foster the inclusion of everyone. Students learn about one another and grow as a strong student body and community. Students not only work together as classmates but as teammates and chore-mates as well. After four years of being a direct member of the Westtown community, I felt as if I were a valued member of the community who was respected, considered and appreciated.
3.) Describe typical fun activities you did on a weekend:
On the weekends I often went to the movies at the local mall, took trips to Philly's South Street for cheese steak sandwiches, watched competitive games on campus, babysat for teachers, watched television at the "Belfry", watched movies on video cassette or hung out with friends at "central".
4.) What was the town like?
For us at Westtown, town was Philadelphia. As an individual, it was possible to take the local train or bus into Philadelphia for the day (on weekends). Some teacher-escorted, scheduled trips were organized depending on the weekend activity. Philadelphia is similar to New York City (eg. diverse population, cultural downtown area, good food) so I felt more or less at home.
Daily Schedule:
Weekday
7:00 AM
Breakfast & Get Dressed
8:00 AM
Collection (Homeroom)
10:45 AM
Free Period (dorm room: studying)
11:30 AM
Ancient Civilizations
12:15 AM
Lunch (buffet style)
3:15 PM
Free Time (Change for check out)
3:45 PM
Check Out (Sports Practice)
5:30 PM
Free Time (Shower & Change for Dinner)
6:00 PM
Dinner (buffet style)
7:00 PM
Free Time (socializing w/friends)
8:00 PM
Study Hall (in dorm room, library or classroom)
9:30 PM
Free Time (socializing w/friends or continued study time)
10:00 PM
Evening Check In (all student must be in the dormitory and preparing for bed)
Weekend
9:00 AM
Wake Up & Breakfast
11:00 AM
Van trip to Philadelphia
5:00 PM
Socialize w/friends
6:00 PM
Dinner (buffet style)
7:00 PM
Down time in dorm room
7:30 PM
Movie trip to Granite Run Mall
10:00 PM
Socialize w/friends
11:00 PM
Check In (all students must be in the dormitory and preparing for bed)
Small Quaker school, tight group, not so much focused on strong academics as much as creating good individuals in society.. . .
Westtown has a beautiful campus. It was beautiful and especially safe to walk around any time of day. Also the style of teaching is very hands on and has small classes, usually with. . .
Two aspects of Westtown that stand out in particular are its sense of community, and the education driven towards social change. Its sense of community is in part due to the fact that Westtown is. . .
Show more reviews (

41 reviews

)
Mastering the Boarding School Selection Process: A 5-Step Guide
Discover the ultimate 5-step guide to choosing the perfect boarding school for your child. Explore essential factors, such as academics, campus facilities, extracurricular activities, and more. Make an informed decision to provide your child with an enriching and transformative educational experience. Read now!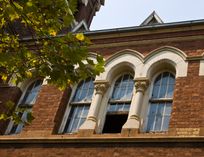 5 Founders and Their Boarding Schools
What prompts somebody to start a boarding school? The motives range from idealism to munificence right on through to capitalism. The common thread seems to be ample capital and a vision of what education can do.