Reflections and Advice:
1.) What do you think makes your school unique relative to other boarding schools?
One of the most important things to recognize about Wilbraham & Monson Academy is that it prepares all students with a truly global education. With progressive curriculums, teachers and facilities, WMA has provided me with an education for an ever-changing world. Another important thing is the Academy's dedication to inviting new and different speakers throughout the year. Students get to hear from some amazing people during their time at the academy. During my time I had the chance to meet several authors, a Massachusetts Supreme Court Judge, an NPR Correspondent, and a member of the Obama campaign.
2.) What was the best thing that happened to you in boarding school?
Wilbraham & Monson Academy has opened me up to a truly global perspective. Going to school with students from all over the globe, I have learned so much about the world. Through a scholarship at WMA, I had the opportunity to travel to Taiwan, Greece and Turkey. For me, the opportunity to travel to several different countries, to be guided by my classmates, was life-changing.
3.) What might you have done differently during your boarding school experience?
The most advice I can give a student going to boarding school is to take advantage of all opportunities. Learn from your peers, try out new sports, make connections for life and do what makes you happy.
4.) What did you like most about your school?
It's hard to pick one thing about the school that stands out, but I consider the connections that I made with peers from all over the world, and teachers, who I will continue to see, the best thing I could ask for.
5.) Do you have any final words of wisdom for visiting or incoming students to your school?
Any student visiting or incoming should take the time to walk the whole campus, it is a beautiful place. Make sure to try the spice cake, and take sociology!
Academics:
1.) Describe the academics at your school - what did you like most about it?
The classes at my school go beyond teaching, and explore practicality. Whether it be in an economics class that studies a current global meltdown, or an environmental science class that takes a walk in the woods on a regular basis, or a sociology class that studies the behavior of a local community. In a senior-year entrepreneurship class, we took the lesson way out of the classroom. Over the course of a year, we worked with local businesses, at local businesses and actually made and sold several products. These factors, combined with teachers that you make personal relationships with, makes for a one-of-a-kind academic experience.
Athletics:
1.) Describe the athletics at your school - what did you like most about it?
The athletic department at WMA has managed to maintain several levels of athletic teams for years. Our varsity teams are some of the best in New England. They have some of the most challenging expectations and some of the most dedicated players. Meanwhile, Wilbraham & Monson is a place where, if you have never heard of a sport before, you are welcomed and encouraged to try it. This school is not a place where, if you haven't played baseball since you were five, there's no way you'll be able to play baseball. It's a place where athletes thrive, and newcomers can learn.
Art, Music, and Theatre:
1.) Describe the arts program at your school - what did you like most about it?
The fine and performing arts department at WMA is significant in all students' education. The range of classes offered in the visual arts is phenomenal, and all levels of skill are catered to. Serious consideration is given to all suggestions for new art classes, and the majority of the time, those classes become a reality. The theater department is really a special place. It's a place where people of all different backgrounds audition for the play. It doesn't matter what academic standing you're in, or whether or not you play varsity sports, all types of people go-out for up-coming performances, and all who do are supported by their peers and teachers. There are three performances per year, and each one is different. Whether it be a musical, a Shakespeare play, or an original movie, there is always huge support from the WMA community. The music department is a place where you will be taught at your skill levels. In a keyboarding class, I received personal attention, for my level of ability, and learned more than in any private piano lesson.
Extracurricular Opportunities:
1.) Describe the extracurriculars offered at your school - what did you like most about it?
The extra-curricular activities available at Wilbraham & Monson spans all sorts of interests. The majority of organizations involve volunteer opportunities. With an emphasis on giving back, WMA has clubs including, Amnesty International, Peer Tutors, The Writing Center, a student tour-guide club called Gold Key and an environmental sustainability club called Green Team. Some other clubs include Rise (Rise-Up In Support Of Ethnicity) and Soar. The clubs at school are made up of truly devoted students with a passion for their interests.
Dorm Life:
1.) Describe the dorm life in your school - what did you like most about it?
I think I would describe the dorm-life at school as busy. There is always something going on. This school is a place where you can walk anywhere, and find a friend to talk to. There is an organization on campus, made up of students and faculty, called the Student Activities Board. The sole purpose of this board is to make sure that all students are happy and entertained. The SAB comes up with a variety of activities throughout the year. On the weekends the school runs trips to venues all over the area. Whether it be a short ride to one of the local malls or movie theaters, or a trip into Boston for the day, there is always something to do.
Dining:
1.) Describe the dining arrangements at your school.
Dining at Wilbraham & Monson Academy is all about variety. There are several options for every meal. Whether you are a vegetarian, or a total carnivore like me, you won't have trouble finding something you like. My favorite part about dining was the made-your-way station at every meal. The chef would be out for the whole meal to personalize a certain food for you. At different times the station had omelets, fajitas, wings, salads, pastas. That was my favorite part about eating at WMA. There was also always a soup/sandwich/salad bar, and tons of desserts. My favorite was the spice cake.
Social and Town Life:
1.) Describe the school's town and surrounding area.
The town of Wilbraham is, in my opinion, the perfect place for a prep school. It is a very small suburban town just outside of a city. This provides a quiet and secluded atmosphere for students, with all of the benefits of a city ten minutes down the road. This is not a prep school out in the middle of nowhere, and it's not in the middle of a city. The location also provides all of the benefits of Boston, MA, just 90 minutes east. In Wilbraham, right next to the school, is the town center consisting of a pharmacy, café, pizzeria, and a few banks. The small community feeling of Wilbraham, provides the optimal atmosphere for all students at WMA.
2.) Describe the social life at your school - what did you like most about it?
My favorite part about WMA is the size of the student body. With just under 400 students, it's small enough so that you are familiar with everyone at school, but big enough so that your business is not everyone's business.
Daily Schedule:
Weekday
11:00 AM
Extra Help Period
Weekend
2:00 PM
Activity in the student center
8:00 PM
Movie in the student center
10:00 PM
Order take-out, enjoy in dorm
WMA, more than any other prep school that I have visited, is a community. Everyone knows one another. With over fifty percent of all faculty and staff living on campus, the students really get to. . .
One aspect that sets Wilbraham and Monson Academy a part from other similar private institutions is the CEGS Department. CEGS stands for Center for Entrepreneurial and Global Studies, and is in place of a traditional. . .
Firstly, and most noticeably unique, is the diversity at WMA. There are over 30 different countries represented, and this played a major role in my learning experience. With so many different cultures present in the. . .
Show more reviews (

8 reviews

)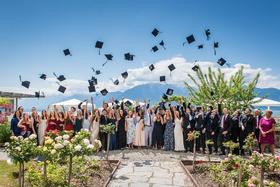 Nurturing Futures: A Journey through Boarding at Haut-Lac School in Switzerland
Nestled in the hills overlooking Lake Geneva in the French-speaking part of Switzerland lies an educational gem that embodies a unique blend of academic excellence, cultural richness and a profound sense of community. Founded over 30 years ago, Haut-Lac International Bilingual Day and Boarding School is now home to both 600 day students and a maximum of 30 boarders from around the world.
What To Wear at Your Job Interview
Navigating job interviews can be stressful, but knowing what to wear shouldn't be. Our comprehensive guide covers the essential dress code tips for men and women interviewing at boarding schools. Make your first impression count with style and professionalism.
Navigating the Modern Maze: Emerging Challenges for Boarding Schools
Explore the pressing challenges facing boarding schools, from marketing difficulties and rising insurance costs to facility maintenance and recruitment of competent trustees and teachers. This article delves into these complex issues and proposes innovative strategies to overcome them.