Reflections and Advice:
1.) What do you think makes your school unique relative to other boarding schools?
NMH requires each student to do a workjob: four hours of some sort of work (kitchen, dorm cleaner, student leader etc.) each week. Service to the community is one of the principles NMH was founded upon, and workjob is one of the ways students give back to the school. I've had pretty much every workjob in the school, including working on our very own farm, complete with cows, horses, maple syrup and other farm stuffs. Not the farm person? No worries, although it is a great farm, it is far from the center of campus where you will spend most of your time. Not the workjob person? No worries, it's not that bad.
2.) What was the best thing that happened to you in boarding school?
Some of the best things I did at NMH were win two New England Championships, meet some of my closest friends, and get accepted to some of my top choice colleges. I'm a more prepared, curious, and confident student, a more independent person, and a better leader. Bottom line, NMH is supposed to prepare you for selective colleges and universities and it does.
3.) What might you have done differently during your boarding school experience?
I would have gotten more involved with the arts, either dance or music. New students should try out different activities and classes, and spend time with different groups of people. It is hard to know what you want to do with your life as a high school student, so use the time and resources to experiment a bit.
4.) What did you like most about your school?
Great people.
5.) Do you have any final words of wisdom for visiting or incoming students to your school?
Apply, then visit.
Academics:
1.) Describe the academics at your school - what did you like most about it?
The academics are terrific. There is a broad range of classes to choose from, and each student has an advisor to help in the selection process. Classes are challenging, yet the teachers are incredibly supportive, offering help sessions outside of class and encouraging even the best students to perform better. Student tutors are available for struggling students, any many students form their own study groups outside of class. I appreciated the teachers' availability outside of class hours, and the ease at which I could talk to them, whether about class issues or personal issues. It's great to have teachers who care about their jobs and their students.
Athletics:
1.) Describe the athletics at your school - what did you like most about it?
At NMH, I won New England championships in both Soccer and Track.NMH participates in one of the most competitive high school leagues in the country. NMH provides varsity athletes a great chance to win league championships, as well as to be recruited to top colleges and universities. NMH has several skill levels for each sport, and a myriad of different sports, so freshmen and post graduates alike can participate. NMH requires each student to participate in at least one season of athletics, and students find the sports fields an easy place to have fun and meet other students. The coaches are dedicated to their teams, and the facilities (including two new soccer fields, and two new multipurpose turf fields) are good.
Art, Music, and Theatre:
1.) Describe the arts program at your school - what did you like most about it?
I am the wrong person to talk about the arts at NMH. However, there are many performing groups and students at NMH who are devoted to the arts. Also, NMH just finished building an incredible arts center that rivals that at most colleges.
Extracurricular Opportunities:
1.) Describe the extracurriculars offered at your school - what did you like most about it?
I liked the breadth of outreach opportunities and the ease of volunteering. I worked for four years with the local youth soccer league, but also volunteered at a local homeless shelter and a nursery school. Among several options for outreach, many students did Big Brother Big Sister on Friday nights. I spent my Friday nights co-leading the school's Christian fellowship group, Breakaway, which was also an incredible and exciting experience. Although NMH's emphasis is academics, there's a cornucopia of ways students can, and do, get involved in the community.
Dorm Life:
1.) Describe the dorm life in your school - what did you like most about it?
Dorm life was great. My dormmates and I bonded over ping pong, video games, and legendary late night dance parties. As one of three student leaders in the dorm, I was able to do cool stuff like set up after hour (after lights out) bowling trips with other dorms. I liked my close relationships with the dorm staff and the trust they had in me, as well as my roommate (of three years), post-study hall dominoes delivered to the dorm, our ping pong table, and our oversized (not a complete anomaly) dormroom.
Dining:
1.) Describe the dining arrangements at your school.
Breakfast is open 7-9, lunch is 11-1, and dinner is 5-7. I enjoyed the food. NMH has a salad bar, sandwich bar, pizza station (often open at lunch or dinner), dessert station, vegetarian options, pasta, and different main courses that change from day to day, meal to meal, rotating on roughly a two week schedule. There is no assigned seating, so sit with your friends and teammates and enjoy some time away from classes (or use the period to spark up an intellectual debate around the lunch table, either way).
Social and Town Life:
1.) Describe the school's town and surrounding area.
The town life is very low key. There are a couple of old, New-Englandy stores in the town, but there is not much outside of the campus. Some students choose to take a cab roughly fifteen minutes to neighboring Greenfield where there is a much greater array of restaurants. However, you are going to have to travel a bit if you're looking for a city.
2.) Describe the social life at your school - what did you like most about it?
I had a great group of friends, and a network of teachers and coaches who supported me through the four years, so my social life was great. Generally, I feel most people have a few friends they are very close to, and a lot of other people who they know from classes, sports, and events. At a relatively small school like NMH, a lot of the people know who you are, and you know a lot of people, and I enjoyed that.
Daily Schedule:
Weekday
12:00 AM
Library for either homework, pacman, or nap
8:00 PM
Study hall (either monitoring in the dorm, or working in the library)
10:00 PM
Socialize, ping pong, homework
Weekend
11:00 AM
Take off for sports
6:00 PM
Get back to school, grab dinner
6:45 PM
Clean up and get changed
7:00 PM
Hang out with friends
11:30 PM
Sign back into the dorm, play ping pong
12:00 PM
Back to my room before lights out
NMH allows students to dive into the community and passions. The college like scheduled of four classes allowed me to seamlessly transition into college academics. Also NMH has a four hour per week work program. . .
Northfield Mount Hermon School helped me become the man I am today.The best thing about NMH was its sense of community. I like to think that I knew almost everyone there, while everyone knew me. . .
This school was different from a lot of other boarding schools in the area because it fostered an environment where everyone wanted everyone else to achieve. Unlike other schools where every student made sure that. . .
Show more reviews (

12 reviews

)
Mastering the Boarding School Selection Process: A 5-Step Guide
Discover the ultimate 5-step guide to choosing the perfect boarding school for your child. Explore essential factors, such as academics, campus facilities, extracurricular activities, and more. Make an informed decision to provide your child with an enriching and transformative educational experience. Read now!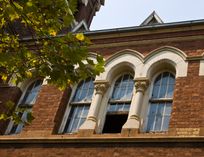 5 Founders and Their Boarding Schools
What prompts somebody to start a boarding school? The motives range from idealism to munificence right on through to capitalism. The common thread seems to be ample capital and a vision of what education can do.