Reflections and Advice:
1.) What do you think makes your school unique relative to other boarding schools?
Miss Porter's is wonderfully laid back. The lack of a dress code, the general liberal mindset, and the lack of competition allows students to function at a high level in an extremely rigourous academic enviroment without feeling stressed. The all-girls environment does actually make a powerful change in many girls. It destroys the social heirarchy of attractiveness so prevalent at co-ed schools. Girls learn to become every role- the party thrower, the class clown, the book worm. Girls are judged by who they are, not by for whom they are an accessory. This leads to some of the most diverse friendships to be found anywhere. Girls become confident with their opinions, talents and flaws. The greatest thing Porter's teaches is that you are not a stereotype. The only flaw in this system is that adaptation to re-entry to the real world may be isolating.
2.) What was the best thing that happened to you in boarding school?
I'm a completely different person because of boarding school. Before I went, I had never done laundry or even boiled water. I was disgustingly dependent. I was also very superficial and afraid to be me because of what boys would think. All of that changed because of Porter's. I am now a capable confident mature young woman. I have established priorities in my life. I have made great friendships that I know will last a life time. In addition to a great education, I have developed a confidence that sets me apart from even other boarding school kids. Through the diversity of our community, I have vicariously experienced things that have altered my perspectives. I was able to study abroad in Italy for nine months. If you are even considering going to Porter's- GO!
3.) What might you have done differently during your boarding school experience?
I wish I would have been less insecure, but I was a teenage girl so I don't think that's a realistic wish.
4.) What would you never want to change about your school?
I would always want Porter's to be all girls, to have separate senior dorms, to keep all of the traditions that make life there so special, and to always keep its liberal leaning.
5.) What things could be improved about your school?
Although, the stereotype of a girl in sweatpants, glasses and a messy ponytail is what many feel embody the freedom of Porter's, perhaps a dress code may be a good thing.
6.) Do you have any final words of wisdom for visiting or incoming students to your school?
Join everything, don't be afraid. TALK TO YOUR OLD GIRL! She's busy but she wants to be there for you and can tell you everything you need to know. Avoid the daisy like the plague! Candy is bad. Japanica has great sushi and they deliver.
Academics:
1.) What did you like best about your school's academics?
The small classes. My Latin class had 2 people in it. My Greek class had just me. In my larger classes(larger being 12 max) the discussions brought the material to life. The teachers would allow and encourage you to ask anything that was on your mind about the material. I mean ANYTHING. This would spark the best discussions that were always suprisingly relevant. The class selection was great too, I took Postmodern literature senior year.
2.) What did you like least about the academics in your school?
Sometimes the teachers would be a little too lax with the students who didn't want to work. Turning in papers late was generally accepted and teachers rarely tried to catch students for not doing the reading. This may have been reflected in their grades but because of the lack of competition, grades were very rarely if ever discussed. It really was focused on the learning.
Athletics:
1.) What did you like best about your school's athletics?
Our crew team is phenomenal! The school has made such an effort to improve the teams and it has really worked. Our lacrosse and crew teams are extremely competitive with much larger schools. The new hockey program has really improved. I've heard no complaints about the athletics.
2.) What did you like least about the athletics in your school?
The lack of school spirit in general and we needed a pool of our own although they are looking into building one. Because we often played larger co-ed schools our teams tended to lose a lot which wasn't so great for the esteem.
Art, Music, and Theatre:
1.) What did you like best about your school's art program?
The theater was beautiful. The facilities were so large and beautiful. The painting room has a 30 ft high full wall window to the woods for example. The trust of the school allows you to go work on your art at any time during the weekend. Even if you don't take a pottery class, you can still go throw with a friend as a weekend activity- that was nice. The teachers are so encouraging even if you aren't the typical art student.
2.) What did you like least about your school's art program?
The competition for classes was sometimes intense. Also, you had to choose between pursuing theater productions or sports. There was no option to do both.
Extracurricular Opportunities:
1.) What did you like most about the extracurricular activities offered at your school?
The newspaper was the best experience of my life.
2.) What did you like least about the extracurricular activities offered at your school?
The school would sometimes censor clubs that they didn't feel supported the image of the school. These clubs still met privately but were not allowed to have the official recognition. These included a gay rights support group and a peace union club. Club meetings were also very frequently more in theory and lasted only 5 minutes. You had to apply for the literary magazine, which excluded a lot of qualified candidates.
Dorm Life:
1.) What was the best thing about dorm life in your school?
Your dorm became a second family. At the end of the day when you were exhausted, lonely, depressed or stressed your dorm buddies would always be there to cheer you up or suprise you with a diet coke. The girls in my dorm were like sisters to me and my happiest memories are from senior dorms. You may be silly and run down the hall on broom stick races, but you always got your work done thanks to study hours. A dorm is the only place anyone should live in high school.
2.) What did you like least about dorm life?
The rumors. There are no secrets in a dorm ever. Parents should feel comfortable with this-- your dorm parent will know everything you do, no matter how hard you try to hide it. This is usually a good thing, but not always. Also super clean Monday room inspections were not fun but necessary.
Dining:
1.) What was the best thing about your dining arrangements?
The food was pretty good and usually available.
2.) What did you like least about your dining arrangements?
The new girl 20 lbs!
Social and Town Life:
1.) How welcome did you feel by the other students when you first arrived at the school
When I first arrived as a superficial non-athletic bleached blond from Vegas, it was interesting to say the least. My roommate was a Lilly Pulitzer-wearing Deerfield transfer from Long Island and we had a bit of conflict. But within the first month I had made tons of friends and learned a lot about myself.
2.) Describe the level of diversity and integration of students in your school:
Let me just tell you my closest group of friends : An uber-preppy white girl from North Carolina, An exotic theater girl from Belize, A lesbian from rural Tennessee, A singer diva first generation American from Ghana, and a girl from Montana who grew up in a cult. We had our own little clique you could say. That should tell you how integrated the diversity really is, which is wonderful.
3.) Describe typical fun activities you did on a weekend:
We watched movies, made quesadillas, went to the mall/ movies, painted in the arts building, went to dances, had dance parties in our rooms, typical teenage girl sleepover stuff. Bring a feather boa-- you'll need it.
4.) What was the town like?
The town was beautiful but in that New England hamlet kind of way. There wasn't a lot to do and life usually centered around campus but no one minded. Starbucks and Naples(a pizza place) were great hangouts within walking distance. On the weekends the mall and movies were always available. However, despite Hartford being so close we never ventured in and that should be worked on.
Daily Schedule:
Weekday
7:30 AM
Wake up / Breakfast
12:00 AM
Lunch/ Free Period
Weekend
2:00 PM
Shuttle to the mall
5:30 PM
Dinner with **Ice Cream**
6:00 PM
Go to Starbucks with friends
10:00 PM
Watch a DVD with friends
Two defining factors about Miss Porter's is the sense of community and the ability for students to create lasting connections with teachers. The community fostered by the students and faculty at Porter's is unlike any. . .
Miss Porter's has unique traditions unlike any other school aimed at including students and making them feel like part of a campus community, such as the school ring tradition. Part of the fun is learning. . .
I would definitely have to say that something unique about Porter's is the connection between Alumnae (called "Ancients") and students. The ability to talk about shared experiences and traditions across generations is something I rarely. . .
Show more reviews (

2 reviews

)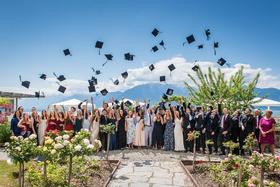 Nurturing Futures: A Journey through Boarding at Haut-Lac School in Switzerland
Nestled in the hills overlooking Lake Geneva in the French-speaking part of Switzerland lies an educational gem that embodies a unique blend of academic excellence, cultural richness and a profound sense of community. Founded over 30 years ago, Haut-Lac International Bilingual Day and Boarding School is now home to both 600 day students and a maximum of 30 boarders from around the world.
What To Wear at Your Job Interview
Navigating job interviews can be stressful, but knowing what to wear shouldn't be. Our comprehensive guide covers the essential dress code tips for men and women interviewing at boarding schools. Make your first impression count with style and professionalism.
Navigating the Modern Maze: Emerging Challenges for Boarding Schools
Explore the pressing challenges facing boarding schools, from marketing difficulties and rising insurance costs to facility maintenance and recruitment of competent trustees and teachers. This article delves into these complex issues and proposes innovative strategies to overcome them.