Reflections and Advice:
1.) What do you think makes your school unique relative to other boarding schools?
Thacher is a westerns school. It is not what you picture when you think Old West, but we do hold honor, riding, and camping in high regards. Week long rough camping trips are required twice a year and freshmen are required to ride their entire first year at Thacher. Students are trusted to take exams unproctored and on their own time (on their honor) and there are less locks than can be counted on one hand on campus. It is all of the ideal of a good Old Western movie- minus the villain.
2.) What was the best thing that happened to you in boarding school?
Growing up, I was made fun of and unpopular which created deep insecurities about myself, my appearance, my comments and thoughts. Through the accepting and warm environment of the Thacher community and classes I was able to let go of my insecurities and fully explore who I am and let my thoughts go free in class and grow through the sharing of others' thoughts as well. I really feel that I bloomed as a scholar and as a friend as well as I made life long friends along the way.
3.) What might you have done differently during your boarding school experience?
I would have built many more close relationships with my teachers than I did. Those are incredibly important and after all, when you go back to visit, they are the ones who will be there and always welcome you with open arms.
4.) What did you like most about your school?
Overall, I would say that I loved the absolute trust and happiness shared by and with each person encountered, teachers and students included. I don know if I will ever again be able to look upon a teacher as a teacher, a mentor, a parent figure, a friend, and a student all at once.
5.) Do you have any final words of wisdom for visiting or incoming students to your school?
If you are ever on campus, even if just for a visit, take a moment to go out to the Outdoor Chapel and watch the sun go down over the valley and the mountains. You will never be the same again.
Academics:
1.) Describe the academics at your school - what did you like most about it?
No one can deny that academics at Thacher are rigorous - it is in the top three private boarding high schools in the nation for a reason. Yet I cannot remember ever enjoying classes until I reached Thacher. The material in each class was presented in interesting and new ways and the teachers tried endlessly to create a class in which we all felt happy, interested, motivated, and comfortable. The close relationships between students and teachers that were possible because of living on the same campus enabled the students to feel comfortable enough to eek out teachers outside of class for extra help or even just to hang out.
Athletics:
1.) Describe the athletics at your school - what did you like most about it?
There is a period during the day (after classes and before dinner) in which sports are required. The period is an hour and a half long during which every single student goes to practice the sport of their choice. During the fall the sports offered are girls tennis, football, rock climbing, cross country, and volleyball. During the winter they are soccer, basketball, and teamsters (working with two draft horses and a wagon). During the spring they are lacrosse, baseball, track, advanced rock climbing, and advanced and performing dance. Through all of these seasons, riding is a popular option. The variety in sport and level is so wide that every person can find a place to fit in and enjoy themselves, and no one feels pressured, left out, or unhappy. The fact that everyone must participate in a sport also means that the student body is generally healthy and in shape.
Art, Music, and Theatre:
1.) Describe the arts program at your school - what did you like most about it?
As I participated in the musicals as well as in the dance program, I can honestly say that the arts part of the school is tons of fun and hold plenty of opportunity for students of all experience and talents. The arts are ever present in our lives whether it is in the form of chorus performances at random assemblies or individual student band performances or the hectic rehearsals for the musical. I liked that, though the arts are not specifically a focus of the school, they are appreciated, always welcome, and highly encouraged.
Extracurricular Opportunities:
1.) Describe the extracurriculars offered at your school - what did you like most about it?
Some of the most common announcements at assemblies are on behalf of clubs trying to raise money for charities, or a cause here and a cause there. Donut for sale during lunch, Subway or Taco Bell for sale during the social half hour of 9:30-10 pm after study hall, t-shirts for sale after assembly, calls to make, petitions to sign and letter to write in the dining hall, and pins to wear on Gay Rights Day Of Silence. It seemed at times the entire student body was busy at once trying to save the world in some way or other and someone was always on their way to community service whether it was during a free period or before dinner started. We all know that our school is full of privileged students whether by wealth or by simply being at such a wonderful school, these ways of being involved always made me feel like we were sincerely trying to give back all that we could.
Dorm Life:
1.) Describe the dorm life in your school - what did you like most about it?
Dorm life at Thacher is peaceful and fun at Thacher.Dorms and dorm rooms are assigned by the respective dorm head and prefects which makes for a peaceful and equally distributed arrangement. There are no roommates freshmen year and after that, roommates chose each other ensuring a good relationship the following year. I roomed for two years and enjoyed it immensely both times, having chosen my roommates and shared a fun year wit each. Each dorm is equipped with the necessary kitchen articles like a common refrigerator, microwave, sink, and storage so that food and the means to attain it are always available. Living at Thacher was like living at home but with my friends a couple footsteps away.
Dining:
1.) Describe the dining arrangements at your school.
The dining hall at Thacher works with a company called Bon Apetite which works with many colleges around the nation and is absolutely delicious gourmet food. The dining hall is open till 9 for breakfast, from 11-1 for lunch on weekdays and from 530-7 for dinner on non formal dinner nights and 6-7 on formal dinner nights. For some reason students at Thacher always love food and therefore make the dining hall a favorite hang out place especially on the weekends during which brunch is open from early in the morning until 1 in the afternoon with omelets, make-your-own waffles, make-your-own smoothies and much more. The dining hall and its crew were my favorite place to hang out and people to talk to because they offered me food and sincerely tried to make my every whim and craving come true.
Social and Town Life:
1.) Describe the school's town and surrounding area.
Ojai is a very small but very friendly town in which stores are a bit expensive but people are always ready to smile and let you pass. After four years of making it a social event to go into town to buy a burrito or a Jersey Mikes sub with your friends on Wednesday (half a day school day) or Saturday afternoons, the people in Ojai know you by name and favorite dish and will even accept I-Owe-You's from you because you are from Thacher. It is a wonderful place to spend for years visiting every week.
2.) Describe the social life at your school - what did you like most about it?
There is never such a thing as boredom at Thacher, especially on the weekends. It is accepted and expected that there is a major event every weekend and many smaller ones to follow or create options. There are Santa Barbara nights, Ventura days or nights, dances, trips to ice skating, roller blading, bowling, weekend camping trips to sign up for, and always open house at the headmasters house. One of my favorite events every weekend on Saturday night when the headmaster and his wife open their doors to the entire school and have a dance, a movie, coloring or games,and freshly made cookies and nachos waiting for the students upon entering. The headmaster mixes and mingles with the students, challenging them to a game, having a dance off with them, watching Zoolander or playing the guitar while eating his wife's cookies as well. It is them that the community feels the most closely knit and loved by everyone.
Daily Schedule:
Weekday
6:45 AM
Wake up to muck after my horse
10:30 AM
Assembly and then I go turn out my horse
3:30 PM
Sports period: I go ride
6:00 PM
Slip on a dress and heels and run down to formal dinner
7:30 PM
Study Hall: two solid hours of homework-for me: in the library
10:00 PM
Checkin for the night
Weekend
8:00 AM
Wake up to go muck my horse's stall
9:00 AM
Breakfast after changing into riding clothes
10:00 AM
Saddled up and on my horse for the next 1.5 hours.
12:00 AM
Done unsaddling my horse and rinsing off the sweat of working him hard
1:00 PM
brunch with my friends after showering
2:00 PM
Take a bus into town to do grocery shopping and eat a burrito from Ruben's
4:30 PM
Come back from town
8:00 PM
Go to open house at the headmaster's house and eat freshly baked cookies
11:00 PM
Checkin at my dorm for the night
Thacher's community on campus is unlike any other, connections at the school go beyond merely knowing every student's name but having had interacted closely with everyone whether on a camping trip, in the dining hall. . .
You cannot mention Thacher without talking about the horse program; each freshman is required to take care of and ride a horse for the first year of high school. I rode all four years and. . .
One thing that makes Thacher unique are the opportunities to form close, meaningful relationships with teachers and its commitment to helping students grow personally as well as academically. Whether it's out in the Domelands wilderness. . .
Show more reviews (

23 reviews

)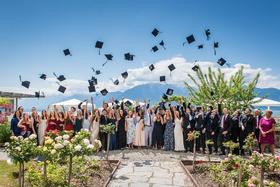 Nurturing Futures: A Journey through Boarding at Haut-Lac School in Switzerland
Nestled in the hills overlooking Lake Geneva in the French-speaking part of Switzerland lies an educational gem that embodies a unique blend of academic excellence, cultural richness and a profound sense of community. Founded over 30 years ago, Haut-Lac International Bilingual Day and Boarding School is now home to both 600 day students and a maximum of 30 boarders from around the world.
What To Wear at Your Job Interview
Navigating job interviews can be stressful, but knowing what to wear shouldn't be. Our comprehensive guide covers the essential dress code tips for men and women interviewing at boarding schools. Make your first impression count with style and professionalism.
Navigating the Modern Maze: Emerging Challenges for Boarding Schools
Explore the pressing challenges facing boarding schools, from marketing difficulties and rising insurance costs to facility maintenance and recruitment of competent trustees and teachers. This article delves into these complex issues and proposes innovative strategies to overcome them.