Reflections and Advice:
1.) What do you think makes your school unique relative to other boarding schools?
While Thacher does have its unique horse program, California weather, and camping program, what sets Thacher apart from other Boarding Schools in my mind is the community. When I was applying, everybody who talked about Thacher told me that they loved it. When I asked them why, they would always talk about how the community was simply the best. At first I was hesitant to believe this, but after living in it for four years, the community is what separates Thacher from other boarding schools. Its hard to explain it in words, but Thacher's community is basically a family. And while I have only gone to one boarding school, from visiting 14 of them when applying and talking to friends at other schools, I feel like Thacher truly has a unique community for the best. Everybody feels welcome, comfortable and wanted.
2.) What was the best thing that happened to you in boarding school?
The best thing that happened to me at Thacher was that I gained a new sense of self-confidence. The Thacher community is amazing at making you feel welcome. From the first day of school, you are embraced into the community by a welcoming senior. That senior then gives you a tour of the campus and helps you unpack. And starting with that senior, you immediately realize that Thacher is a special place and you forget that you are away from home. You feel at ease to be yourself. In and out of the classrooms, the teachers and fellow students seem to want your opinions. They make you feel like you belong. And over four years these feelings of belonging fosters self-confidence.
3.) What might you have done differently during your boarding school experience?
If I could change anything about my experience, I would make sure to enjoy the moment more often. In the midst of studying, I would often get too caught up in the moment and I would fail to appreciate my amazing experience. Thacher is truly a special place. And while it is no metropolis the Ojai valley has plenty to offer. However in my final year I finally realized this and I enjoyed my Thacher experience to its fullest.
4.) What did you like most about your school?
My favorite part of the school is the community. It actually feels like a family. As I leave I realize that I'll miss the sense of comfort, belonging and warmth.
5.) Do you have any final words of wisdom for visiting or incoming students to your school?
I would recommend sitting on the benches above upper field. The view is one of the best. Sunset is probably the best time of day to go, but the view is always amazing. And having just left the school, I wish I had spent a little more time there.
Academics:
1.) Describe the academics at your school - what did you like most about it?
One of the best things about Thacher academics is that there is no sense of competition. Especially since there is no class rank, you do not feel like you are competing in the classroom. People are more than willing to offer help and advice.
Athletics:
1.) Describe the athletics at your school - what did you like most about it?
The sports at Thacher are awesome. While you are required to participate, you determine how much of your time they take up. For me sports were a big deal. And unlike at a big school, I knew heading into it that I could compete competively in any sport I chose. And while we were by no means a powerhouse, we definitely held our own on the court. My tennis team won our CIF division sophomore year, my basketball team consistently made the playoffs and my football team also consistently made the playoffs. Despite its size, Thacher athletics seem to be always competitive.
Art, Music, and Theatre:
1.) Describe the arts program at your school - what did you like most about it?
The Visual Arts, Music and Theatre programs always seem to put incredible pieces together. As a spectator it is always fun to see what these groups have to offer.
Extracurricular Opportunities:
1.) Describe the extracurriculars offered at your school - what did you like most about it?
For being such a small school Thacher offers plenty of clubs. And if you can't find a club that you like, you can make one of your own. However at Thacher clubs do not play too big of a role in your life.
Dorm Life:
1.) Describe the dorm life in your school - what did you like most about it?
The small dorms help you make friendships unlike any other. Within a year of living together, you know your dormmates on a level more personal than any of your other friends. And then you live these people again for at least the next two years. Through living in these dorms, you'll make some of the best friends you'll ever meet.
Dining:
1.) Describe the dining arrangements at your school.
If I could change anything about the school, I would change its food. Sometimes the food isn't great. But it is a cafeteria and there is always something to eat.
Social and Town Life:
1.) Describe the school's town and surrounding area.
It took me a while to open up to Ojai, but it is a great little town. It has almost everything you could possibly need at boarding school, including plenty of restaurants to eat at. With its incredible surroundings, Ojai is the perfect place for a bike ride or a jog. And the people of Ojai are so nice.
2.) Describe the social life at your school - what did you like most about it?
By living at such a small school, you know everybody. This can be a good and bad thing. But by the end of the four years you know your classmates on a personal level unlike any of my other friends. You soon learn how they eat, how clean their room is, how loud their music is, and almost everything about them. And with my experience I would say that is a good thing.
Daily Schedule:
Weekday
8:15 AM
Breakfast Check in
9:30 PM
9:30-10:00 (Study Break)
Weekend
12:00 AM
Town Runs to Ojai
8:00 PM
Open House at Headmaster's house
The tight knit community is a really rare quality at high schools in general but especially boarding schools. The relationships with teachers and students is so close and the fact that there is very few. . .
The horse department at Thacher is both unique and outstanding. Unique because the school strives to keep the cowboy culture alive with over 100 horses and a fully outfitted western riding center. It is outstanding. . .
Thacher's community on campus is unlike any other, connections at the school go beyond merely knowing every student's name but having had interacted closely with everyone whether on a camping trip, in the dining hall. . .
Show more reviews (

23 reviews

)
Mastering the Boarding School Selection Process: A 5-Step Guide
Discover the ultimate 5-step guide to choosing the perfect boarding school for your child. Explore essential factors, such as academics, campus facilities, extracurricular activities, and more. Make an informed decision to provide your child with an enriching and transformative educational experience. Read now!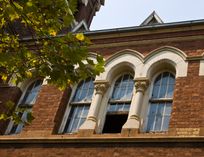 5 Founders and Their Boarding Schools
What prompts somebody to start a boarding school? The motives range from idealism to munificence right on through to capitalism. The common thread seems to be ample capital and a vision of what education can do.