Reflections and Advice:
1.) What do you think makes your school unique relative to other boarding schools?
Asheville School is situated in the most beautiful area of the country. My dorm looked out over the Blue Ridge Mountains. Nothing could have been better for a teenager to wake up to every morning. The teachers are very involved in the student's life, making the students feel at home and the parents feel safe with their children in other people's hands thousands of miles away. Each week, each student goes to lunch with his/her advisory group. This group usually consists of about 4-5 students and a faculty advisor. It chooses where to go to lunch. It's a great time for the students to really get to know one another and for the faculty to get to know what may be going on in the student's life. These goings on may be good things for which the student should be praised or they may be problems that need to be fixed. Either way, advisory lunches facilitate the student's success within the school. The hall parents work in the same kind of way. They are very involved in their students' everyday lives. My hall father was my Biology teacher, swim coach, and kayak instructor. Needless to say, I could not hide anything from Mr. Kreigler. Though he was not my advisor, he still worked in the same type of way. It's amazing how these people become family to you in such a short period of time. I never felt alone in all of my time at Asheville School. With a small student population and a close knit group of faculty, everyone becomes so close to each other and it becomes impossible to hide in the cracks.
2.) What was the best thing that happened to you in boarding school?
If I were asked to go to Asheville School again, I would drop everything and go in a heartbeat. I loved every minute of it. It was where I belonged. I learned about responsibility. I learned to enjoy life and to manage my time very carefully. I learned to be nice to others because you will need them again some day. Words can't really describe the feeling I have for Asheville School and what it did for me as a person.
3.) What might you have done differently during your boarding school experience?
Soak up every experience. It doesn't last long enough.
4.) What did you like most about your school?
I like the mountaineering program the most. I miss it and the connections I made with the other students and instructors while sitting out in the beautiful woods or hanging off the tall cliffs of North Carolina every day of my life.
5.) Do you have any final words of wisdom for visiting or incoming students to your school?
Phishfood at the snack bar is where it is at.2nd Lawrence is the place to live if you are female.Definitely meet Jay Bonner while visiting. He will talk you into going to Asheville School and everything he has to say is true.
Academics:
1.) Describe the academics at your school - what did you like most about it?
The academics at Asheville School are tough but very interesting. Each teacher is different in the way he or she teaches, but each is very understanding of the rigid schedule outside of class as well. Seeing as the teachers double as hall parents, coaches, and advisors, they know what to expect of their students and how to incorporate all of the activities into the academic life of the student. I do not believe the academic life is competitive within the students. Generally, each student is willing to help the student sitting next to them in class. Asheville School is very competitive academically with other schools. It holds its student's academics high and expects a lot out of the student. It's often heard at Asheville School that no student who graduates from Asheville School will have a problem with college academics - the problem may be that they are no longer forced to sit in their room and study at 8pm each night. Having graduated from Sewanee, I believe this to be true. In fact, I was disappointed when I arrived at college because the academics were not as challenging and fun as they were in high school. Any student who comes out of Asheville School will have no problem with writing.
Athletics:
1.) Describe the athletics at your school - what did you like most about it?
There is a large diversity of sports available at Asheville School. There are opportunities for participation in dance, art, and music instead of a competitive sport. Each student must participate in a competitive sport for a certain number of semesters. The facilities are state-of-the-art. They were refinished at the beginning of my time at Asheville School. The gym is big and beautiful. The fields are situated in a valley on the campus with the background of the Blue Ridge Mountains. No athlete could ask for a better place to practice and play. Mountaineering is one of the more unusual opportunities at Asheville School. Mountaineering includes climbing, mountain biking, kayaking, camping, backpacking. The list goes on. The facilities for the mountaineering program are amazing. All of the gear needed for any of these sports is provided and is in great condition. This is a program that really stands out from its peers' similar programs. Each student must participate in at least one backpacking trip before graduating. This is a huge part of the freshman year experience as the freshman go together on their backpacking trip. Other new students go on different weekends.
Art, Music, and Theatre:
1.) Describe the arts program at your school - what did you like most about it?
I did not participate in the visual arts program past what was required for academic life. The theatre program is amazing. I often find myself comparing what I saw at Asheville School to what I see at professional programs. Many times I feel the theatre program at Asheville School is better.
Extracurricular Opportunities:
1.) Describe the extracurriculars offered at your school - what did you like most about it?
There is a huge list of extra-curricular activities. I was involved in the Mitchell Cabinet, which was the volunteer organization. Since I was there, there is now a required about of service a student is required to provide for the community. I'm not really sure how it works now, but I think it's a great program. If a student has an extra-curricular activity he or she would like to start at the school, the school is generally very good about helping that student find the activity and getting the program started. I played the violin and wanted to take weekly lessons. The school was great in helping me find transportation to and from those lessons.
Dorm Life:
1.) Describe the dorm life in your school - what did you like most about it?
The dorms are where a lot of the friendships and family-like atmosphere are cultivated. When I was a student, every student had a single room, allowing for the student to have down time to themselves. I believe some students have roommates now but the hall parents and prefects are very supportive of the needs of these students. Each night the students are required to study in their rooms from 8pm to 10pm. This is a crucial time for the academic life of the student. Their hours during the day are filled with mandatory activities and this is really the only time to study in peace and quiet. At 10pm, the students have a small break when they are required to be on dorm, but they can do whatever they wish. After the break, the students have lights out. Lights out is really lights out. The hall parents and prefects understand the students have a big day once again the next day and rest is essential. Very rarely did I feel that I needed more time to study. If this happened, an extension was requested for study purposes and it was often granted.
Dining:
1.) Describe the dining arrangements at your school.
Every morning breakfast is available by buffet before class. The freshmen and sophomores are required to sign in at breakfast. This helps them get in the routine of eating before class before they are given the freedom of choice after their sophomore year. Lunches are seated meals. The students rotate through waiting responsibilities. All meals are served family style at the table where one faculty and several students are assigned. Thursday night and Sunday night meals are the other seated meals. Every other dinner is buffet. The food is great. There is always PB&J and salad bar if a student does not like what is served.
Social and Town Life:
1.) Describe the school's town and surrounding area.
Asheville. Need I say more. It may be a small town, but it is bursting with history and culture. I loved the music groups that would come to play. The school often takes a small group of students to different cultural experiences around Asheville. The funds for this come out of the activity fund. I took full advantage of the activities fund throughout school.
2.) Describe the social life at your school - what did you like most about it?
The students are a very close-knit group. Every one knows every one. Social life is rarely a problem for anyone at the school. Each student will find a niche somewhere.
Daily Schedule:
Weekday
3:00 PM
Afternoon activities
10:30 PM
On your hall - getting ready for bed
Weekend
7:00 AM
if there is no class, meet for mountaineering backpacking or climbing trip
Asheville School is situated in the most beautiful area of the country. My dorm looked out over the Blue Ridge Mountains. Nothing could have been better for a teenager to wake up to. . .
Required Afternoon Activities made our campus pretty special. You were forced to sign up for either a sport, music, theater, or art to take up your afternoons. It was pretty beneficial because it. . .
What really sets Asheville School apart are the teachers and how much they care about the students. I have never seen or heard tell of another faculty as devoted to their students and to helping. . .
Show more reviews (

1 review

)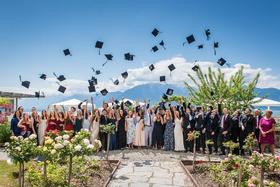 Nurturing Futures: A Journey through Boarding at Haut-Lac School in Switzerland
Nestled in the hills overlooking Lake Geneva in the French-speaking part of Switzerland lies an educational gem that embodies a unique blend of academic excellence, cultural richness and a profound sense of community. Founded over 30 years ago, Haut-Lac International Bilingual Day and Boarding School is now home to both 600 day students and a maximum of 30 boarders from around the world.
What To Wear at Your Job Interview
Navigating job interviews can be stressful, but knowing what to wear shouldn't be. Our comprehensive guide covers the essential dress code tips for men and women interviewing at boarding schools. Make your first impression count with style and professionalism.
Navigating the Modern Maze: Emerging Challenges for Boarding Schools
Explore the pressing challenges facing boarding schools, from marketing difficulties and rising insurance costs to facility maintenance and recruitment of competent trustees and teachers. This article delves into these complex issues and proposes innovative strategies to overcome them.