Reflections and Advice:
1.) What do you think makes your school unique relative to other boarding schools?
What really sets Asheville School apart are the teachers and how much they care about the students. I have never seen or heard tell of another faculty as devoted to their students and to helping them succeed. When you see your teachers with their families in the dining hall, help them paint their houses over summer break, work with them on the Honor Council, or have them as an advisor in our advisee/advisor system, you really get to know them on many levels--to see what the community means to them and what it can mean to you. Also, our student-created Honor Code is extremely unique, suggested, formed and voted on by the student body in 1998. Everyone can feel a sense of security about their belongings and information at any time or place on campus--but they are also guaranteed an incomparable sense of communal trust with each person they encounter.
2.) What was the best thing that happened to you in boarding school?
I have grown in ways unimaginable and learned to step outside my comfort zone time and time again--I was very shy before coming to Asheville and could not have imagined giving a campaign speech, a chapel talk, writing two 18 page papers weeks before graduation--but it all happens and you surprise yourself with what you can do when you are challenged. Asheville School is ultimately what you make of it--and you can either consider it as a place your parents make you go or a place where you will become close to so many people in such a nurturing environment. You can resist change and try to stay like you were at your old school or you can reinvent yourself and try new things.
3.) What might you have done differently during your boarding school experience?
My advice would be to accept that you cannot live both in the world of your home and the world of AS simultaneously or life at either place will be hard.
4.) What did you like most about your school?
The people, the campus, the random little events that random groups of people can experience like a small camping trip and then for the rest of the year have that singular bond between them.
5.) Do you have any final words of wisdom for visiting or incoming students to your school?
Join the newspaper, and try your hardest to take a class with Mr. Bonner your junior or senior year. If not, make your best effort to get to know this remarkable English teacher in any capacity.
Academics:
1.) Describe the academics at your school - what did you like most about it?
The academics at Asheville School are very intense but very rewarding. Preparation for AP exams is superb. There is a substantial amount of homework, upwards of four hours a night, but you really learn time management and you always have resources to go to--if at any time you are having problems keeping up with your work there is a support system for you--your teacher, your advisor, the Learning Center, all of whom want to see you succeed and do your best. Also the preparation in writing analytical papers is really intense. The Humanities faculty at this school are unimaginably devoted to their work, and the Senior Demonstration completed in the spring of senior years is a good intro into college-level writing.
Athletics:
1.) Describe the athletics at your school - what did you like most about it?
The athletics program at Asheville is strong--everyone is required to participate in at least one season during their first year. The new gymnasium has truly excellent facilities for such a small school. Though we are a very small school and thus have very small teams, we often can hold our own against larger public schools in the area, even in events like Track and Field where some teams had twice the number of athletes we did.
Art, Music, and Theatre:
1.) Describe the arts program at your school - what did you like most about it?
The drama, art and music departments are not as hyped by the school as athletics are, but any person interested in them can become involved and work one-on-one with the director of each program to hone and develop a certain talent. The Music and Art programs are very relaxed, and small-scale, but one can definitely flourish in these areas if they have enough self-motivation.
Extracurricular Opportunities:
1.) Describe the extracurriculars offered at your school - what did you like most about it?
Extracurriculars can be as intense or as laid-back as you want them to be--if you have enough initiative you can revamp a lagging activity or start an entirely new one, and your faculty sponsor is there for as little or as much help as you require. This past year we had a new Cooking Club and Anime Club added. All clubs must write a constitution and present it to Student Council before being approved.
Dorm Life:
1.) Describe the dorm life in your school - what did you like most about it?
I was a day student at my school, so I can't really speak to dorm life other than everyone makes great friends from living with people they get along with, and learns to tolerate those who they would rather not be around all the time.
Dining:
1.) Describe the dining arrangements at your school.
The dining hall staff is extremely nice and expanded the options while I was at school--we had soup as an option during lunch, new items added to the salad bar for variation like tofu, jello, different kinds of cheeses and fruits, pasta salad. They welcome feedback and suggestions by the students, and they do very well for the budget they have. I'm not saying it doesn't get old because it surely does, but with a little creativity and planning you can vary your menu. Most dinner meals are buffet but every Thursday night as well as most school lunch days is a seated meal--served family style at round tables with a faculty head. And this is another big thing about Asheville-the tables are randomly assigned, so you sit with people outside of your "circle of friends" every day. It really fosters a sense of community and some great and memorable discussions have come out of it.
Social and Town Life:
1.) Describe the school's town and surrounding area.
Asheville is a very diverse small town with plenty to do on weekends and weeknights. There are many vegetarian restaurants, outdoors events, music festivals throughout the year and a plethora of independently owned businesses. It is by no means a city solely composed of chain stores/restaurants like some areas are, so if you don't want your only options outside the school to be limited to the same as they are at highway exits across America, come to Asheville!
2.) Describe the social life at your school - what did you like most about it?
Everyone can learn everyone's name in a relatively short period of time, and there really aren't "cliques" per se, nor does the senior class habitually act superlative--instead events like Christ School Week and Girl's Sports Day serve to induct the Seniors as the leaders of the community, but also an intrinsic part of that collaborative.
Daily Schedule:
Weekday
3:45 PM
cross country practice
7:00 PM
student council meeting
8:00 PM
study hall for boarders/day students go home
Weekend
8:00 AM
depart for classes
12:00 AM
classes end/buffet lunch
1:00 PM
depart campus for home or leave campus for shopping w/friends
1:00 PM
mountaineering trips also leave at this time or school sponsored trips to plays or movies...
6:00 PM
boarders are due back on campus at this time for dinner check
10:30 PM
underformers may sign out after 6 but must be back by this time
11:00 PM
upperformers due back on campus
Asheville School is situated in the most beautiful area of the country. My dorm looked out over the Blue Ridge Mountains. Nothing could have been better for a teenager to wake up to. . .
Required Afternoon Activities made our campus pretty special. You were forced to sign up for either a sport, music, theater, or art to take up your afternoons. It was pretty beneficial because it. . .
What really sets Asheville School apart are the teachers and how much they care about the students. I have never seen or heard tell of another faculty as devoted to their students and to helping. . .
Show more reviews (

1 review

)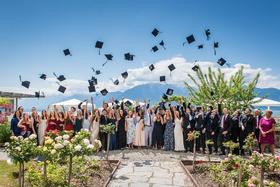 Nurturing Futures: A Journey through Boarding at Haut-Lac School in Switzerland
Nestled in the hills overlooking Lake Geneva in the French-speaking part of Switzerland lies an educational gem that embodies a unique blend of academic excellence, cultural richness and a profound sense of community. Founded over 30 years ago, Haut-Lac International Bilingual Day and Boarding School is now home to both 600 day students and a maximum of 30 boarders from around the world.
What To Wear at Your Job Interview
Navigating job interviews can be stressful, but knowing what to wear shouldn't be. Our comprehensive guide covers the essential dress code tips for men and women interviewing at boarding schools. Make your first impression count with style and professionalism.
Navigating the Modern Maze: Emerging Challenges for Boarding Schools
Explore the pressing challenges facing boarding schools, from marketing difficulties and rising insurance costs to facility maintenance and recruitment of competent trustees and teachers. This article delves into these complex issues and proposes innovative strategies to overcome them.