Reflections and Advice:
1.) What do you think makes your school unique relative to other boarding schools?
From my four years of Williston experience, what stands out the most is the laid back and liberal feeling on campus. From the casual daily dress code to the exceptional art program at the school, the school provides an opportunity for everyone to be himself/herself and show his/her true color and talents. In this environment, there is nothing much about a typical Williston student except for the open-mindedness and the laid back mentality. This characteristic is well-exhibited in the annual Diversity Conference in February. The school also acts actively to preserve this tight community through assemblies, fairs and other events.
2.) What was the best thing that happened to you in boarding school?
The best thing that happened to me is the change in my personality. Before coming to Williston, I was studying and spending my time with other academically talented students. However, after coming to Williston I became more outgoing, more confident, and more proactive. Those changes in my personality really impressed my parents and friends back in China. This also helps to prepare me for College. I believe this change has come from my interaction with teachers, coaches, dorm parents, and my peers. The other important part of my Williston experience is the friendship I established at Williston. Without Williston, maybe I will never meet all the different kinds of friends I currently have.
3.) What might you have done differently during your boarding school experience?
I would take more courses and join more clubs to fully take advantage of the resoureces at Williston. If you can handle your time, go ahead and explore. Another difference I would make is asking Mr. Gunn to be my advisor earlier. By having energetic and smart teachers such as Mr. Gunn as your advisor, you can really start seeing the world in a different way.
4.) What did you like most about your school?
The sense of community. This spirit helps me to become a better student and a better person.
5.) Do you have any final words of wisdom for visiting or incoming students to your school?
Go ahead and take photo 1 course. Mr. Hing is the funniest teacher and developing your film is once-in-lifetime experience. Also join senior fitness during the fall or spring season. Kickball is just great fun. And if you are a boy, try to spend a year at Ford Hall and hang out with Syfu and Kudla.
Academics:
1.) Describe the academics at your school - what did you like most about it?
Coming from a Chinese middle school with about 50 kids in a classroom, what strikes me the most is the small class size and the close interaction among students and with the teachers. In all my classes, students with different backgrounds work together in small groups for projects. We also organize study groups by ourselves when there are major tests coming. In terms of the relationship with the teachers, I knew all my teachers outside of the classroom and can always ask for them for help through email. There is also a variety of courses to take. Even if the school can not meet your academic pursuit, you can still go to the nearby Smith College to take courses.(This year a junior take a math course at Smith College.) The workload is reasonable and students are not asking for other'sgrade after tests are handed out. Another point to mention is that the school really leave you to study hard. Although there are pushes from the teacher, the student need to be responsible for him/herself, especially in higher level courses.
Athletics:
1.) Describe the athletics at your school - what did you like most about it?
There is a requirement to participate in athletic activities for all the students at Williston. Since there is a wide range of sports offered with different level, everyone can find some sports to participate. From my swimming and lacrosse experience, the schedule is quite demanding for varsity teams. The school also joined the prep school league in the area and play against school like Suffield, Deerfield, Berkshire, Westminster and so on. Personally, my favorite part of the sport are the Saturday night light games with soccer, football, hockey, or lacrosse. At those events the school spirit is abundant. And if you have a chance to visit, check out the schedule and all the team pictures in the gym.
Art, Music, and Theatre:
1.) Describe the arts program at your school - what did you like most about it?
In terms of visual arts, music, and theater program, Williston offers one of the best options in the boarding school world. The facilities are fantastic and there are many options for students. In the student center(Reed center), there are always some art project hanging. Sometimes student put up their drawings, painting, and photos. Other times invited guest speaker put up their photos on the wall. The music kids also have chances to show their talents in bands and chorus. The performing opportunities are also abundant, especially towards the end of the semesters. Since I took photo courses at Williston, my favorite part of the art department is the photo teacher and the photo lab. You will develop film and print pictures by yourself. That was the most interesting class I have taken at Williston.
Extracurricular Opportunities:
1.) Describe the extracurriculars offered at your school - what did you like most about it?
There is a variety of extracurricular activities at Williston. The film club put up a news program called "Williston One" at the assembly on a weekly basis. There is also a Frisbee club organizing pick up games on every Tuesday evening for the fall and spring times. Beyond those clubs, there are also tons of opportunities to give back to the community. The Community Service club has the largest following on campus and on weekend there are always opportunities to volunteer. These volunteer opportunities include cleaning up nearby park, work in the local organic farm, and helping building houses for poor families. Most important, you can easily start off your own club if you have the desire to do so. This year, a junior start a mount climbing club and the club offer students the chance to climb the glaciers mountains for free.
Dorm Life:
1.) Describe the dorm life in your school - what did you like most about it?
I lived in four different dorms during my four year at Williston. Generally dorms are made up of doubles and singles. Large dorms (usually locate on the quad) tend to have the majority of rooms in double and small dorms (usually farther away from the dining hall and student center) have mostly singles. Students can always get delivery for late night. From my experience, in large dorms you can meet more people and in small dorms your dormmates are more intimate. My favorite part about the Williston dorm is the all-freshman-boys' dorm. I met a lot of my friends back in the Sawyer Dorm and those friendships will endure for a life time.
Dining:
1.) Describe the dining arrangements at your school.
The dining hall at Williston is a buffet style cafeteria. You just come in and take the food you want with you. There are usually several hot dishes, a grill, a salad bar, a fruit stand, and desserts to pick up. There is a great variety of foods and the menu typically doesn't repeat itself in three weeks. In comparison to other boarding schools and even to some nearby colleges, the dining hall food is pretty decent. Sometimes there are theme meals such as taco day. The dining hall is most significant for its healthy food choice. There are not soda during the lunches on weekdays and you can easily stay in shape.
Social and Town Life:
1.) Describe the school's town and surrounding area.
Williston is located in Easthampton and the town has several restaurant, coffee shops, and some grocery stores. Popular destination in town for students include Mount Tom Ice Cream, Riff's (a restaurant), and Shelburne Coffee. On weekend, student can take a ride, get on a bus, call a taxi, or join school's command-a-van activity to get to the nearby Northampton. Since Smith College is in Northampton, the town can offer student more restaurant, a few apparel stores, and anything you can image in a typical college town. The student can also easily access the nearby Holyoke Mall. In general, this is a safe location with enough offering for me.
2.) Describe the social life at your school - what did you like most about it?
The social life at Williston has a distinct air of open-mindedness. You can be friends with most people if you are outgoing. You can hang out with athletes, painters and anyone of your choice. There are also a lot of school and dorm spirit events that bring everyone together. Therefore, there isn't an air of exclusivity going on the campus. Most important, the kids at Williston wouldn't peer pressure you to do anything. You can always be yourself when you are with others.
Daily Schedule:
Weekday
8:00 PM
Study hall until 10 pm
Weekend
1:00 PM
Hang out with friends
3:00 PM
Home or away games
8:00 PM
Laundry, clean up, watch TV, video game, anything
Williston has a great balance of day students and boarding students, which allow students to know and learn more about the area. With a widespread campus in a safe neighborhood and numerous stores and restaurants. . .
Williston was the best community I could've ever established an identity with. My parents teach at the school, so we actually had a house on the campus. I developed close relationships with not only. . .
At a first glance, The Williston Northampton School appears similar to most college preparatory schools. It contains a beautiful New England campus, wonderful and caring teachers, and great athletic and artistic facilities. However, as many. . .
Show more reviews (

14 reviews

)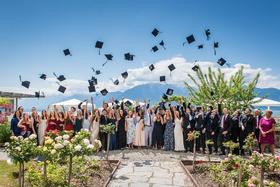 Nurturing Futures: A Journey through Boarding at Haut-Lac School in Switzerland
Nestled in the hills overlooking Lake Geneva in the French-speaking part of Switzerland lies an educational gem that embodies a unique blend of academic excellence, cultural richness and a profound sense of community. Founded over 30 years ago, Haut-Lac International Bilingual Day and Boarding School is now home to both 600 day students and a maximum of 30 boarders from around the world.
What To Wear at Your Job Interview
Navigating job interviews can be stressful, but knowing what to wear shouldn't be. Our comprehensive guide covers the essential dress code tips for men and women interviewing at boarding schools. Make your first impression count with style and professionalism.
Navigating the Modern Maze: Emerging Challenges for Boarding Schools
Explore the pressing challenges facing boarding schools, from marketing difficulties and rising insurance costs to facility maintenance and recruitment of competent trustees and teachers. This article delves into these complex issues and proposes innovative strategies to overcome them.