Reflections and Advice:
1.) What do you think makes your school unique relative to other boarding schools?
The sense of community is unique to Pomfret, although I hear many other prep school kids talking about it, I think Pomfret has a unique sense of what it means to attend the school. I was deciding between Pomfret, Middlesex, and Westminster, visited all of them, and found Pomfret to have "it."
2.) What was the best thing that happened to you in boarding school?
Great school, couldn't imagine going anywhere else, Helped me get into my dream college.
3.) What might you have done differently during your boarding school experience?
Something I may have done differently is take more advantage of Pomfret's great language program. I tested out as a freshman I had taken to French 3 in middle school. By senior year I knew many students who had become fluent and some who had even studied abroad during the summer, which Pomfret sponsored.
4.) What did you like most about your school?
The people, Pomfret has an uncanny ability to choose like-minded students who don't settle. They are constantly looking for more, and the teachers are of the same quality.
5.) Do you have any final words of wisdom for visiting or incoming students to your school?
Definitely visit Pomfret. On paper, the school may seem too small, or too far from NYC, or any other reason, but once you spend a day there, you may find it's perfect, I did.
Academics:
1.) Describe the academics at your school - what did you like most about it?
The academics are as strong as you want them to be. Pomfret has some of the most AP courses offered at any prep school, your schedule is coordinated directly with your academic advisor and is fitted to your strengths. For a smaller school, Pomfret offers a lot of great high-level classes and interesting electives for 5th and 6th formers. Challenging, but not impossible, teachers live in your dorms and coach your sports, makes it easy to get extra help.
Athletics:
1.) Describe the athletics at your school - what did you like most about it?
Strong athletic program, friends that have gone on to play div 1 and div 3 sports (Lacrosse at UMass, Hobart, Cornell, Skidmore, Getysburg; Football at Colby, Middlebury, St. Lawrence; Squash at Hobart, Cornell, Haverford) Sport is required for each season, practice everyday, games on Wednesdays and Saturdays. Only drawback is Pomfret is not apart of one of the big prep leagues (Founder's or ISL) still competes with the big schools, though
Art, Music, and Theatre:
1.) Describe the arts program at your school - what did you like most about it?
Took studio art all four years, unbelievable teacher, very cool professional artist who worked with bands such as Phish in the 1990s. I currently know some artists that have gone on to sell their work(francescajoypb). Pomfret also has a very strong digital arts program, one of the best programs in prep schools, intro to advanced class, great Mac computer lab with about 40 computers and access to lots of great software and cameras, constantly being updated.
Extracurricular Opportunities:
1.) Describe the extracurriculars offered at your school - what did you like most about it?
Lots of clubs, and opportunities to start pretty much any club imaginable. Clubs are run by upper form students and a teacher advisor. A lot of volunteering at Pomfret, some is required and done with your form, but many students go beyond, mostly volunteering around the community of Pomfret and Putnam
Dorm Life:
1.) Describe the dorm life in your school - what did you like most about it?
Dorms are new and updated, after your first year you can live with whomever you please, based on a lottery system. All freshman are put together in house dorms across the road. Make for a very fun time, and a good time to get to know your new form. Dorm parents have bar-b-Q's and other fun activities, but it is mostly based on hanging in or outside the dorm. Wireless internet(whole campus), flat screen TVs, and basic furniture fill the common rooms. "The Bricks" is a long dorm that creates one whole side of the quad. One side is girls, the other is boys. most upper-formers live here, but there are also assorted house dorms on campus.
Dining:
1.) Describe the dining arrangements at your school.
One central dining hall is located at the end of campus. Food is good, varied and pretty casual. There are sit-down lunches on some days during the week and occasional sit-down dinners, which the whole school attends. There is also the tuck shop, located in the gorgeous student center which has diner/snack food. Great burgers, breakfast sandwiches, fries, chips, sodas, and also healthy options like great salads and fruit smoothies. One pays for all of this on their "Pomfret card" which acts as a credit card on campus, also works at the school store for school supplies and Pomfret sweatshirts and tshirts.
Social and Town Life:
1.) Describe the school's town and surrounding area.
Pomfret is small and quaint. Classic New England town. Jim Calhoun(UConn basketball coach) actually lives just off of campus but many of the homes are modest. Pomfret's campus is flanked by woods in the back(XC running trails, a ropes course, and a bio research area) Rt 44 in the front, rolling farm hills on the left, and an 18-hole public golf course(Used by the golf team) to the right. If this setting sounds idyllic, it truly is. Not much happening off campus in terms of stores. There is a cafe with GREAT food a 5 minutes walk from campus with outdoor seating. Many students walk there on weekends for their great breakfasts or salads and burgers at night. There is also a basic convenience store a little further down the road. 3 miles from the school is the town of Putnam, which has all the essentials including Stop & Shop, Walmart, assorted chain restaurants and other basic stores. There are a few good restaurants, and a Winery for when parents and alums come to visit.
2.) Describe the social life at your school - what did you like most about it?
Social life mostly surrounds the tuck shop and quad area when there aren't sports. When there is a sports game, many of the students, if they are not playing their own, will go to the fields, squash courts, or walk down to the hockey rink for a game against rivals. When all the sports are over there are dances, concerts, comedians and other activities the school puts on. Although some students just hang out in the Tuck Shop, and grab a burger and hang out. Some fun activities I remember include: Playoff hockey game against Westminster, sushi rolling with professional sushi chefs in the dining hall, concert on the quad (Zox), faculty Vs. student softball tourney, and Bar-B-Q's in the spring.
Daily Schedule:
Weekday
1:00 AM
lunch in dining hall
1:00 AM
dinner in dining hall
1:00 AM
study Hall 8-10 in dorm
Weekend
1:00 AM
leave for sports game (Westy)
1:00 AM
Dinner at Tuck Shop
1:00 AM
Dance in the Day room
Pomfret is unique because of the focus on STEM topics in all aspects of learning. Pomfret has shifted its use of technology in the classrooms to reflect the importance of math and engineering into the. . .
The sense of community is something that is discussed a lot at Pomfret, but for a good reason. I toured a multitude of schools across both Canada and the United States and nothing compared to. . .
We have a special program--called project Pomfret, in which students focus all their time in the two and a half weeks between thanksgiving and Christmas breaks on a project, i.e. geocaching, teaching children, learning about. . .
Show more reviews (

5 reviews

)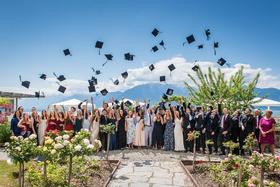 Nurturing Futures: A Journey through Boarding at Haut-Lac School in Switzerland
Nestled in the hills overlooking Lake Geneva in the French-speaking part of Switzerland lies an educational gem that embodies a unique blend of academic excellence, cultural richness and a profound sense of community. Founded over 30 years ago, Haut-Lac International Bilingual Day and Boarding School is now home to both 600 day students and a maximum of 30 boarders from around the world.
What To Wear at Your Job Interview
Navigating job interviews can be stressful, but knowing what to wear shouldn't be. Our comprehensive guide covers the essential dress code tips for men and women interviewing at boarding schools. Make your first impression count with style and professionalism.
Navigating the Modern Maze: Emerging Challenges for Boarding Schools
Explore the pressing challenges facing boarding schools, from marketing difficulties and rising insurance costs to facility maintenance and recruitment of competent trustees and teachers. This article delves into these complex issues and proposes innovative strategies to overcome them.