Reflections and Advice:
1.) What do you think makes your school unique relative to other boarding schools?
I haven't been to any other boarding schools, so I don't have much to compare Westtown with, but the things that made Westtown unique for me were the Quaker aspects, and the fact that there's a mix of day and boarding students on campus. The quaker aspects created an atmosphere of mutual respect between students and teachers that paved the way for discussion based curriculums and a deeper understanding of subject matter. The mix of day and boarding students ensured that Westtown wasn't entirely closed off from the world around it and helped to extend the school's sphere of influence.
2.) What was the best thing that happened to you in boarding school?
Boarding school was great for me because it gave me a close group of friends that I wouldn't have found or had the opportunity to connect with anywhere else. I am also thankful for the teachers that I had at Westtown because they made learning exciting and taught me that education isn't really about knowing all of the right answers, but about being able to ask the right questions. I've definitely become a more accepting and well-rounded person throughout my time at Westtown, and I believe I owe that to Westtown's values and unique method of education.
3.) What might you have done differently during your boarding school experience?
Spend as little time in your room as possible. Get to know the people on your hall and in your dorm as quickly as possible because they're going to be your friends and neighbors for the next several years. Also, don't be afraid to do things outside of your comfort zone once in a while. If you're nervous about something, don't be, because there's always going to be someone else who's feeling the same way.
4.) What did you like most about your school?
The people (students, teachers, faculty members, etc...) made Westtown great. No where else are you going to meet people who are as passionate, caring, friendly, smart, and fun as the people at Westtown. Knowing teachers outside of the classroom not only improves education, but helps prepare students for dealing with people (of any age) out in the real world. Westtown is a safe environment for people of any race, religion, or orientation, and this is because the people here are so accepting of anyone they meet.
5.) Do you have any final words of wisdom for visiting or incoming students to your school?
The south lawn is an amazing place, so spend as much time there as possible. Go sledding there in the winter or hang out there after dinner when the weather's nice in the fall and spring. When you're choosing dorms, try and get one with a sky bed because those rooms are a lot bigger. There are 600 acres of campus, try and explore all of it before you graduate because there's some really interesting stuff to find and you don't want to miss out on anything.
Academics:
1.) Describe the academics at your school - what did you like most about it?
What sets Westtown apart are discussion based classes. Everyone has the opportunity to share their opinions on the subject matter and this, I believe, allows for a better understanding of the material. I also appreciate the variety of courses that Westtown had to offer. Westtown gives its teachers a fair amount of freedom when it comes to designing their classes and this means that teachers are always excited about their courses, because they're teaching what they find interesting and not what a standardized text book tells them to cover. This doesn't mean, however, that students don't learn everything they need to know. Classes not only cover the basics, but also allow students to explore new and different areas. Classes are not competitive, unless you make them that way, and fellow classmates are always eager to help one another.
Athletics:
1.) Describe the athletics at your school - what did you like most about it?
Everyone at Westtown is required to participate in the athletic program to some degree. This doesn't mean though that people are forced into programs that they're not interested in. "Sports" has a flexible definition and Westtown and everyone will find a program that works well for them. I don't consider myself a "sports person" but I still appreciated the fact that sports here are mandatory, because your teammates become an instant group of close friends. Oftentimes your coaches are also teachers or dorm parents, so you get to know them on a whole other level and this just adds to the experience.
Art, Music, and Theatre:
1.) Describe the arts program at your school - what did you like most about it?
In my opinion, the arts program improves every year. I've only ever participated in the music program here at Westtown, but I've heard great things about all the divisions in the arts department. Music has always been important for me and I actually spent a lot of time outside of Westtown participating in various orchestras and ensembles. I still played in the Westtown Orchestra, however, and they were always supportive of my busy musical schedule. What I'm trying to say, is that they're supportive of students and listen to what we say when it comes to the program. The physical building where the arts program is housed is a little less than desirable, but Westtown more than makes up for that by having a stellar faculty.
Extracurricular Opportunities:
1.) Describe the extracurriculars offered at your school - what did you like most about it?
Clubs were without-a-doubt one of my favorite aspects about Westtown. We have around 30 different student organizations so there's always something for everyone. Students can also be as involved, or uninvolved, in the clubs as they would like, and this freedom is unique. I loved the work I did in the Philanthropy Club (a club that fundraised throughout the year and then gave away the money it had earned in grants to various non-profits that it had researched), because it provided me with a meaningful pursuit outside of academics.
Dorm Life:
1.) Describe the dorm life in your school - what did you like most about it?
Again, I don't have much to compare with, but dorm life at Westtown was in general an amazing experience. You get to know people so much quicker and on such a better level than you would normally. You will always have one other person as a roommate, and unless you're a new student you'll get to choose who you room with. Room selection works on a lottery system, except student leaders get first picks, and older students have preference over younger students. The rooms are approximately 7'X20', although they all vary slightly and about half of the rooms have bunk beds and the other half have loft beds. Dorms are never open to members of the opposite sex, with the exception of special occasions, and everyone has to be on dorm by 10:20 (although this depends on age). Once you're on the dorm for the night, you can't leave until 6:00 the next morning. I never found the rules to be that restrictive, because they effect everyone. 10:20 may sound early, but keep in mind that everyone has to be on dorm by 10:20 so you still get to hang out with your friends after that time.
Dining:
1.) Describe the dining arrangements at your school.
I think that dining also improves every year at Westtown. The cafeteria offers 3 meals a day, although only 1 dinner per week is required. Given the size of the dining room, lunches are offered at 2 times during the day and the high school student body is split in half. The dining room is also often open between meal times, and while there probably wont be prepared food available, students are always allowed to go in a grab a piece of fruit, a drink, or some crackers, if they're hungry between classes. If you have a food allergy or are vegetarian/vegan there's always an option for you, and if need be, the school will make a meal that specially fits your dietary needs. There's also a large variety of food available at most meals, so you're always going to find something to eat.
Social and Town Life:
1.) Describe the school's town and surrounding area.
Westtown is located about 10 minutes outside of downtown West Chester and about 45 minutes away from Philadelphia. Even though Westtown is located on 600 acres of farmland and woods, there's never a shortage of things to do because West Chester is so close at hand. Students who don't live locally or don't have access to cars can always get rides with faculty members or on school sponsored trips into town to go see movies, eat out at restaurants, go shopping, etc....
2.) Describe the social life at your school - what did you like most about it?
Social life at Westtown comes in a variety of formats. Westtown definitely isn't a big party campus, but there's always opportunities to hang out with friends both on and off of the dorm. The school also sponsors weekend trips to various places in the area so students can get the chance to hang out off of campus as well. People are allowed to go home on weekends as well, or to friends' houses if they'd like. You're rarely not going to have anything to do because since you're boarding, you're always going to be with friends.
Daily Schedule:
Weekday
7:30 AM
wake up, have breakfast, get ready for school
10:00 AM
Collection (like homeroom)
3:15 PM
classes end, sports start
5:30 PM
sports practice ends
7:30 PM
Study hall starts, goes until 9:30, on dorm by 10:20, in rooms by 10:30, lights out by 11:30
Weekend
9:00 AM
hang out with friends
10:00 AM
hang out with friends
1:00 PM
hang out with friends
7:00 PM
hang out with friends
Westtown has a beautiful campus. It was beautiful and especially safe to walk around any time of day. Also the style of teaching is very hands on and has small classes, usually with. . .
Small Quaker school, tight group, not so much focused on strong academics as much as creating good individuals in society.. . .
Extremely beautiful campus. It is a Quaker boarding school with wonderful teachers. They require a senior project where students can travel the world. Also encourages volunteer work and has a campus farm. . .
Show more reviews (

41 reviews

)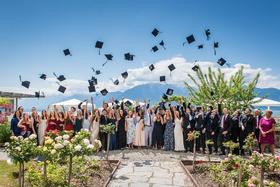 Nurturing Futures: A Journey through Boarding at Haut-Lac School in Switzerland
Nestled in the hills overlooking Lake Geneva in the French-speaking part of Switzerland lies an educational gem that embodies a unique blend of academic excellence, cultural richness and a profound sense of community. Founded over 30 years ago, Haut-Lac International Bilingual Day and Boarding School is now home to both 600 day students and a maximum of 30 boarders from around the world.
What To Wear at Your Job Interview
Navigating job interviews can be stressful, but knowing what to wear shouldn't be. Our comprehensive guide covers the essential dress code tips for men and women interviewing at boarding schools. Make your first impression count with style and professionalism.
Navigating the Modern Maze: Emerging Challenges for Boarding Schools
Explore the pressing challenges facing boarding schools, from marketing difficulties and rising insurance costs to facility maintenance and recruitment of competent trustees and teachers. This article delves into these complex issues and proposes innovative strategies to overcome them.