Reflections and Advice:
1.) What do you think makes your school unique relative to other boarding schools?
The Quaker philosophy at Westtown creates a unique atmosphere where all students and teachers are encouraged to be active members of the community, creating an ideal learning atmosphere. By addressing teachers by their first names, students immediately feel equal to and comfortable around their teachers enabling the formation of meaningful relationships in the classroom, on the field, and on dorm. Another unique aspect of Westtown School is its Work Program which requires all students to give back to community through a daily janitorial or kitchen duty. The Work Program created great opportunities for team building and student leadership.
2.) What was the best thing that happened to you in boarding school?
Westtown School had the single greatest impact on my becoming a confident and strong adult. Feeling appreciated and welcomed in class discussions allowed me to open up and speak my mind in front of teachers. The support I felt from my teachers and peers encouraged me to be more outspoken in all areas of my life. I am incredibly grateful for the opportunity to have grown up in such a nurturing and inclusive environment as it has truly made me who I am today.
3.) What might you have done differently during your boarding school experience?
My advice would be to be active and never stay locked up in your room. Though keeping up with your studies is important there is so much more to a boarding school experience than academics. My only regret from my experience at Westtown was that I did not take enough risks by getting involved in more clubs, student leadership, etc.
4.) What did you like most about your school?
The relationships with teachers at Westtown really makes the whole experience. Knowing and addressing teachers on a personal level created the most comfortable and productive learning environment and led to friendships and connections I will have for the rest of my life.
5.) Do you have any final words of wisdom for visiting or incoming students to your school?
Visiting students be sure to explore the entire campus and sit in on a class with current students if you can. Any student will be thrilled to talk to you about their experience at Westtown! For incoming students the best advice is to take risks and meet as many people as you can, for they will be friends that will last you a lifetime. Make sure you check out South Lawn after dinner for some pick-up volleyball!
Academics:
1.) Describe the academics at your school - what did you like most about it?
The academics at Westtown are very challenging but offer many varying levels for each subject and allow students to focus on their strengths. All classes are discussion based and encourage students to explore their own understanding of the material rather than memorizing facts. This is especially true in the math and science departments where the school has elected to break away from the AP curriculum in order to allow students to conduct in depth independent projects and research. Though most students are equipped to take AP tests and are beyond prepared for college coursework, they will graduate with a much more powerful thirst for learning and passion for their studies.
Athletics:
1.) Describe the athletics at your school - what did you like most about it?
Westtown requires all students to participate in athletics and experience being a member of a team or performance group, but the requirement is very flexible. Varsity athletes are given the time, resources, and fantastic coaching to compete at a high level that will prepare them for college athletics. Sports competitions are always a fantastic display of school spirit as crowds of students come out to cheer on our teams.
Art, Music, and Theatre:
1.) Describe the arts program at your school - what did you like most about it?
The best aspect of the Art, Music, and Theater program at Westtown is its flexibility. Students are able to incorporate the arts into their schedule through coursework, clubs, and after-school performance groups. Students are also encouraged to explore the depth of the arts offered at Westtown and try new disciplines. Westtown offers robust programs in painting, drawing, printmaking, clay, woodworking, photography, digital media, acting, directing, dance, and music. All students will engage in the arts in some point in their career at Westtown and will certainly be inspired by the numerous productions, exhibits, and concerts the school shares with the community every year.
Extracurricular Opportunities:
1.) Describe the extracurriculars offered at your school - what did you like most about it?
From volunteer groups, dance teams, music groups, language clubs, and student leadership, Westtown no doubt has something for everyone. Clubs at Westtown are led and organized almost entirely by the students and their commitment and passion culminates in impressive student-designed performances and events.
Dorm Life:
1.) Describe the dorm life in your school - what did you like most about it?
Boarding at Westtown was absolutely my favorite aspect of my high school experience. By living on a dorm floor with my entire grade I built life-long friendships and felt a great unity between my class as a whole. Students live with one roommate and pick rooms based on a lottery system. Dorms are not open to members of the opposite gender. Nightly study halls, check-in times, and room inspection helped students develop good habits for independent living that will prove invaluable for the transition to college. Dorm parents created a very comfortable and supportive atmosphere and the student leadership of prefects is also a great resource for new or struggling students.
Dining:
1.) Describe the dining arrangements at your school.
Westtown offers three meals a day, all served family style at tables seating eight people. Dining is casual and dinner is only required for one night of the week though almost all students eat in the dining room for every meal. Vegetarian and vegan options are available at every meal. Dining services has made great strides in the past couple of years to ensure that a majority of the ingredients come from local farms including Westtown's student run mini-farm on campus.
Social and Town Life:
1.) Describe the school's town and surrounding area.
Westtown's location offers the best of both worlds being situated on 600 acres of beautiful secluded farmland yet only 10 minutes from downtown West Chester, a small historic town with shopping, restaurants, and events on the weekends. Westtown is also only 45 minutes from Philadelphia and in driving distance of both New York City and Washington, DC. Since most students do not have access to cars, faculty drive vans to to West Chester and Philadelphia for school-sponsered weekend trips.
2.) Describe the social life at your school - what did you like most about it?
The social life at Westtown is very open and inclusive; cliques and divisions simply do not exist because of the tight bonds you form with your entire class. There is very minimal drug or party culture because students spend most of their time hanging out with friends around campus and there is no need for outside parties or gatherings.
Daily Schedule:
Weekday
7:00 AM
Eat Breakfast, Get Ready for Class
10:00 AM
Collection - Attendance, Announcements, Community Sharing
7:30 PM
Quiet Study Hall until 9:30
10:30 PM
Required On-Dorm Time, Lights-out by 11:30
Weekend
9:00 AM
Wake up, Breakfast
10:30 AM
Dance Practice/Work Out
12:00 AM
Lunch in Dining Hall
1:00 PM
Van into West Chester, movies, etc.
4:00 PM
Hang out with Friends on Campus
6:00 PM
Dinner in Dining Hall
7:00 PM
Hang out with Friends
11:30 PM
Hang out with friends on dorm until In-Room time
Small Quaker school, tight group, not so much focused on strong academics as much as creating good individuals in society.. . .
Westtown has a beautiful campus. It was beautiful and especially safe to walk around any time of day. Also the style of teaching is very hands on and has small classes, usually with. . .
Two aspects of Westtown that stand out in particular are its sense of community, and the education driven towards social change. Its sense of community is in part due to the fact that Westtown is. . .
Show more reviews (

41 reviews

)
Mastering the Boarding School Selection Process: A 5-Step Guide
Discover the ultimate 5-step guide to choosing the perfect boarding school for your child. Explore essential factors, such as academics, campus facilities, extracurricular activities, and more. Make an informed decision to provide your child with an enriching and transformative educational experience. Read now!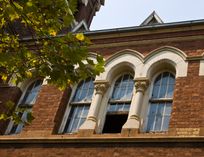 5 Founders and Their Boarding Schools
What prompts somebody to start a boarding school? The motives range from idealism to munificence right on through to capitalism. The common thread seems to be ample capital and a vision of what education can do.